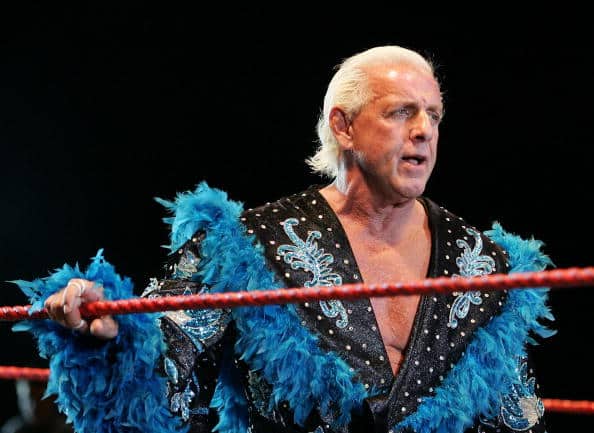 Ric Flair was born as Fred Phillips on February 25, 1949, in Memphis, Tennessee. He is a well-known retired professional wrestler who was signed to WWE in the Legends program. He is now a professional wrestling manager. He was often known as 'Nature Boy'. Many people consider Flair to be one of the best professional wrestlers of all time and one of the most entertaining American performers of the 1980s.
During his 40-year career, he has received many accolades and is officially recognized as being a sixteen-time world champion. However, Flair considers himself to have won the championship 21 times and other sources say he has won on 25 occasions. Other than his epic battles in the ring, he has had real life feuds with many of his contenders. These have included spats with Bret Hart, Shane Douglas, Mick Foley, Hulk Hogan, and Bruno Sammartino.
Although there have been many amazing moments in Ric Flair's career, here are what could be considered his top five.
1. His First World Title Win
On September 17, 1981, Flair won his first world title at the NWA World Heavyweight Championship. This was just the start of an extensive run of world championship wins in his career. To take the win, he had to defeat Dusty Rhodes at a house show in Kansas City, Missouri. It was one of the most thrilling matches of all time.
2. His Return to WWE in 2001
For eight years, Flair was with WCW and fans believed his power had diminished. However, he made an exciting comeback to WWE in 2001. He made this thrilling return in a match in his hometown, Charlotte, North Carolina, at Raw on November 19. He began his career revival by strutting unexpectedly into the ring and outshining the return of Kurt Angle to the WWE. This was the moment his career got back on track.
3. 1989 Flair vs Steamboat
Between February and May 1989, a trilogy of matches took place between Ric 'Nature Boy' Flair and Ricky 'The Dragon' Steamboat. Not only did these matches set a new standard for North American Wrestling, fans of wrestling still believe that these three matches were some of the greatest of all time. Bizarrely, it was ten years after the matches before Flair watched the matches himself and he has admitted this in interviews.
4. Flair vs Inoki at Collision in Korea
Collision in Korea is officially known as Pyongyang International Sports and Culture Festival for Peace. It is a pay-per-view event that takes place at May Day Stadium, Pyongyang, North Korea, that is hosted jointly by WCW and NJPW. It is one of the biggest wrestling events in the world and the year that Fair competed against Inoki there was a record attendance of 190,000 on day two of the event.to make a comparison, Wrestlemania 32 in Texas has a record attendance of 101,763. The match between Flair and Inoki took place on April 25, 195. Flair later described taking the trip to North Korea as one of the best in his life.
5. His Retirement Match
Flair's emotional retirement match was named as the 2008 Match of the Year by Pro Wrestling Illustrated and was also lauded by fans. The match was between Flair and Shawn Michaels and was described prior to the event as a 'Career Threatening Match'. This prediction turned out to be true because, following his defeat at Wrestlemania XXIV in Orlando, Flair decided it was time he retired.
Save