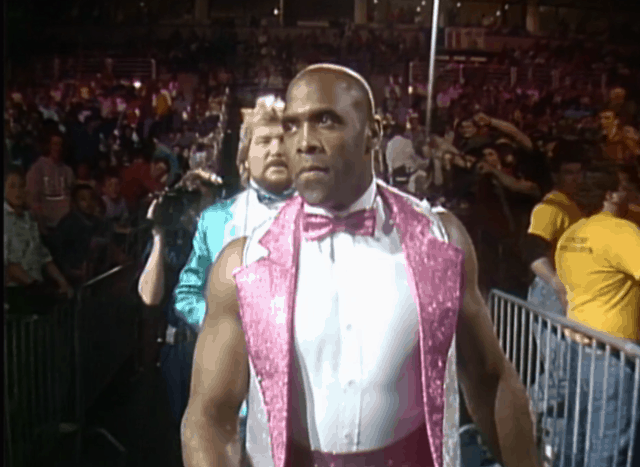 Sidekicks don't always last all that long in the WWE. Some of them get lucky and get promoted to full time spots on the roster and therefore become their own person. Virgil had a chance to be somebody in the ring but for some reason he never got the final push he needed to be anyone but an add-on. A lot of people loved or hated or loved to hate him during his tenure in the WWE, which was still the the WWF back then. His stint with Ted Dibiase, the Million Dollar Man, was legendary, and helped to keep him in the limelight for some time to come. Virgil was one of the early meddlers that swung the match in the favor of his "employer" quite often, and led the way for future sidekicks in the business.
So what happened to him once the spotlight wore off?
He went back to teaching.
Virgil, or Mike Jones as he's known in real life, has a degree in mathematics and went back to teaching as a substitute teacher in Pennsylvania not long after his wrestling career was over. He was popular while with Ted Dibiase and even managed to make the transition to WCW as part of the New World Order for a while, but his wrestling days were numbered at that point. After his character's break with Dibiase it was downhill from then on as the fans started to lose interest. So he went back something he knows how to do, and for all intents and purposes is still doing it.
He tried to play off of his and Ted Dibiase's fame.
When wrestlers get cut from the roster the big money they're used to receiving obviously dries up if they don't have anything else to fall back on. With many of the current wrestlers in this day and age there are endorsement deals, movies, and even TV to bolster their career if the wrestling goes sour. Virgil didn't have this opportunity unfortunately, and came up with a scheme to try and get noticed again. He would call promoters and claim that he and Dibiase were available for autograph signings and then eventually call back to say that Dibiase wouldn't be attending, but that he would still be available. You can almost hear the music die at that point in a pathetic warbling of noise as most promoters likely wanted to back out immediately. The biggest problem was that Dibiase's reputation suffered for this and he wasn't even clued in to the conversation until later on.
He's become a meme.
You all know what a meme is at this point, and have likely seen hundreds if not thousands of them circulating the internet. Virgil has unfortunately become one of those as he sets up his tent and autograph table wherever he can find the space. He's even put his table up in Grand Central Station in an attempt to get noticed, which really only landed him a few random photos that seem horribly sad. If you go online to see any photos of Virgil you might be inundated with pictures of him sitting or standing at his table with or without pictures of himself and Ted Dibiase nearby or ready to be signed. It's almost too sad to look at, yep, almost.
When the mighty have fallen it's a sad thing to watch. When the sidekicks fall, it's hard to watch them try to hang on.
Save