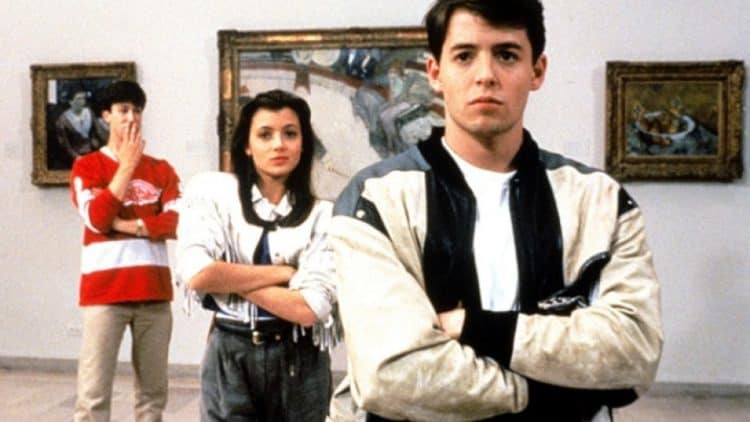 Chicago, the third most populous nation in the USA, is known for its stunning architecture, museums, papers of record and very, very cold winters. The Windy City also has a strong reputation for films. Covering topics such as crime (especially in the 1930s), corruption, mischievous men, music and baseball, Chicago has a long, fascinating history in Hollywood, spanning from the films of James Cagney to 2018's Widows.  To celebrate the city, we have created a list of six essential Chicago-set films for you to watch. Ranging from music shop romances to romantic days out to intense crime dramas, Chicago really seems to have it all. Read on to see what we've picked. Don't agree with what we have chosen: please sound off in the comments below!
High Fidelity
One of the most quintessentially Chicagoan films, High Fidelity sees Illinois native John Cusack play the owner of a record shop navigating the pitfalls of love in The Windy City. It is easily his career-best performance: warm and witty, directing his complaints directly to the camera.  When he is dumped by his latest partner, he goes on an odyssey to figure out why he is so unsuccessful in love. He is joined in this quest by his two record store buddies, played by Jack Black and Todd Louiso. The result is a fascinating study of Chicago as well as a great character piece. Changing the setting from London to celebrate the great alternative music scene of the city, British director Stephan Frears nails the transition perfectly.
Brother 2
The sequel to the St Petersburg-set Brother, Aleksei Balabanov's Brother 2 is Chicago as seen through the eyes of Russian mobsters. Telling the story of a Russian man who moves to Chicago in order to take on the Ukrainian mafia, it is a true deconstruction of the American dream as told through the diaspora experience.  While politically incorrect in its handling of Black America, the troubles of which Balabanov unwisely links to the Russian underclass, it remains a vital, rare text of cross-cultural exchange, revealing that the issues that affect both nations aren't quite so different after all. With gunfights taking place in rock concerts, Ukrainian-owned bars, and high-rise buildings, Brother 2 exploits its Chicago setting to put its own unique spin on the American crime drama.
Chi-Raq
Chicago, especially on the South Side, has one of the highest murder rates in the country. Spike Lee tackled this appalling fact with Chi-Raq, a high-concept satire based on Aristophanes' Lysistrata. Like in the Greek play, the African-American women of Chicago go on a sex strike in order to get the men to stop killing each other.  Despite the brilliance of its conceit, Chi-Raq didn't really connect with audiences. Perhaps because it is a rather messy film, especially in contrast to the focused satire of Lee's later BlacKkKlansman. Yet it sees the New Yorker earnestly looking for a solution to a crisis which has taken so many lives, resulting in a searching, affecting lament for the current state of the city.
The Untouchables
One of the most iconic figures in Chicago's storied history is that of Al Capone, who flaunted the prohibition of alcohol to become America's most feared criminal. His exploits were the inspiration for a semi-genre in itself, seen in 30s classics such as Public Enemies and Scarface.  Having already remade Scarface in the 80s, but moving the action to Miami, Brian De Palma's The Untouchables tackles the Chicago-based Al Capone head on. The baseball-bat wielding Al Capone himself is brilliantly brought to life by Robert DeNiro in one of his best ever performances. He finds his maker in prohibition agent Eliot Ness, played by Kevin Costner, who is committed to making sure that Chicago is a totally dry city. The result is DePalma's most successful film, an intense exploration of the prohibition struggle from both sides of the law.
Ferris Bueller's Day Off
You can't mention films set in Chicago without including at least one John Hughes film. Most of his films – such as The Breakfast Club, Sixteen Candles and Pretty in Pink – take place in the fictional suburb of Shermer, which was based off the borough of Northbrook where he grew up. In fact, it would've been easy just to fill this entire list with the films of John Hughes. Nonetheless, Ferris Bueller's Day Off – which tells the story of three kids bunking off school in order to have a day up in the city – is easily the most quintessentially Chicagoan of them all.  This film practically doubles up as a tour to the city, taking us to sites such as the Art Institute, Willis Tower, Wrigley Field and Glencoe Beach. While it seems unlikely that anyone would be able to fit so much into just one day, Ferris Bueller's Day Off shows a great affection for a city where it feels like anything can happen.
The Blues Brothers
It doesn't get more Chicago than The Blues Brothers, which joyfully celebrates the diverse music that came out of the city. Starring Dan Aykroyd and John Belushi as the two brothers (who first appeared on Saturday Night Live) who love playing the blues, their characters are classic hard-boiled city slickers, their deadpan reactions key to the movie's comedy.  Featuring cameo performances from Aretha Franklin, James Brown and Ray Charles, The Blues Brothers is one of the best musical films of all time. But it gets weirder than that, the film also satirizing the cops-and-robbers genre found in so many Chicago movies, hamming up the chase scenes to a purposefully comic over-satured degree. Ultimately it is a celebration of the city unlike any other, with every scene filled with love of the Windy City. As Dan Aykroyd told the Chicago Sun Times: "Chicago is one of the stars of the movie. We wrote it as a tribute."
*Honorable mention goes to The Fugitive