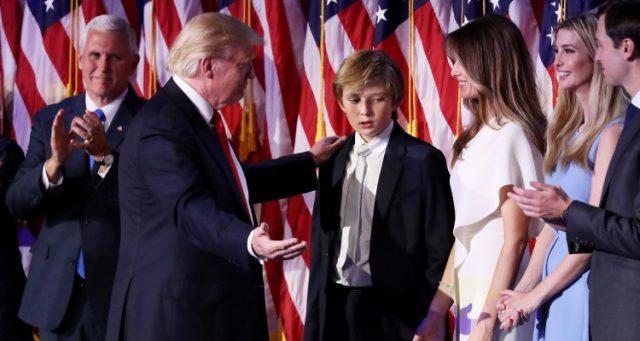 Unless you have been living in seclusion with no television, internet, newspapers, and magazines, you have likely heard about the recent presidential election. Just about everyone in the country has either had a strong opinion of who should be the President of the Untied States or they have listened to someone who has a strong opinion. If you have heard anything about the election, you would also know that Donald Trump has a son named Barron.
If you don't know much about Barron, read on:
He is the Baby of the Family
Barron is the only child that Donald and his wife Melania Trump have together. He has four brothers and sisters. His father has three children with his first wife, Ivana. Donald Jr. is 38, Ivanka is 34, and Eric is 32. Donald also has a daughter with his second wife, Marla Maples. Her name is Tiffany and she is 22. Baron is the youngest, and he is 10 years old.
His Bedroom is Huge
Barron is not like most kids who have a bedroom located in the main house. He has an entire floor to himself in the Trump penthouse in Manhattan. His parents allow him to decorate his living area the way that he wants. He loves helicopters and airplanes, and he has decorated his entire floor with the. The only place that you won't find helicopters and airplanes are on his bedding. He prefers his covers to be clean and white.
Barron Can Keep Himself Busy
You would expect a kid like Barron Trump to have plenty of friends, and he does. According to his mother he has playdates very often with other children. He does, however, enjoy spending time playing alone. His mother says that he will sit alone in his living area for hours playing with Legos and Magna Tiles. He also loves to draw and build large scale models. Unlike most parents, Barrons's mother and father never hear him complaining that he is bored. He can always find something to do to keep his busy.
Off All the Trump Kids, Barron is the Most Like Donald
Many people in Barron's life believe that his is the most like his father. He doesn't like to wear sweatpants, and he prefers to wear a suit just like Donald. Donald's longtime butler, Anthony Senecal, recalls a time when Barron was just a bit younger than three years old, and he acted just like his father. Senecal says that Barron was sitting in his high chair having breakfast when he saw Senecal. He looked at him and said, "Tony, sit down. We need to talk."
He says that it was very similar to the way that Donald approached him when he needed to discuss something. His mother, Melania, calls Barron, "Little Donald". She says that she calls him this because he is opinionated, independent, strong-minded, and he knows exactly what he wants.
Barron Loves Sports
When Barron isn't playing in his bedroom or having one on one dinners with his father, he spends a great deal of time playing sports. Donald calls him a natural athlete. He takes golf lessons and he also plays golf with his father regularly. He also plays basketball and he takes tennis lessons. His mother says that he is extremely athletic and he is a natural at any sport he tries.
He Is America's New First Son
When Donald is inaugurated as the President of the United States on January 20, 2017, Barron will be the First Son. He is actually going to be the first, First Son to be living in the White House in years. The last time a son lived in the White House was the late John F. Kennedy Jr. in 1963. He resided there throughout JFK's entire presidency.
Barron Was Not Raised By Nannies
Many children of the rich and famous in the United States spend a great deal of their time with nannies while their parents are off doing their own thing. According to Melania Trump, this was not the case with Barron. She says that she and Donald did not believe that an outsider should help raise their son. Donald believes that you cannot really get to know your children if they spend all of their time with a nanny. According to Melania, she is a hands-on mother. Even when Donald was on the campaign trail, she didn't require any outside help to assist her in raising their son.
He Was Supportive Of Donald's Campaign
One of Barron's favorite things to do is to spend time with his father. While Donald was on the campaign trail, it kept him very busy. Because of his father's hectic schedule, Barron didn't see his father very often. Even though running for the President of the United States took away from their bonding time, Barron still supported his father 100 percent. According to Melania, even though Barron missed his father, he understood that his father was doing something very important and he supported Donald and his campaign.
He Made His Television Debut at age 8
Barron made his television debut on his father's show, The Apprentice in 2014. He was 8 years old at the time and he appeared in the show's finale. He has always stayed out of the limelight, however, he did appear a few times at the Trump Invitation Grand Prix.
He Is Bilingual
By the time Barron was five years old, he was able to fluently speak two languages. His first language is English and his second is Slovenian. Since he was born, his mother who grew up in Sevnica, spoke to him every day in her native language. By the time he was 5 years old, he was able to speak both languages fluently because he heard them both on a daily basis. His mother believed that it was important that her son could speak to her in her native language.
While Barron was able to stay out of the limelight for years, chances are those days are over. As soon as he becomes the First Son and he moves into the White House, it is very likely that we will all get to know Barron much better.