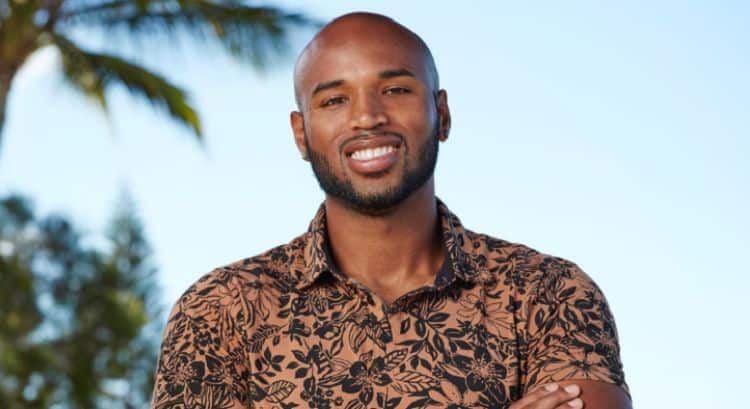 Many people who are in serious relationships like to keep their business to themselves. However, Lascelles Lagares and his longtime girlfriend, Ashley, have decided to share their relationship in an interesting way. Both Lascelle and Ashley will appear on the new season of USA's unique reality dating show called Temptation Island. In the series, a group of couples agrees to live in a house with single people of the opposite sex in an attempt to test the strength of their relationship. As you can imagine, this setup leads to lots of drama, and most people quickly realized that they are in over their heads. Only time will tell whether Lascelles' relationship will be able to withstand the test, but lots of viewers are excited to go along for the ride. Keep reading to learn 10 things you didn't know about Lascelles Lagares.
1. He Was A Baseball Player
Overall, Lascelles seems to be somewhat of a private person. We know that he is originally from New York, but outside of that, there isn't much known about his personal life. Something we do know, though, is that sports have always been a big part of Lascelles' life – this is especially true when it comes to baseball. His love for the sport took him further than he probably could've imagined. Although we weren't able to find any information on when he started playing baseball, we know that he was a member of his high school baseball team for four years. After a successful high school career, he went on to play baseball at Denison University in Ohio. During his senior season, he started in nearly 30 games. Even though his competitive baseball career ended after college, he briefly had an internship with the MLB network in 2015. These days, Lascelles still likes to stay active and he currently works as a personal trainer. There's no doubt the things he learned on the field have helped him in other areas of his life.
2. He Doesn't Appear to Have Any Previous TV Experience
With the way reality TV has grown over the last 20 years, there are lots of people who dream of sharing their lives in front of a camera. That said, it doesn't appear that Lascelles has been on any other reality TV shows in the past. In fact, even though his Instagram bio mentions that he is an actor, we weren't able to find any on-screen credits for him. We also weren't able to find any information on whether he has ever had any formal acting training. However, once he gets his foot in the door with Temptation Island, there's a chance that he may decide to look for other opportunities within the entertainment industry. This path has become quite popular and over the years we've seen countless reality TV stars attempt to break into the acting world.
3. He's A YouTuber
Even though Lascelles doesn't seem to have any previous experience in the entertainment industry, he's certainly no stranger to being in front of the camera. He and his girlfriend have a YouTube channel called LiveWithLash where they post a variety of videos including vlogs and Q&As. Anyone who wants to get to know Lascelles (or Ashley) outside of the show should probably check them out on YouTube. At the moment, their channel has more than 7,700 subscribers and their videos have gotten more than 1 million total views. There's a very good chance that being on Temptation Island will help their YouTube channel grow. If they play their cards right, they could easily boost their online presence which could result in some serious opportunities to make money both online and in the real world.
4. He's Been In His Relationship For Seven Years
Most reality dating shows are centered around single people who are looking for love or people who are still in the very early stages of their relationship. That being said, a lot of people will be surprised to know that Lascelles and his girlfriend have been together for over seven years. With that length of time, many would expect the couple to at least be engaged by now. However, it appears that getting a ring for Ashely isn't at the top of Lascelle's priority list and that's one of the biggest reasons they've decided to go on the show. They are both hoping that their time on Temptation Island will allow them to address the issues they've been having in their relationship and move forward to a bright future.
5. He Likes to Travel
The world is a big and beautiful place with lots of things to offer. Although most people will never get to see as much of the world as they'd like, Lascelles certainly wants to see as much as he can. He is an adventurous person who loves to get out and explore and traveling is one of his favorite ways to do that. He has been fortunate to visit many places across the United States as well as travel to other countries. Some of the places he's been include Mexico and the Dominican Republic. Based on his Instagram timeline, it looks like he loves visiting places that have beautiful beaches and great views. Once he officially becomes a reality TV star, there's a very good chance that he will get even more opportunities to travel.
6. He Enjoys Taking Pictures
We've already established that Lascelles has an interest in being in front of the camera, but he also enjoys being on the other side. While we don't know if he thinks of himself as a photographer, we do know that he loves to take pictures. He likes to bring his camera with him on his adventures and he has a great eye for capturing the most beautiful moments. Not only can photography be a great form of self-expression, but it's also an awesome way to freeze the best moments in time. Hopefully, Lascelles will start to share more of his work on social media.
7. He Studied Sociology
When Lascelles was in college, baseball wasn't the only thing on his priority list. His education is something that he also took very seriously. According to his LinkedIn profile, Lascelles earned a bachelor's degree in sociology and anthropology. However, it doesn't appear that he has worked in either field. Prior to his work as a personal trainer, Lascelles worked for the internationally known Barclays Investment Bank for nearly five years. Even though he may not be specifically using his degree, there's a good chance that his time in college helped prepare him for a wide variety of career opportunities. In addition to playing baseball and going to class, Lascelles was also involved in other things on campus such as the Diversity and Inclusion Athletic Advisory Group and the Black Student Union.
8. He's A Model
If there's one thing no one can deny, it's the fact that Lascelles is a natural in front of the camera. His confidence is undeniable and he lights up every time the lens is pointed at him. That combined with the fact that he takes a lot of pride in his appearance means that it isn't too surprising that he is a model. Lascelles even has an entire website dedicated to his work as a model and it looks like this is something he's been doing for several years. At the same time, however, it doesn't look like he's gotten the chance to work with any major brands yet. Hopefully, being part of the reality TV world will open up more doors for him. After all, we've seen countless people go from reality TV to modeling and many of them have found a great deal of success.
9. He Likes Fashion
By now, you've probably caught on to the fact that Lascelles is the kind of person who likes to make sure he looks his best at all times. Needless to say, fashion is something that really interests him. He loves being able to share his personality with the world through the clothes he wears and he has a great sense of style. No matter what kind of occasion he's getting ready for, he always knows how to put together the perfect outfit. On top of that, Lascelles isn't afraid to switch it up. From experimenting with different patterns to trying out bold colors, Lascelles' creative side definitely gets the chance to shine when it comes to his love for fashion.
10. He Enjoys Trying Different Foods
Just because staying in shape is one of Lascelles' top priorities doesn't mean that he doesn't like to enjoy good food. This isn't too surprising seeing as how food is one of the few things that truly has the power to bring people together in ways that many other things can't. The reality is that Lascelles is actually somewhat of a foodie and he loves enjoying foods from different parts of the world. Trying different dishes together is one of he and Ashley's favorite things to do and they often share their experiences via their YouTube videos.