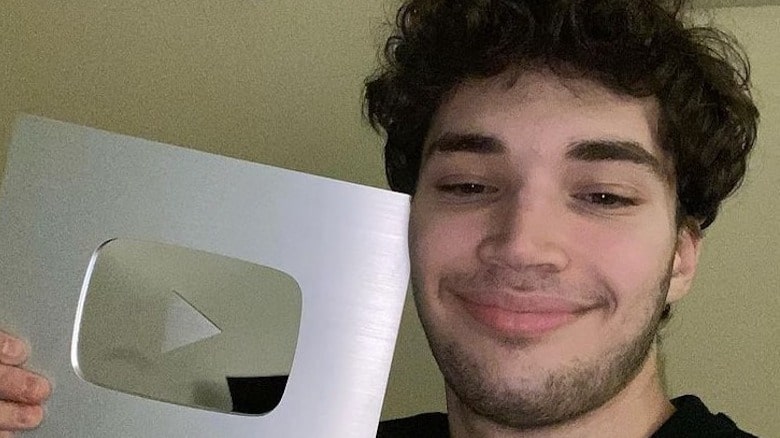 For lots of people, playing video games is nothing more than a fun hobby that also doubles as a great way to relieve stress. However, for Adin Ross, video games have become much more than that. Thanks to his love for gaming, Adin has become an internet celebrity and he's also been able to make a handsome living. He is now known to more than a million people all over the world. But while he is beloved by many fans, that isn't exactly the case among other members of the gaming community. Adin has had his fair share of spats with fellow gamers and he's the type of person that definitely isn't afraid to speak his mind. Keep reading to learn 10 things you didn't know about Adin Ross.
1. He Is Jewish
Adin was born and raised in the Boca Raton, FL area. He was raised in a Jewish family and went to Hebrew school when he was younger. In addition to living in Florida, he's also lived in New York and California. It's unclear whether or not Adin still practices the Jewish faith.
2. He Was Stabbed
Things in Adin's life haven't always been easy. When he was just 12-years-old, he had a very traumatic experience. According to Dexerto, Adin said, "When I was like 12 years old, I got stabbed with a knife in my sleep by a relative who was mentally unstable. It's crazy, but that sh*t doesn't even get to me. When that happened to me, I went through it for like, a week, [then] I became numb and emotionless to traumatic sh*t."
3. He Is In A Relationship
Not only is Adin fortunate to be doing something he loves, but he's also very fortunate to have someone he loves by his side for the journey. He is in a relationship with a fellow social media influencer named Pamibaby. For the most part, they've stayed pretty low key about their relationship.
4. LeBron James Jr. Helped Him Blow Up
When Adin began his gaming journey, he was mostly playing NBA 2K. He got the opportunity to play against LeBron (Bronny) James Jr. and the two formed a friendship. His connection with Bronny helped Adin gain traction early in his career. Since then, Adin has made several other famous friends including NAV and Blueface.
5. He Has Dealt With Mental Health Challenges
Just because Adin has found a lot of success over the years doesn't mean that everything in his life is always rainbows and butterflies. Adin has suffered from depression and he has also dealt with suicidal thoughts at different points in his life. Gaming has helped him deal with this.
6. He Was Briefly Banned From Twitch
Although Adin loves streaming his games, he has shared that being on Twitch gives him a lot of anxiety because he can't be himself. He has also had other issues with the platform which has led to him being temporarily banned from Twitch on several occasions for saying or doing inappropriate things.
7. He Doesn't Just Make Gaming Content
Adin is best known to most people for being a gamer, but that isn't the only kind of thing he posts on the internet. On his YouTube channel, he posts a variety of other content including pranks, vlogs, and challenges. His YouTube channel currently has more than 141 million views. Adin will probably expand to even more different types of content in the future.
8. He Always Knew He'd Be Successful
There are lots of people who start posting on social media without thinking anything will ever come of it. However, when Adin began his journey he had a feeling that he would eventually become big. Not only was he correct, but he's gotten a lot bigger than anyone could've ever imagined.
9. He Is Fairly Private
Like many of today's influencers, Adin has chosen not to share too much information about his private life. Although he has shared a few personal details here and there, he prefers to keep his content centered around things that don't have to do with his private life.
10. He Had A Little Exchange With Polo G
As mentioned earlier, not everyone Adin has come in contact with has been a fan of his. One of those people is the Chicago-based rapper, Polo G. The two have exchanged words on social media, and Polo G didn't appreciate Adin critiquing one of his music. Adin quickly took to Twitter to apologize to Polo G and asked if he wanted to hop on a live stream together.