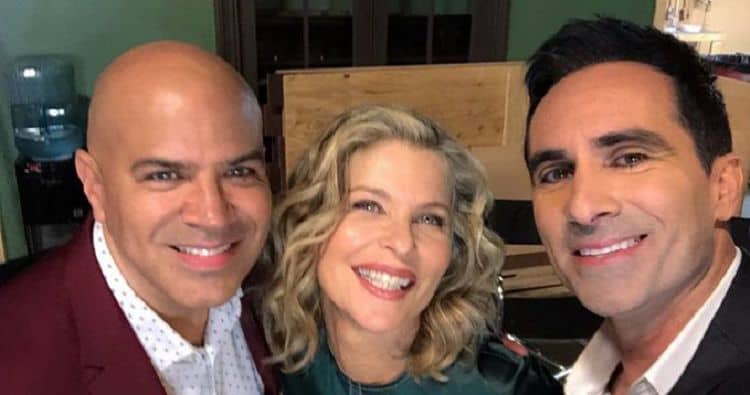 Everyone remembers the lovely Kate Vernon from her role in "Pretty in Pink." She's the cult-classic, film-favorite, good-at-her-job actress who played the role of Benny Hanson in the hit movie we all still reference all these years later. She didn't end her career in the 80s, though, and now she's the woman who takes on television roles, movie roles, and anything else that she finds interesting, and we are here for it. She's a dynamo, and she's someone worth getting to know a little better.
1. She Was Born in the 60s
She doesn't look like she was born in the 60s, but she was. She has aged with grace and elegance, and we imagine she's proud of that. Kate Vernon was born on April 21, 1961. She spent the better part of her 20s working nonstop in Hollywood, and she has not slowed down at all.
2. She's From Canada
She was born and raised for the first few years of her life in Canada. She was born, specifically, in a place called Toronto, Ontario. She, her mom, her dad, and her sister lived there until Kate Vernon was around seven. That's when her family made the decision to relocate to California. They packed up, moved to LA, and they did so because her father wanted to follow his dreams.
3. Her Father is an Actor
Her own father is actor John Vernon. He is the reason that the family moved to LA. He was working on Toronto, but it's not like a big secret that Hollywood is the place to be if you want to go to auditions and land big jobs as an actor. The family supported her father and his desire to become famous, and they did what they had to do to make it happen. It worked well for all of them.
4. Toronto is Home
Any chance she gets to go to Toronto and spend any time, she's home. She gets to spend time with her loved ones, she gets to relax a bit, and she gets to enjoy the life she's created for herself throughout the years of hard work she's put into her career. Toronto was the home in which she was born, and it remains that way still.
5. She is a Proud Mom
She is the mother of an adult daughter, and there is no one she is happier to spend time with than with her daughter. They appear to be very close, and they seem to have a very sweet relationship with one another. Her daughter is regularly featured on Kate Vernon's Instagram feed, and we are here for it.
6. She is Very Private
Kate Vernon knows a thing or two about being in the public eye. She's been doing it her entire life, and she is no stranger. She's been able to focus on things like getting her life in order and keeping it to herself, and that's because she values her privacy. She stays as private as she can by staying out of the spotlight, and she's become a master of it.
7. She is Close to Her Family
She is so close to her family. Her daughter, her own family; she is very close to them. Despite losing her own father, she still posts a happy birthday tribute to him on her social media feeds to let him know she's wishing him a happy heavenly birthday and that she misses him more each year.
8. She Loves to Travel
She's frequently traveling the world with her friends, her daughter, her family. She loves to see new places, to experience new things, to try new things. She loves it, and it is something that she finds so refreshing and wonderful. It's been a good life for her, and she likes to enjoy that.
9. She is Just Like the Rest of Us
Honestly, she really is. She posted a photograph of herself on her Instagram feed in which she is sitting on the floor in her kitchen with what we imagine feelings like millions of Tupperware containers and lids – not connected to their rightful partner – surrounding her. We all do it. We all spring clean this way. We all hate it. We all end up throwing them all away and buying brand new boxes, too, don't we?
10. She Was Every College Mom
When her daughter went to college, they toured. When she left for classes, she missed her. She counted down to breaks, she visited, and she couldn't wait for her baby girl to come home and visit every single time. College is hard for everyone involved, but it's especially hard for a mom who has to let go.