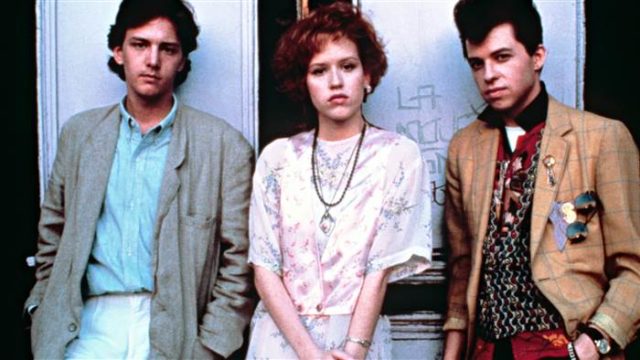 [easyazon_link identifier="B001D0BLTA" locale="US" tag="tvovermind00a-20″]Pretty in Pink[/easyazon_link] is one of the teen movies that kind of set and reset the formula for the average teen movie. It's got everything it needs to be a classic, the epic struggle between rich kids and poor kids, the hierarchy of high school that is there no matter what experience a person has, and the undying romance that roars like a bonfire at some moments and snuffs out the flame during others. Andie and Blane are the obvious star-crossed lovers that come from entirely different backgrounds, while Duckie is the best friend that wants the girl but knows that she'd never go for him since he's been in the friend zone so long that there's no way out. And of course Steff is the cold-hearted jerk that thinks he gets his way just because.
Watch any movie, this formula comes out in around eight out of ten no matter what.
10. The ending was going to be different to start with.
In the original ending Andie was going to end up with Duckie. Test audiences didn't like it however and as a result the ending had to be re-shot.
9. It's filmed in the same high school where Grease was made.
It's kind of routine to use the same sets and locations for various movies, but many times people don't realize it unless there are very noticeable landmarks.
8. James Spader chose the role of Steff.
He was offered the role of Blane but instead decided to be the bad guy of the movie since he believed it was more fun.
7. Molly Ringwald didn't care for the prom dress she had to wear.
It was made by tearing two dresses into pieces and then sewing them back together using what was needed to make a complete garment, just like in the movie.
6. Jon Cryer didn't get along with McCarthy or Ringwald off screen.
They both found him really annoying, but there was great onscreen chemistry so it worked out just fine.
5. Molly had a lot of say in the casting.
When the producers wanted Charlie Sheen to be cast for the part of Blane she convinced them to cast Andrew McCarthy instead. She also convinced them to use James Spader based on the kind of person she might be attracted to.
4. Jon Cryer managed to ad-lib a few lines.
When he was thrown into the girls room and when he was told of Andie's interest in Blane he made up a couple of lines that weren't in the script.
3. Anthony Michael Hall turned down the role of Duckie.
He didn't want to be typecast as the nerdy type and he also felt as though this was another version of Sixteen Candles, which he also starred in with Ringwald.
2. James Spader acted like a complete jerk for his audition.
He did this entirely on purpose so as to show that he could get the whole teenage jerk thing down. Obviously it worked.
1. Spader and McCarthy would appear in another couple movies together.
They would go on to star in Less Than Zero and Mannequin together.
It's easy to forget this movie if you didn't grow up with it. But for those of us that did it's timeless.