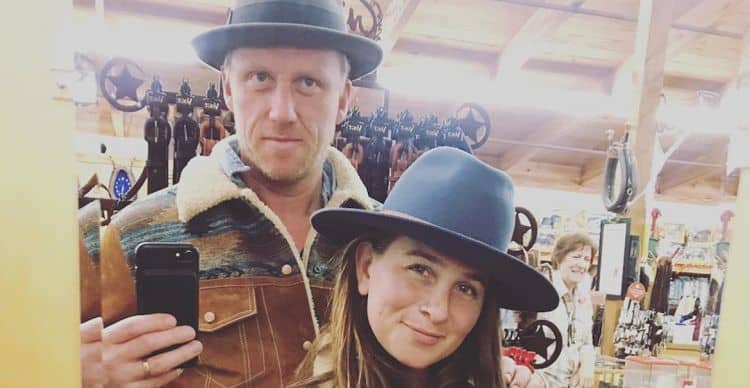 You may not be familiar with the name Arielle Goldrath, but there's a very good chance you've heard of her husband, Kevin McKidd. McKidd is an actor who is famous for playing Dr. Owen Hunt in the hit series Grey's Anatomy. The couple, who has two children together, married in 2018 and have kept their relationship private for the most part. At this point, Arielle Goldrath is more well-known to the world for being Kevin McKidd's wife, but in reality, she is so much more than that. While she may not have a career in the entertainment industry, Arielle has a lot of things going for her. Keep reading to learn 10 things you didn't know about Arielle Goldrath.
1. She May Be A Chef
If you're like lots of other people, you've probably wondered what Arielle does for work. Some sources have reported that Arielle is a private chef although we weren't able to confirm this information. No matter what line of work she's in, though, it appears that she is currently most focused on taking care of her family.
2. She Is A Very Private Person
When a person marries someone who has a career in the public eye, they often find themselves being thrust into the spotlight as well. However, Arielle has managed to avoid the lights, cameras, and action. She prefers to live a more low-key lifestyle and she isn't interested in sharing her every move with the world. For that reason, she isn't very active on social media and there isn't much information about her personal life floating around the internet.
3. She And Kevin Met At A Gathering
You never know when love is going to find you, and that's what happened when Kevin and Arielle met. In an Instagram post in the summer of 2021, Kevin wrote, "Arielle and I meet at this beautiful gathering hosted at Joe's house ! She blew me away from the moment we met, created this wonderful food for our celebration and we talked and laughed and we both knew". What's interesting, however, is that it appears that Kevin was married to his first wife when they met.
4. She Is A New York Native
Although there isn't a lot of information out there about Arielle, her Facebook page reveals that she is originally from a small town in New York called Dix Hills. She attended Half Hollow Hills High School East where she graduated in 2006. She currently lives in California.
5. She Likes Giving Back To Others
Helping others is clearly something that is very important to Arielle. Her Facebook timeline consists mostly of fundraisers that she has donated to over the years. Whether she is donating to help a friend or an organization that is important to her, it's clear that she is very generous.
6. She Supports The Black Lives Matter Movement
There are lots of people out there who are scared to stand up for what they believe in, but Arielle definitely isn't one of them. Her Facebook activity shows that she is very passionate about issues such as fighting racism. She also did not hesitate to let people know that she did not support Donald Trump's presidency.
7. She Loves Spending Time Outdoors
Just because Arielle is married to someone in the entertainment industry doesn't mean that she is all caught up in the glitz and glamour. She seems to be a very down-to-earth person who enjoys the simple things in life. She loves spending time outside and she has lots of appreciation for the beauty of nature.
8. She Is In Her Early 30s
Arielle was born in 1988 which means that she will be turning 33 this year. Her husband, on the other hand, will be turning 49 in August. Although a 15ish year age gap would be considered a lot for many people, it doesn't seem to have been an issue at all for Kevin and Arielle.
9. She Likes To Ride Horses
Arielle is someone who really loves animals, and horses have an extra special place in her heart. She loves to go horseback riding and it looks to be something she has done for many years. In addition to that, she has donated money to organizations such as Wild at Heart Horse Rescue.
10. She Is Jewish
Despite the fact that we don't know a lot about Arielle's personal life, it does appear that she was raised in the Jewish faith. When she and Kevin were married, they had a Jewish ceremony. That said, it's unclear how big of a role her faith plays in her everyday life.
Tell us what's wrong with this post? How could we improve it? :)
Let us improve this post!