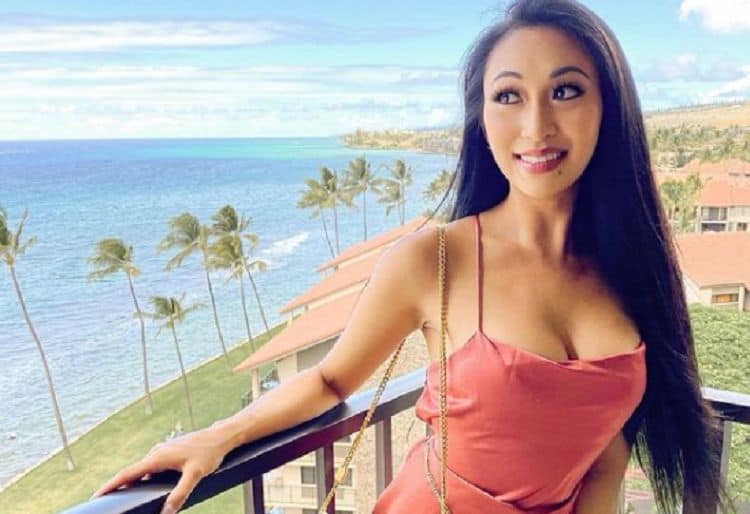 If you've ever been in a serious relationship, you probably understand what it feels like to be willing to do anything to make your relationship work. After spending more than four years with her boyfriend, Luke, Iris Jardiel is at a place where she's ready to take extreme measures. The two will be cast members on the new season of USA's Temptation Island and they're hoping their time on the show will help them fix their issues. As part of the show, they've each agreed to live in a house with single people of the opposite sex. Although there will be lots of temptation on a regular basis, they are both going to do their best to stay faithful and work towards fixing their relationship. We'll all have to sit back and see how things play out for the couple, but there are already lots of people invested in their journey. Keep reading to learn 10 things you didn't know about Iris Jardiel.
1. She's An Entrepreneur
Some people may see Iris as just another pretty face, but the truth is that she is much more than that. She's a growing entrepreneur who is all about her business. Iris attended Bellevue College in Washington where she earned a bachelor's degree in business administration and management in 2021. While some people use this type of degree to break into the corporate world, Iris decided that she'd rather pursue her own path. She started her entrepreneurial journey in 2021 as an Amazon seller and she loves the freedom that she's attained by running her own business. According to her LinkedIn profile, "I sell my own private labeled products on Amazon Prime through Amazon FBA. I find that this has given me the freedom to own my time while making constant passive income." In addition to her Amazon business, Iris has also been doing some modeling for the last several years. Joining the reality TV world will probably help her gain access to even more modeling gigs.
2. She Loves to Travel
One of the main reasons that Iris wanted to be her own boss was so that she could travel. She loves the experience of visiting new places and learning about different kinds of people. After all, even with all of the advances in technology, there's nothing that can compare to what it's like to travel somewhere far from home. Over the years, she has been very fortunate to do a good amount of traveling both in and out of the United States. Iris is particularly drawn to places that have warm weather and beautiful places. Some of the places she's been to include Hawaii and Mexico. Once she gains a buzz from being on Temptation Island, she will probably get the opportunity to travel to even more awesome destinations.
3. She Met Her Boyfriend In An Interesting Way
Every love story has to start somewhere, and the beginning of Iris' journey with Luke is pretty interesting. According to the couple's official bio on the USA website the pair "met when she was dating one of his friends. But once she met Luke, she broke it off and has been with him ever since, but not without some hiccups." Most would agree that moving in on your friend's girlfriend is a violation of bro code, so it would be interesting to know if Luke and this friend still have a good relationship. However, even though their relationship got off to a somewhat questionable start, the couple has been together for over four years. They've had their fair share of ups and downs during that time, but they both still seem very committed to making their relationship work.
4. She Has A Large Social Media Following
There are lots of people who use reality TV as a way to build their online following, but Iris is already doing pretty well in that department. She has almost 40,000 followers on Instagram and that number is probably going to grow after her time on Temptation Island. The reality is that it's not uncommon for people's online followings to grow by hundreds of thousands after doing a TV show like Temptation Island. Thanks to the show, she will probably get a verified check at some point. She has also been working on building a presence on TikTok where she has fewer than 300 followers. She'll probably even get the chance to work with brands to market their products thanks to her online popularity. However, the fact that Iris already has such a large social media following has led some people to believe that she is simply doing the show as a way to get more exposure.
5. She Comes From A Diverse Background
Even though Iris is going on a reality TV show, she is fairly private when it comes to the details of her personal life. As a result, there isn't much information about her floating around on the internet. One thing we do know, however, is that she is originally from Washington state and she grew up in the Snohomish area. She has Filipino ancestry and she is very proud of her roots. That said, it's unclear if her Filipino roots come from both sides of her family or just one of her parents. We weren't able to find any information on whether she has ever traveled to the Philippines.
6. She Likes to Keep Herself In Good Shape
As someone who likes to spend a lot of time by the water, it's no surprise that Iris also likes to keep her body beach-ready all year long. Staying in good shape is one of her top priorities and she likes to make sure that exercise is part of her regular routine. Whether she's going to the gym or doing an at-home workout, Iris always finds a way to get a good sweat in. Looking good isn't the only thing that motivates Iris to exercise, though. Countless studies have shown that exercise also has lots of benefits for people's mental health. Regular exercise can help reduce stress and combat things such as depression and anxiety.
7. She Has A Great Sense of Style
For lots of people, clothes are just something that they have to wear out of necessity. For others, however, fashion is a form of self-expression that also allows people to look and feel their best. Iris is a proud member of the second group and she loves using fashion as a way to share who she is with the world. She has a knack for putting outfits together and she knows how to serve a look for any occasion. Iris also isn't afraid to get a little bold with her looks by mixing in fun patterns and bright colors. While she's on Temptation Island, viewers will probably get the chance to see her wear some great fits. Iris' hair is another way that she likes to express herself and she isn't afraid to experiment with different colors.
8. She Doesn't Have Any Other TV Experience
Despite already having a large social media following, it doesn't appear that Iris has any previous experience with the entertainment industry. We weren't able to find any on-screen credits for her or any evidence that she has tried to be on any other reality TV shows in the past. However, since Temptation Island will give her the chance to get her foot in the door, there's a good chance she may decide to take on other projects in the future. Over the years, countless people have used reality TV as a way to build acting careers and there have been quite a few who have found success. Who knows, Iris might end up turning her 15 minutes of fame into something more meaningful.
9. She's A Positive Person
Let's be real, life is full of challenges and it can be hard to maintain a positive outlook when things get difficult. Iris is the kind of person who likes to see the bright side whenever possible. In a post from her Facebook account, she wrote, "One thing I've learned and come to terms with is that everyone you build relationships with, whether good or bad, will always teach you something. You grow from your experiences with others and can use it as a positive way to constantly keep moving forward in a better direction." Having this kind of mindset has probably been very beneficial to Iris in several areas of her life.
10. Family Is Important To Her
As mentioned earlier, there isn't much information out there about Iris' private life. She also isn't someone who posts a lot of personal things on social media. So, the fact that she shared a photo with her father on Facebook shows that family is something that means a lot to her. The two seem to have a great relationship and it's clear that her dad is someone she looks up to. When she gets free time, she probably enjoys spending as much as she can with her loved ones. We weren't able to find any details on whether she has any siblings.
Tell us what's wrong with this post? How could we improve it? :)
Let us improve this post!