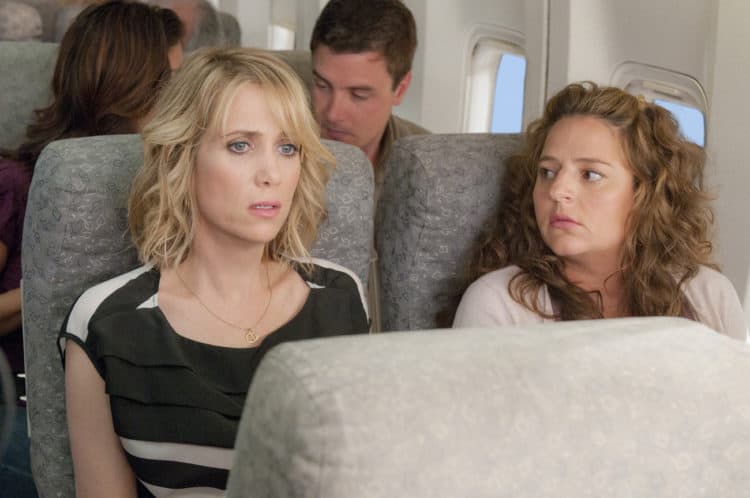 The 2011 movie Bridesmaids was one of the best comedies of the year and arguably one of the best of the decade. The movie follows a woman named Annie (Kristen Wiig) who is the maid of honor in her best friend's, Lillian (Maya Rudolph), wedding. Annie's life was essentially in shambles at the time, but she still wanted to be there to support her friend. However, Annie's show of support ends up taking her on a pretty wild ride. Bridesmaids may be a comedy, but it also taps into something much deeper. Anyone who has ever been part of a wedding knows that even though it's a great experience, it can also be nerve-wracking and expensive. That combination of feelings is what made Annie's character so relatable. Although all of the stars of Bridesmaids had found success in the entertainment industry before the film, being a part of Bridesmaids certainly helped catapult their careers to new heights. Keep reading to find out whatever happened to the cast of Bridesmaids.
What Happened To The Bridesmaids Sequel?
After the success of Bridesmaids, lots of people were hoping there would be a sequel. Initially, it appeared that a second film was a serious possibility. However, those rumors eventually started to die down. In January of 2012, Kristen Wiig told The Hollywood Reporter, "Annie and I aren't planning a sequel. We are writing something else." To date, it doesn't appear that Wiig has ever publicly revealed why she had no interest in working on a second installment. Initially, sources reported that Universal would attempt to make a second movie without her and Annie Mumolo. That idea, of course, didn't go over well. It looks like the second film is completely off the table – at least for now.
Here's what the cast Of Bridesmaids has been up to since the movie:
Kristen Wiig
Kristen Wiig started her journey in the entertainment industry in the early 2000s. By the time she was cast in Bridesmaids she already had quite a few movie roles under her belt. However, Bridesmaids definitely turned her into a superstar. Before the movie, she was best known for being a cast member on Saturday Night Live. Bridesmaids, however, represented the first time Kristen had ventured into the film writing world. While it usually takes people several tries to write a movie that makes money, Kristen hit a home run on her very first try. On top of the great writing, Bridesmaids also gave Kristen another opportunity to put her acting chops on display. Kristen's natural comedic timing and strong on-screen presence made her the perfect person to play Annie. Her role in the movie got her lots of attention and even earned her several nominations and awards. Most notably, she was nominated for an Academy Award for Best Original Screenplay. Since 2011, Kristen has continued to work consistently in both TV and film. However much of her work post-Bridesmaids has been voice acting. However, in 2021, she made a comeback in the writing world with a film called Barb and Star Go to Vista Del Mar which was released in February. Outside of acting, Kristen has also had some great milestones in her personal life. In 2020, she married Avi Rothman and the couple also welcomed a set of twins.
Maya Rudolph
Like Kristen Wiig, Maya Rudolph also comes from a background that includes being a cast member on Saturday Night Live. Although Maya had found a good deal of success before Bridesmaids, the movie allowed her to put her talent on display in a major way. Her natural comedic ability has always allowed her to shine in front of the camera and it also made her a great fit to play Lillian. Since Bridesmaids, Maya has been a fixture on all of our screens. From movies to TV shows she has been a part of lots of successful projects. She has also gone on to be nominated for several Primetime Emmy Awards. Although it doesn't look like there are any plans to make a sequel to Bridesmaids, Maya is definitely down if the opportunity ever presents itself.
Rose Byrne
Unlike some of the other people in Bridesmaids, Rose Bryne didn't really come from a comedic acting background. Although she had several on-screen credits prior to Bridesmaids, she had been in a lot of more serious projects. In the past, we've watched countless actors struggle with making the jump from drama to comedy, but Rose Bryne quickly proved to be naturally funny. Throughout the film, we watched her character go back and forth with Lillian and their on-screen chemistry helped to create an iconic frenemy relationship. After the success of Bridesmaids, Rose decided to continue down the comedic path and she made appearances in other hilarious projects including the 2014 film, Neighbors. However, she has also worked in other genres and her versatility continues to impress everyone who sees her work. On a personal note, Rose has found love since Bridesmaids. In 2012, she started dating actor Brendan Cowell and the couple now has two children together.
Wendi McLendon-Covey
Prior to being cast in Bridesmaids, Wendi McLendon-Covey was best known for her work in TV. Specifically for playing Deputy Clementine Johnson in Reno 911! However, she was not nearly as well known as some of the other cast members. In fact, acting wasn't even Wendi's only job when she was filming Bridesmaids. During an interview with Wealthsimple Magazine, Wendi revealed, "Even when I started getting some success, I had a part-time job. I had a part-time job up until 2012, which means that all throughout my Reno 911 days, my Lovespring International days, my Rules of Engagement days, my Bridesmaids days I had a job." However, the success of Bridesmaids completely changed the trajectory of Wendi's career — in the best way possible. Lots of doors started opening up for her after the movie and she has worked on lots of things since. Her biggest role since Bridesmaids has been in the TV series The Goldbergs, a job she's held since 2013. Bridesmaids continues to be her biggest film role, but it's a shining example of the fact that she can light up the big screen just as well as the small one.
Ellie Kemper
Ellie Kemper is hilarious, and that's something most people knew long before Bridesmaids came around. Before the film, she has become relatively famous for her role as Erin Hannen in The Office. In fact, Ellie was still a cast member on the show when Bridesmaids was being filmed. Ellie has continued to work consistently since Bridesmaids, but many people will probably feel like they've seen less of her on their screens compared to some of the show's other stars. That's because many of her movie roles since Bridesmaids have been voice acting opportunities. However, she was a main cast member on Unbreakable Kimmy Schmidt from 2015 to 2020. Unfortunately, though, things haven't been entirely peaches and cream for Ellie in recent years. In the summer of 2021, Ellie found herself in the middle of some controversy when an old photo surfaced that show her at an event for the Veiled Prophet organization. Although Veiled Prophet labels itself as a philanthropic organization, it has an allegedly racist and Anti Semitic past. After the photo began to circulate the internet, Ellie issued an apology and explained that she didn't know about the organization's past when she initially got involved.
Melissa McCarthy
It almost seems unnecessary to include Melissa McCarthy on this list because most people are pretty aware of what she's been up to since Bridesmaids. Out of all of the stars of Bridesmaids, Melissa may be the one whose career benefited the most from the success of the movie. The film earned her an Academy Award nomination for Best Supporting Actress. It also helped introduce her to a much wider audience than her previous work. After Bridesmaids, she went on to start in several comedic films. She has also gotten into screenwriting and producing. In some ways, however, it seems that the best is yet to come for Melissa. She has some huge things in the works that could elevate her career even further. Most notably, she was cast as Ursula in the upcoming live-action remake of The Little Mermaid. The movie is set to be released in 2023.
Chris O'Dowd
Chris O'Dowd was born and raised in Ireland, but he is know widely known to American audiences. He had done nearly a dozen movies roles before Bridesmaids, but his role in the film took his career to another level. Although he probably had his pick when it came to American productions, Chris has also worked on UK-based movies and show since Bridesmaids. Not only has continued to work on-screen, but he has also found success in the theater world. He made his Broadway debut in the 2014 production of Of Mice and Men. The role earned him a Tony Award nomination. Like many others, Chris had a fairly rough year during 2020. On top of the pandemic bringing the world to a standstill for months on end, he and his wife also experienced the loss of their good friend, Caroline Flack. Additionally, Chris turned 40 in 2020 which wasn't the enlightening aging experience he was hoping for.