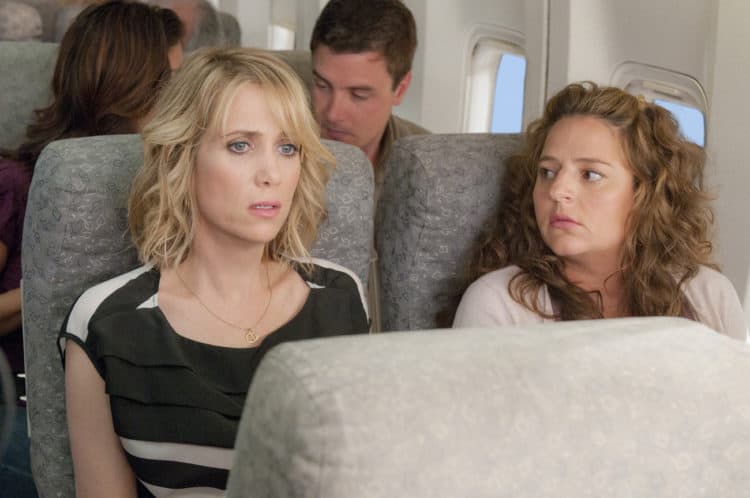 Annie Mumolo is an actress, screenwriter, comedian, and producer. She was born in Irvine, California, on July 10, 1973. She began her screen career in the mid-s00s, but she is probably best known as the co-writer of the 2011 film 'Bridesmaids', in which she also had a small acting role. Mumolo was nominated for several awards for this film, along with her co-writer Kristen Wiig. She has also acted in both films and television, and she has worked prolifically as a voice actor. Although she is relatively well known and she is continuing to raise her profile, there are many things that people do not know about her. Here are 10 interesting facts that you probably didn't know about Annie Mumolo.
1. She Has a Degree
Although she now works in the entertainment industry, this was not always Annie Mumolo's plan as she attended university before taking this career path. She had become interested in acting during her childhood but decided to pursue an academic route. After leaving Mater Dei High School in 1991, she attended the University of California, Berkeley. There she studied for a degree in history, and she graduated in 1995. While at university, she was a member of the Chi Omega group. After graduating, Mumolo then studied acting at the South Coast Repertory.
2. She Was Married to Tim Lovestedt
According to Glamour Path, Annie Mumolo's ex-husband is actor Time Lovestedt, who had a role in 'Megan Leavey'. The former couple got married in 2005 and their marriage lasted for 11 years, ending in divorce in 2016. They have two daughters together called Grace and Vincent.
3. She Had an Embarrassing Moment Dressed as a Mermaid
In an interview with Vanity Fair, Annie Mumolo revealed that one of her most embarrassing moments was while dressed as a mermaid. When she was trying to make it as a performer, she took on various jobs. One of these was working as a children's entertainer and involved her wearing a mermaid outfit. The outfit consisted of two shells over her breasts that were held together with a flimsy piece of string and a tight mermaid's tail. When she entertained a two-year-old's birthday party one day, she was posing for a photograph when the string broke and the shells fell down, thus exposing her breasts to the watching children.
4. She Met Kristen Wiig Performing with an Improvisation Group
Annie Mumolo is a member of a comedy improvisation group called The Groundlings. She joined this group on the recommendation of friends at the beginning of her acting career. She has gradually risen through the ranks with the group to become one of the lead performers. It is because she is a part of this group that she met Kristen Wiig, with whom she co-wrote 'Bridesmaids'. The pair have had a solid friendship ever since, and they have collaborated on multiple projects.
5. She is Not Currently Active on Social Media
Unlike many celebrities, Annie Mumolo is not an active user of social media, and she has never had an Instagram account. She did have a Twitter account once that she had opened in October 2014, and this had accrued more than four thousand followers. However, she has since closed this account down and her last tweet states that her account had been hacked. She did not open another Twitter account following the hacking incident.
6. Performing Talents Run in the Family
Mumolo is not the first person in her family to become a successful entertainer. Her paternal grandfather, Dominic Mumolo, worked as a studio musician for NBC for 22 years between 1949 and 1971. He also performed with Frank Sinatra for the legendary singer's 1996 album 'The Complete Capitol Singles Collection'.
7. She Filmed 'Bridesmaids' While Pregnant
The process of making the film 'Bridesmaids' was an important stage in Mumolo's life. Professionally, she was seeing the creation of the film she had co-written become a reality and achieving her first big success. She was also playing a small role in the film as she played an anxious woman that sits next to Wiig's character on the plane. However, this was also an important phase in her life for personal reasons, as she was seven months pregnant during filming. This is not immediately evident when you watch the film because she is seated in the aircraft.
8. She Was the Voice of Bill in Curious George
In addition to her screen appearances, Annie Mumolo has provided voices for many characters in films and television series. One of her best-known voice roles is the character Bill in Curious George. She provided this voice for the television series and for several videos. In the same series, she also provided voices for characters including Sprint Quint and Mrs. Berg. Characters that she has voiced for other series include Tina Russo Duck in The Looney Tunes Show, Lola in Handy Manny, and several characters for Radom! Cartoons.
9. She Has Collaborated with Wiig Again on a New Film
Following the success of their previous collaborations, Mumolo and Wiig have collaborated once again on a film that is currently in post-production and is set for release in 2020. The duo has co-written the film 'Barb and Star Go to Vista Del Mar'. In this film, Mumolo plays the role of Barb, while Wiig portrays Star. The film has been directed by Josh Greenbaum and will also star Jamie Dornan in the role of Edgar.
10. She Has a Net Worth of $2 Million
According to Celebrity Net Worth, Annie Mumolo has a net worth of approximately £2 million. She has accrued with wealth through her work as an actress, screenwriter, and comedian. As Mumolo has several upcoming projects, it is likely that her net worth will continue to increase in the years to come.