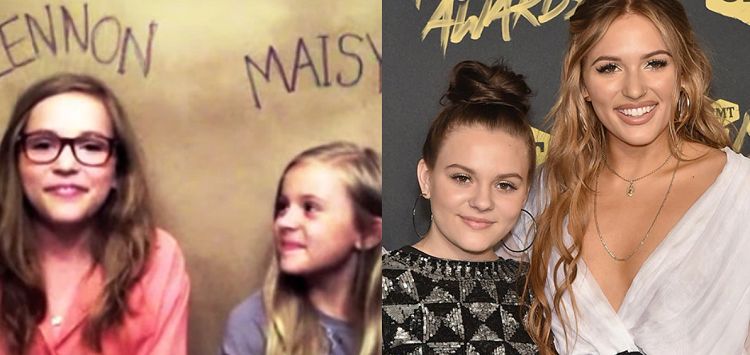 During the early 2010s, sibling duo Lennon and Maisy Stella took the world by storm when they were cast in the TV series Nashville. Although the girls' prior experience had been with music, they quickly proved to be talented actresses as well. The series centered around a well-known fictional country musician named Rayna James (Connie Britton). Lennon and Maisy played her young daughters, and the roles gave them the opportunity to put their singing skills to the test as well. During the show's run, they won the hearts of millions of people, but many have wondered what became of them after the show was canceled in 2018. Keep reading to find out what Lennon and Maisy Stella are up to now.
Lennon and Maisy's Acting Journey
Lennon and Maisy were both born in Ontario, Canada. Maisy was born in 2003 and Lennon was born in 1999. The girls were primarily raised in Nashville as they relocated there with their parents in 2009. Both of their parents are musicians and perform together under the name The Stellas. Needless to say, it was only a matter of time before Lennon and Maisy made their way to the stage as well. They both showed interest in performing at early ages and although they didn't undergo any formal musical training, they proved to be natural talents. Although music was their first love, however, acting was initially what they became famous for. Nashville marched the first on-screen appearance for both sisters, but ironically, their roles weren't intended to be anywhere near as significant as they were.
During an interview with Foxtel, Lennon said, "It's a really cool, weird story, but basically Maisy auditioned originally as the older sister. They loved her and she got the role, then [the casting directors] saw a video of us singing together and they were like, 'We want her to audition'. I was so unprepared and never in a million years thought I would be acting." Maisy then went on to reveal that Rayna's children were originally meant to be background characters who only made very small appearances. However, Lennon said, "We got the roles and they rewrote the ages – they were originally six and eight and it became eight and 12 to suit Maisy and me. They also made it so that the characters are musicians, which wasn't the original storyline, so that's really cool." The series ended up being huge opportunities for both of them. With the success of the show, many people thought Lennon and Maisy would go on to do much more acting, but so far that hasn't been the case.
What Are Lennon and Maisy Doing Now?
If you were fans of Lennon and Maisy on Nashville, you're probably wondering what the heck they've been up to since the show ended. While they haven't done any more acting, they have both been busy pursuing their musical interests. From 2012 to 2020, they made music together under the name Lennon & Maisy. Some of the songs they released together included music that was featured in Nashville. Stella has since gone on to pursue a solo music career. In 2020, she won a Juno Award for Breakthrough Artist of the Year and she has released two singles in 2021. Maisy, on the other hand, has yet to release any solo music. Both sisters are active on social media and they appear to be enjoying all that life has to offer. Maisy recently turned 18 and got a tattoo to celebrate the big day. Lennon is excited to continue promoting her new music.
What's Next for Lennon and Maisy?
As mentioned earlier, Lennon and Stella haven't had any acting roles since Nashville. At the moment, it doesn't appear that either of them has any upcoming projects in the works. However, that doesn't mean that we've seen (or heard) the last of them. There's always a possibility that one or both sisters will decide to do more acting at some point, but it looks like music is their main focus for now. Lennon released her debut alum, Three. Two. One., in 2020 and she has another one in the works. It's unclear if Maisy has plans to release a solo project any time soon. No matter what the sisters are doing professionally, though, they continue to have a tight bond with each other. While talking to Earmilk, Lennon shared that she and Maisy are best friends. While they both seem to be interested in following their own creative paths for now, it would be great to see them do something together again in the future.
Tell us what's wrong with this post? How could we improve it? :)
Let us improve this post!