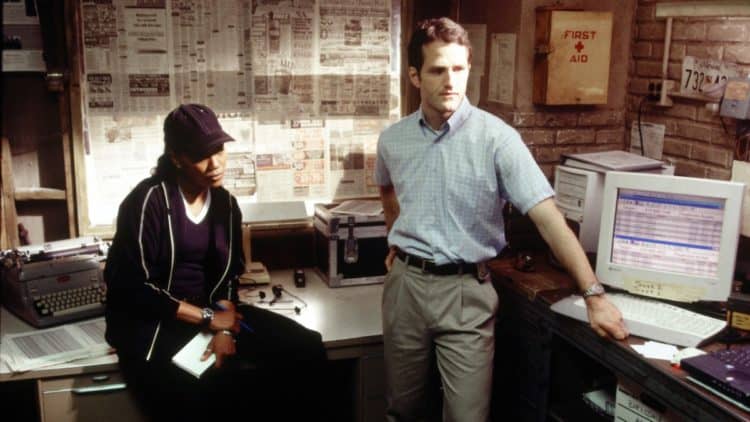 There are some actors who get the chance to play a role that they become remembered for for the rest of their careers. Thanks to The Wire, Jim True-Frost is one of those actors. In the now-legendary series, Jim played Detective Roland 'Prez' Pryzbylewski. When viewers were introduced to Roland he seemed to be somewhat bad at his job, but as the series went on he proved to be very skilled at breaking codes. Being on the show introduced Jim to a wide audience and it was the first major TV opportunity of his career. Now, nearly 15 years after the show's end, lots of people are wondering what ever became of Jim. Keep reading to find out what happened to Jim True-Frost after The Wire.
Jim's Acting Journey
Jim was born in Connecticut but grew up in Illinois. While we don't know what inspired Jim to get into acting, we do know that it was something he became passionate about relatively early in life. Jim made his first on-screen appearance in 1986 in a TV series called Crime Story. However, Jim's career didn't take off right away. After that, he didn't land another on-screen opportunity until 1989 and his roles continued to be somewhat sporadic. However, during the 1990s, Jim started making a name for himself after being cast in movies like Singles. Eventually, though, he decided that he wanted to focus his attention on the small screen. As mentioned earlier, it wasn't until The Wire came along that Jim earned a significant TV role. There's no denying that the show changed the trajectory of his career in a positive way. When asked how the chance to do The Wire came along, Jim told Bullz Eye, " I was living in New York when they were holding casting sessions there, and I just went on a regular audition call and auditioned for David Simon and Ed Burns and Clark…who was directing the pilot…they knew me from an episode of "Homicide," where I just sort of did a guest spot on an episode, and so I'd had a brief introduction. And, y'know, I just kind of…got a callback and got the role." He went on to say, " I had no idea all the twists and turns that would happen, and it really turned out to be a great ride for me. I really loved the character." Like many other talented actors, Jim also has lots of love for the stage. In addition to the work he's done on-screen, he has also had a successful theater career that includes a road in the Broadway revival of The Grapes of Wrath. Jim has also been a member of the Steppenwolf Theatre Company since 1989.
What Has Jim Been Up To?
If you thought that things slowed down for Jim when The Wire ended, you might want to think again. He has continued to work regularly throughout the years and he has been a part of several other successful projects. In reality, his role on The Wire likely helped open the door for other projects. Some of Jim's latest credits include shows like Madam Secretary, The Blacklist, and Manifest. Most recently, he was in the Showtime series American Rust. No matter what movie or show you see Jim in, you can bet that he is going to put on a great performance. When it comes to his personal life, Jim has always been very private so it's hard to tell what he's been up to on that front. He also doesn't have any verified social media accounts. What we do know, however, is that he has been married to Cora Frost since 1999 and the couple has two children together. Cora is currently a law professor at Syracuse University in New York.
What's Next for Jim?
Unfortunately for Jim's fans, his IMDB page doesn't show that he has any projects in the works. However, that doesn't mean that we won't be seeing more of him in the future. With Jim's track record, it seems like only a matter of time before another great role comes along. Even though The Wire continues to be what he is best known for, there is still plenty of opportunities for Jim to play other roles that get him lots of attention. As someone who is capable of playing a wide variety of characters, the possibilities are truly endless for Jim. After all, one of the best things about the entertainment industry you never know when your biggest role is going to come along.
Tell us what's wrong with this post? How could we improve it? :)
Let us improve this post!