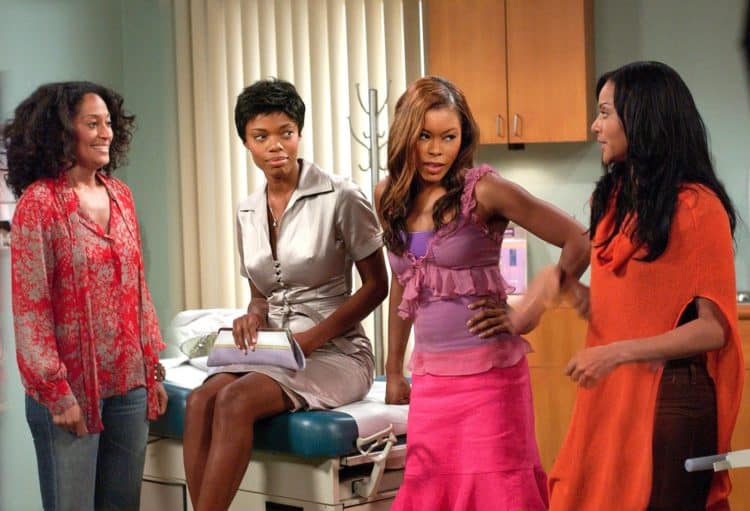 Created by Mara Brock Akil, Girlfriends, arguably one of the best African American sitcoms of all time, made its debut on UPN in September of 2000 and eventually moved to The CW, where it completed its eight-season run. At a past interview, Akil revealed that she was proud of the legacy of Girlfriends, and how there's a new generation of women who are discovering its magic and relating to the lives of the cast. " It's kind of like Baldwin [James], Baldwin is everywhere. And he took the time to bottle up the work so that we would be ready when we were hungry." Akil said." I think the audience that I wrote for at the time, they get to revisit it and have a celebration, and the new audience is, like, taking notes." She added. It's been a little over a decade since the show came to an end. Here's what various members of the cast have been up to since:
1. Tracee Ellis Ross (Joan Carol Clayton)
As Joan Clayton, Ross was the mother of the squad who gave a lot to others at the expense of her own needs. Most notable was Toni (Jill Marie Jones), a childhood friend with whom she had the most tumultuous relationship and eventually fell out. Since the show came to a halt, Tracee Ellis Ross Has flourished in her career and has a Golden Globe award and four NAACP Image Awards to show for it. Ross gained worldwide recognition for her role as Dr. Rainbow Johnson in the ABC series Black-ish, created by Kenya Barris. Outside of acting, she is an entrepreneur with her own haircare line dubbed 'Pattern.'
2. Persia White (Lynn Ann Searcy)
As Lynn, Persia White was the highly educated friend whose life was as far from independence as any could be, yet she was the more vibrant one sexually. Lynn was drawn to men with a spiritual aura and had a carefree personality that led to her pursuing a career in music. In real life, White was similar to her character when it came to love of music, so much that she was part of a band and also dropped her first album in 2009, dubbed Mecca. She has since appeared in several films, including Black November, Desiree, and Miss Me This Christmas. On television, she had a role on The Vampire Diaries and made appearances on Will & Grace, Black-ish, and Angel.
3. Golden Brooks (Maya Denise Wilkes)
As Maya Wilkes, Golden Brooks was Joan's former assistant who always clashed with Toni. Although she was in every way a true representation of the hood, in subsequent seasons, she loosened up as her career flourished. For her role as Maya, Brooks earned herself a BET Award for being the Best Supporting Actress, and an NAACP Image Award for being an Outstanding Actress. Since the show came to an end, Brooks has made appearances in some shows, including CSI: Miami and Black-ish. She's also appeared as a recurring character in Hart of Dixie, where she played the role of Ruby Jeffries. On the big screen, Brooks has had roles in a number of films, including The Darkest Minds, He Watches Over Me, and The Inheritance, for which she landed an American Black Film Festival Award.
4. Jill Marie Jones (Antoinette 'Toni' Childs)
When we first met Toni, she bodied the role of the 'cute one' amongst her friends, a title she bestowed upon herself. At first, she and Maya did not get along, but when she fell out with Joan, she retained Maya and Lynn as friends. For her role on Girlfriends, Jones garnered BET and NAACP Award nominations in the category of Best Supporting Actress. Unlike other main cast members, Jill only appeared on the first six seasons of the show. Four years after her exit, she landed a role in Gillian in Georgia. Jones also played the role of Amanda Fisher on Ash vs Evil Dead. In the world of film, she has made appearances in Hear No Evil, Charming the Hearts of Men, and Meeting Spencer, to mention but a few.
5. Reggie Hayes (William Jerrowme Dent)
William's mother gave him a name as complex as his life. As if 'Jerome' was difficult a name to spell, she settled on having double letter 'r's in his name, and a silent 'w'. That would explain why he was partially a mama's boy. He had a complicated relationship with Lynn, then Joan, with whom he co-owned a restaurant, and was gracious enough to donate his sperm. His life was quite the sport! For his role, Hayes earned himself three NAACP Image Awards in the category of Best Actor in a Comedy Series. Since then, he's continued to work on television, appearing on shows such as Black-ish, Black Lightning, and Let's Stay Together. Between 2013 and 2014, he was a regular cast member of Hart of Dixie. Hayes has also made appearances on a couple of films in the past, including Carter High and The Devon Taylor Show, which was a film made for television.
6. Khalil Kain (Darnell Leroy Wilkes)
For the first season of Girlfriends, the role of Darnell was played by Flex Alexander. Khalil Kain would later take on the part. Through it, we saw his complicated relationship with Maya, with whom he had a son. In between a divorce, not approving of the group of friends, and dating Lena (Chenoa Maxwell), Maya and Darnell found their way in each other's arms and even considered adoption. Following the show's ending, Kain has since appeared on Blue Bloods. Outside of television, he appeared in the 2010 film, For Colored Girls. This year, he starred in The Milllenial alongside Erica Mena, a film in which he is also the director. The film also features Terri Vaughn, famed for her appearance on The Steve Harvey Show, a role for which she garnered herself three NAACP Image Awards in the category of Best Supporting Actress. The Millenial premiered at the Hip Hope Film Festival back in August. Away from acting, Klain is extremely passionate when it comes to martial arts. He is a holder of a black belt when it comes to Hapkido, a hybrid Korean martial art aimed at self-defense.
Tell us what's wrong with this post? How could we improve it? :)
Let us improve this post!