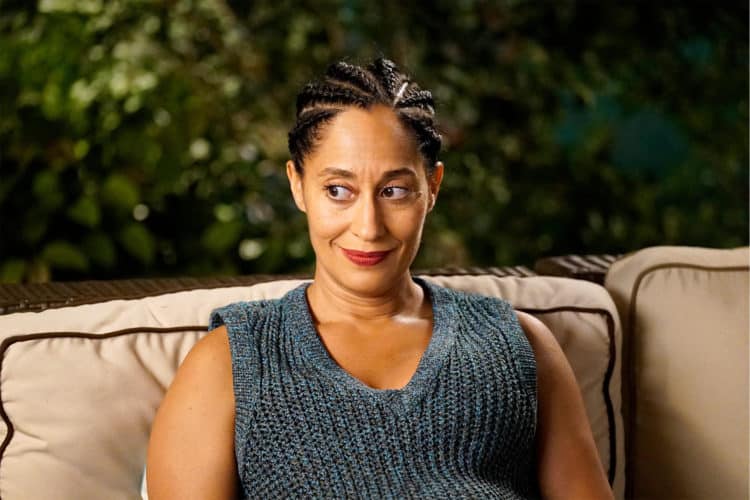 When the name Tracee Ellis Ross comes up, a few things may come to mind: Dr. Rainbow Johnson or simply 'Bow' from Black-ish, the perfect example of what it means to be single in your forties, the vibrant host that killed it at Black Girls Rock, or, last but not least, Diana Ross's daughter. It is impossible to put in one sentence the achievements of Ross because, besides being the daughter of one of the most iconic singers of our time, she had carved her own identity and brought her uniqueness to the table, certifying herself as a strong successful black woman worth emulating. She's been in the game for so long and still manages to make headlines for the right reasons. Here's how she has pulled it off:
1. Putting In The Work
When it comes to acting, Tracee Ellis Ross has paid her dues over and again. At the very foundation is her degree in theatre from Brown University. Early in her career, Ross played roles in Far Harbor, Race Against Fear: A Moment in Truth, and also hosted Lifetime's pop culture show, The Dish. Ross would find her breakthrough via the hit show Girlfriends. Playing Joan Carol Clayton earned Ross an NAACP Image Award in the category of Best Actress. To only tell the glamorous side of things would be a half-truth, since Ross has had her fair share of downs in Hollywood, like the time she allowed herself to be disrespected at an audition. This she revealed during a Hollywood Reporter Actor's roundtable. Thankfully, the few bad experiences didn't deter her spirit, and, 18 years after she got started in the game, Ross landed the role that became a gamechanger; that of Dr. Rainbow Johnson in the ABC series Black-ish.
2. Getting Into Directing
Every now and then, we've had actors decide to go behind the scenes, either by taking on directing, executive producing, or owning production companies. The Smiths have gotten so good at the game and even recruited other family members to join in on the business, churning productions like Red Table Talk and Karate Kid. Just like the Smiths, Ross tried her hands behind the scenes by directing episodes of Black-ish. "When I directed my second time on Black-ish, I wasn't in everything. I got to feel my style emerge, and it was really exciting. I think the biggest difficulty for me is having to think about what I look like. Because as a director, I put my hands all over my face while I'm watching the monitor." Ross said of her directing experience while in conversation with Sarah Paulson on Variety.
3. Cultivating A Fitness Culture
One Peek at Ross's Instagram will let you know that the woman means business. As an actress, it's important for her to keep her body in check and she does it in the most gracious and disciplined of ways. Lately, she has been incorporating cuffs into her workouts and sharing the journey with her followers. More admirable than her discipline when it comes to the gym is her choice of fitness wear that often flaunts her curves. Ross likes to get her energy on and it pierces through her posts, whether she is dancing to her mom's latest single or slowly but steadily doing her deadlifts. When it comes to fitness, consistency is the game, and Tracee Ellis Ross is a master at it.
4. 'Finally !': A Nod From Diana Ross
A lot of children born of famous parents have a challenge; they have to live in the shadow of their parents. This in itself is both a blessing and a curse. A blessing, because one is born into a world of options, and a curse because they have to work twice as hard to prove that they are worthy and can succeed in the field out of merit. As such, we've had cases where children of famous parents choose to hide their identities in order to be treated equally. Denzel Washington's son John David Washington often told casting directors he was a construction worker, just so he could find his way through Hollywood by his own effort. The case is no different for Tracee Ellis Ross, who'd never sung in public. When the chance came to sing in a film, she said, 'Yes!'. The High Note saw Ross record seven songs, and when Ross, nervous as hell, played a song for her mother, Diana Ross said, " Finally!"
5. Celebrating Major Milestones
As a young girl, Tracee Ellis Ross was specific about what she would wear on her wedding day. " I wanted to wear a Victorian dress. I wanted to wear multiple vintage '90s, like, hand off my shoulder with a little bit of a corset and a skirt. And then I was gonna change into a cream suit with a wide leg trouser, with a very large exaggerated cuff and a double-breasted jacket." Ross told Oprah Winfrey during her 2020 Vision Tour. Ross would agree that, although that hasn't happened yet, it doesn't mean it's impossible. Meanwhile, given the work she has put into herself and her craft, when the moment came to celebrate the biggest milestone of her career, she celebrated it as she would have her wedding.
" When I was nominated for an Emmy the first time, it had been thirty-some-odd years since a black woman had been nominated in that category (Lead Actress in a Comedy). I wore a white dress that was a couture Ralph Lauren dress that was made on me and for me. And I realized during that process it was my moment to be married to my own life. And to actually walk in what I had created and built. That this was a moment that was not just mine, it was all of ours." Ross said. This is the main reason Ross is still up and going, shattering glass ceilings and making sure she paves way for younger players in the game. She owns who she is and what she brings to the table. A woman like her cannot simply be knocked off of a pedestal she has built through her own blood, sweat, and tears. She owns it. She knows it. And most importantly, she lives it.
Tell us what's wrong with this post? How could we improve it? :)
Let us improve this post!