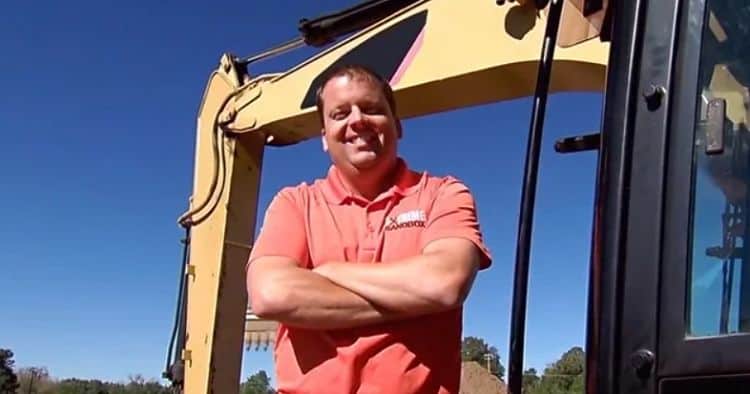 When Shark Tank debuted more than a decade ago, there were probably a lot of people who weren't sure what to expect from the show. However, over the years, the series has helped dozens of entrepreneurs live out their dreams. So, when Randy Stenger appeared on the show during season seven, he already knew what a great opportunity it was. When he entered the Tank, he was asking for a $150,000 investment in exchange for a 15% stake in his company, Extreme Sandbox. Randy was overjoyed when he was able to solidify a deal with not one, but two Sharks (Mark Cuban and Kevin O'Leary). As we know, however, getting a deal doesn't always mean that a company will go on to be successful. As a result, lots of people have wondered how things have panned out for Stender and his company. Keep reading to find out what happened to Extreme Sandbox after appearing on Shark Tank.
What Is Extreme Sandbox?
Since it's been quite a few years since Extreme Sandbox's episode of Shark Tank, I thought it would be helpful to provide a little reminder of what the company actually does. To put it simply, Extreme Sandbox is exactly what it sounds like. Located in Minnesota, the business allows adults to play in a ten-acre sandbox where they can operate large equipment such as excavators and bulldozers.
Randy came up with the idea for the business after riding by a construction site with his sons and one of them mentioned how fun it would be to play there. While most parents would've let the comment go in one ear and out the other, Randy started thinking of a way to turn that concept into reality. Extreme Sandbox was the result of those thoughts.
The business opened in 2012 and it didn't take long for it to become popular among the locals. Not only did Extreme Sandbox represent a place where people could have a unique adventure, but it also allowed people to learn more about the construction industry in a fun and safe way.
Although Extreme Sandbox proved to be an early success, Randy eventually knew that he wanted to expand the business outside of Minnesota. This is when he decided that Shark Tank was the perfect opportunity. Some viewers were surprised that Extreme Sandbox received an offer since it was lacking some of the characteristics the Sharks usually look for when making investments. After all, there's nothing proprietary about a business that allows adults to play in the sand. Also, because the business is entirely dependent on physical locations, it isn't the easiest thing to scale. Still, Mark and Kevin saw the vision and they were excited about helping Extreme Sandbox reach new heights.
What Is The Company Doing Now?
We've all heard the phrase "two heads is better than one" and apparently the same is true for Sharks. Since being on Shark Tank, things have gone extremely well for Extreme Sandbox. We weren't able to find any specific details on how much money the company has made, but According to the company's website, it has experienced "tremendous growth" since the show. The site notes, "We opened our 2nd location at Tanglewood Resort in Pottsboro, TX in April, 2016. We relocated our Pottsboro site to Sachse, TX to be closer to the Dallas market in September 2020."
People who have visited Extreme Sandbox have nothing but good things to say and the business has a 5-star rating on Trip Advisor. In her review, a guest named Peggy M wrote, "What a fun activity to play with the big Excavator and feel the power of moving dirt, lifting trucks and driving the equipment. The staff is focused on safety and very thorough in training and guiding their guests thru the experience. We appreciated Adams guidance and encouragement as we navigated the obstacle course and completed the various tasks."
What's Next for Extreme Sandbox?
Sadly, Sachse, TX Extreme Sandbox location was closed in April of 2022, but that doesn't mean the company's growth has come to a halt. The Extreme Sandbox website notes that the team is looking for another space in the Dallas-Forth Worth area. In the years to come, Extreme Sandbox hopes to expand even further. Those who are interested in staying in the loop can follow Extreme Sandbox on Instagram.
In a world where many businesses don't make it beyond the first few years, Extreme Sandbox continues to beat the odds and it has joined the ranks of Shark Tank's many success stories.
Tell us what's wrong with this post? How could we improve it? :)
Let us improve this post!