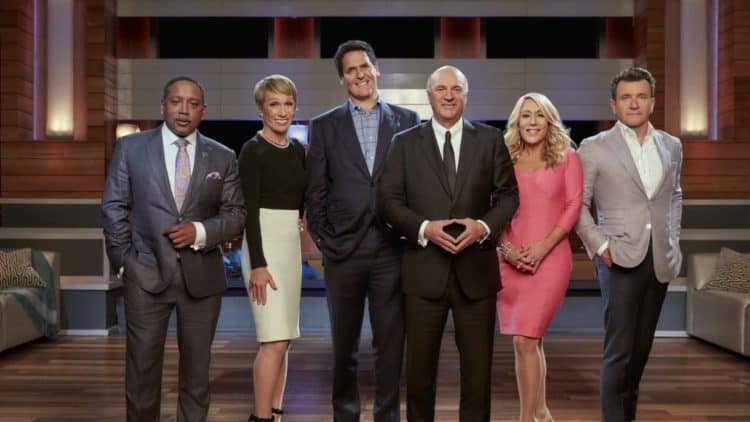 For more than a decade, entrepreneurs all over the United States have been competing for a chance to enter the Shark Tank. Not only do business owners want to present their idea in front of the Sharks, but they're also hoping to make a deal. That magical moment when a Shark (or sometimes, Sharks) and an entrepreneur agree to do a deal has always been one of the best parts of the show. But did you know that all of the deals that are done in the Tank don't always make it to the real world? Throughout the show's history, there have been quite a few deals that have fallen through once it was time to sign on the dotted line. Keep reading to learn about 10 deals from Shark Tank that never actually happened.
What Happens When A Deal Is Made On Shark Tank?
As an entrepreneur, getting someone to invest in your company is always a good feeling. It feels even better when the person investing is someone who can actually help take your business to the next level. Needless to say, hearing the words "you got a deal" while standing in the Shark Tank is a moment that most business owners will never forget. In reality, however, those words are actually quite meaningless. Accepting an offer in the Shark Tank doesn't actually mean that the deal is legitimate. After filming, the Sharks' legal teams step in to do their due diligence on the companies they'd like to make deals with. The goal here is to ensure that the numbers match what was said on the show, and to ensure that the partnership will make sense. Lori Grenier told , "My due diligence team gives me a nice report on everything about the company, and then we all sit down and determine what would be best for everybody. It's not just, 'Oh, here's money and I get this percentage". She added, "It's a very careful, thoughtful analyzation. I want everybody happy. Me, my team, the entrepreneur, their team. Because if you don't have that, it's never going to be good." Unfortunately, this process sometimes uncovers things that weren't discussed on the show. Or, the Shark's plan for the business doesn't actually align with the entrepreneurs' goals. According to Mark Cuban, the entrepreneur is often the reason the deal doesn't end up closing. He told D Magazine, "I'd say 90 percent of the time, the entrepreneur changed the deal. It was not us backing out." For some companies, the loss of the Shark Tank deal is detrimental to their business. In other instances, however, not doing the deal was actually the better choice. Here are 10 Shark Tank Deals That Fell Through:
1. Plated
Plated is arguably one of the most memorable businesses to appear on Shark Tank because it went on to become very successful. Founded by Nick Taranto and Josh Hix, Plated is a meal service that provides a fun and creative experience by delivering boxes of ingredients to customers along with recipes to prepare the food. After launching in 2012, Plated had hit some speed bumps. By the time Nick and Josh appeared on Shark Tank in 2014 the business was already in trouble. Luckily, Plated piqued the interest of Mark Cuban who agreed to invest $500,000 in the company in exchange for 5.5-5.6%. It was an exciting moment and it looked like the start of a bright future for Plated. However, after the episode aired, the deal started to break down during the negotiation process. The deal was eventually canceled and Plated was back to square one. In another stroke of luck, Nick saw Kevin "Mr. Wonderful" O'Leary at an event. When Kevin asked how the deal was going, Nick explained that it had fallen through. Mr. Wonderful felt this was the perfect opportunity to swoop in and make a deal of his own. It's unclear exactly how much Mr. Wonderful invested in the company, but Plated it definitely helped push the company forward. In 2017, Plated sold to Albertsons Companies for $300 million.
2. REMYXX
Everybody loves a business that offers a useful product/service and also stands for something positive. That's exactly what REMYXX offered when it entered the Shark Tank. The business was founded by Gary Gagdon who decided to make sneakers that were made entirely from recycled materials. Despite having zero dollars in sales, Gary pitched his idea on Shark Tank. As you can probably guess, most of the Sharks were turned off by the fact that Gary's business wasn't making any money. However, Daymond John, who has decades of experience in the fashion industry, decided to take a chance. He offered to loan gary $50,000 in exchange for 80% equity in the business and Gary ultimately agreed. After the show, however, both Daymond and Gary agreed not to move forward with the deal. Daymond felt that Gary shouldn't give up so much equity in his company and he recommended that Gary start a Kickstarter campaign instead. REMYXX was eventually rebranded as ReKixx but, according to Gary's LinkedIn profile, the business closed in 2015.
3. Beard King
There are some ideas on Shark Tank that are obviously going to be successful, and Beard King was one of them. The grooming kits were designed to help people with beards look their best while also taking good care of their skin and facial hair. The grooming cape, that made it easy to catch and dispose of hair clippings, was the biggest selling point. Even though the company's founders were asking for $100,000 in exchange for 20% equity, they accepted an offer from Lori for $100,000 for 40%. The deal didn't survive the negotiation process, but it doesn't seem to have hindered the company. Beard King is still around and it appears to be doing well.
4. Boot Illusions
Boot Illusions isn't as popular as some of the other businesses on this list. The company appeared on Shark Tank in 2012 with a product that lets people easily transform their shoes into boots and vice versa. Boot Illusions received offers from both Barbara and Daymond, but they ultimately decided to go with Barbara's deal of $100,000 for 55% of the business. What seemed like a great opportunity for Boot Illusions didn't end up materializing. An article from Shark Tank Blog reported that one of the company's founders, Queenie Davis, said, "We weren't quite as far along in the business as Barbara had hoped. We never moved forward…" Sadly, it appears that Boot Illusions has since gone out of business and we weren't able to find any updated information on either of the company's founders.
5. GoGoGear
Riding a motorcycle can be fun and exciting, but it can also be incredibly dangerous. The founders of GoGoGear hoped to give riders a safer experience while also making sure they still looked stylish. The company designed Kevlar lined closed that also had reflective strips to make riders more visible. As a fashion entrepreneur and motorcycle rider, the company was the perfect fit for Daymond who offered $300,000 in exchange for 65% equity. Despite agreeing to the deal, GoGoGear's CEO, Arlene Battishill, said it never actually went through. She told 2 Paragraphs:
"we mutually agreed to not proceed with the deal at the time we did it on the show because the industry that we provide products to literally imploded with us losing 8,000 out of 18,000 retailers in one year due to the after effects of the recession. So what we did is "hunker down" for a couple of years and then in 2015, our business really took off and at the beginning of 2016 we entered Europe and literally increased our sales 10 fold overnight and the rest is history as they say and so no need for Daymond's assistance, we did it all on our own."
As of 2021, the GoGoGear website is still active and the company appears to be doing well.
6. Trobo
When Trobo appeared on Shark Tank in 2016, it proved to be a tough sell for most of the sharks. Despite being cute, the plush toy, which doubled as a way for children to learn about STEM, felt a little behind the times in terms of technology. Still, the company managed to get a deal with Robert for $166,000 in exchange for a 33% stake in the company. However, Robert made it clear that the deal was contingent upon Trobo being able to ink a dream with Dream Works. The deal ended up falling through, although the reason was never made public. Unfortunately for Trobo, this eventually led to the company's end. Although the website is still active, it has a message that reads:
"We're no longer producing TROBOs. The TROBO story application has been removed from the marketplace due to being too expensive to maintain. We enjoyed taking TROBO from an idea through a thrilling three year journey. We appreciate everyone of you who supported us along the way."
7. Beyond Sushi
Apparently, the Sharks aren't the only ones who do their due dilligence after making a deal on the show. In Beyond Sushi's case, it was the owner who decided not to move forward after looking into the facts and figures. After making a joint deal with Lori and guest Shark, Matt Higgins, Beyond Sushi agreed to give up 30% of West coast business and 15% of East coast business in exchange for $1.5 million. Accordng to Ice.edu, the company's owner, Guy Vaknin, said, "We did our due diligence and negotiation, and at the end of everything, I saw that it was going in a direction that I didn't necessarily want it to go in, so I decided that I wasn't going to move forward and let them go. They're not part of the company, but they're part of the experience". The vegan sushi restaurants appear to still be thriving even without help from the Sharks.
8. EarthLog
EarthLog was another product that proved to be useful and good for the environment. Made from recycled paper and candle wax, EarthLog offered a unique kind of fire log. Lori jumped at the opportunity to work with the company and offered to invest $160,000 in exchange for 30% equity. The deal ultimately fell through because Lori wanted to move the manufacturing to China while the company wanted to keep it in the United States. While EarthLog initially went on to find success, it appears that the company has gone out of business. The Instagram page hasn't been updated since 2018 and the website is no longer active.
9. Night Runner
If you're someone who enjoys running at night then a product like Night Runner would probably interest you. The small LED lights were specifically designed to be clipped on to sneakers to add visibility when running in dark places. Night Runner accepted an offer from Robert which was a $250,000 investment in exchange for 15% equity in the company. He also gave them additional $100,000 loan. After the show, Night Runner's founder told Forbes that he decided not to move forward with the deal because he no longer needed the money by the time negotiations began. He also added that Robert tried to offer him less money than what was discussed on the show. Fortunately, not taking the deal didn't ruin the company. Night Runner is still alive and well.
10. How Do You Roll
Restaurant deals are always a tough sell on Shark Tank so the founders of the sushi restaurant How Do You Roll were especially excited to get a $1 million deal from Mr. Wonderful. After the show however, the founders weren't able to reach an agreement with Mr. Wonderful. How Do You Roll eventually went out of business.
Tell us what's wrong with this post? How could we improve it? :)
Let us improve this post!