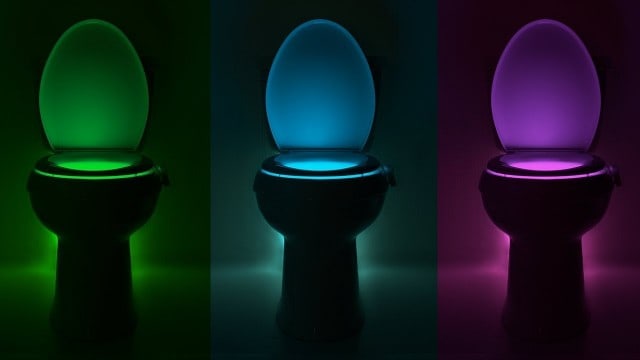 Be ready when Mother Nature calls! That's what the premise is behind one of the pitches on Shark Tank tonight. The creators of Illumibowl hope that even the Sharks can relate to using the toilet in the dark. The pitch goes something like this: Each night, millions of people wake to the call of nature and they stumble out of bed into the bathroom and they are faced with a terrible choice: turn on the light and risk waking themselves up or go it alone in the dark. Doesn't sound like either option is appealing.
So what does one do? Why get Illumibowl of course! It's a way to "do your business" in a whole new light. Illumibowl is a motion activated toilet bowl nightlight. It easily attaches to the edge of any bowl and automatically turns itself on any time you go into the room at night. At Illumibowl their priorities are "#1 and #2." Get it? Hahahaha.
Seriously though, according to Illumibowl's website, over 1 million lights have already been sold. You'll have to tune in to see what the two men from Provo, UT will be asking for money wise from the sharks.
Would you invest in the Illumibowl? Speaking from personal experience I cannot stand turning on the lights in the middle of the night. But at the same time I have to admit moving around in the dark isn't all that difficult plus it's not like the bathroom is pitch black. Plus this thing costs $19.99. For under 5 bucks I can get a solar activated LED nightlight that will last for years. Personally I would pass but let's see what the sharks say.
What else is going on tonight on Shark Tank? Two Madison, WI guys use 21st century technology and the power of crowd sourcing to create an alternative to traditional beer; a self-proclaimed introvert from Orem, UT wants to combat blah-looking clothes with vibrant fashions full of unusual flair; and two animal lovers from Cedarpines Park, CA are willing to paw, scratch and pet their way into a deal with their interactive and innovative pet toys.
Check out the Illumibowl pitch below
Be ready whenever Mother Nature calls with @Illumibowl's toilet bowl night light! Watch their pitch now.https://t.co/i6lzOMvQou

– Shark Tank (@ABCSharkTank) March 11, 2016
Don't forget to watch Shark Tank 9pm Fridays on ABC
Tell us what's wrong with this post? How could we improve it? :)
Let us improve this post!