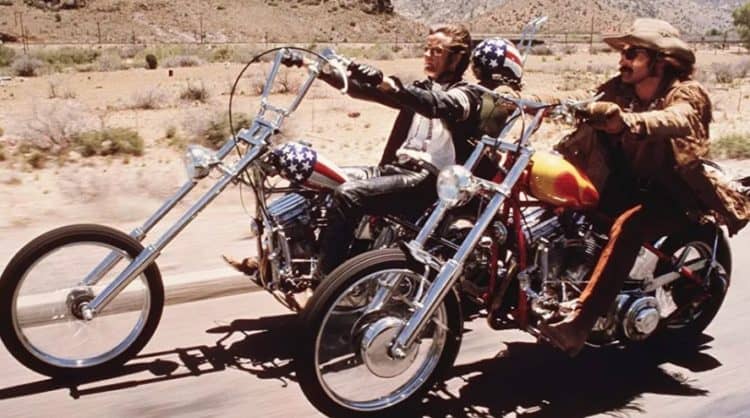 People love to watch films about subjects that interest them. For motorcycle enthusiasts, this would include motorcycle films. There are some great examples of motorcycle films in almost all genres of films, from comedy to action, and from sports dramas to biographical movies. Therefore, there are films for motorcycle fans to enjoy regardless of their genre preference. Motorcycles make a great subject for film storylines as they can add elements of danger, suspense, and action. They can also be used for impressive stunts or to contribute to storylines that involve traveling to different locations. There are hundreds of motorcycle films that you can choose to watch, and which is the best is a matter of personal preference. However, the following are five of the best motorcycle films in many people's opinions.
5. Wild Hogs
If your preference is for comedy movies that feature motorcycles, then 'Wild Hogs' is right up there with the best to watch. Released in 2007, 'Wild Hogs' is a biker comedy road film. It was written by Brad Copeland and directed by Walt Becker. This film boasts an all-star cast list as the main characters were played by John Travolta, Tim Allen, Martin Lawrence, William H. Macy, Ray Liotta, and Marisa Tomei. The film is about a group of middle-aged men with boring lives who like to meet up at the weekend to ride motorcycles as a way of adding some adventure into their routines. They decide to take a road trip and they find themselves in some tricky, but comical, situations. 'Wild Hogs' was both critically and commercially successful. From a budget of $60 million, this film grossed $253.6 million at the worldwide box office.
4. The Wild Angels
Written by Charles B. Griffith and Peter Bogdanovich, the latter of whom was uncredited, this outlaw biker film was released in 1966.It was directed and produced by Roger Corman. It is credited as the film that led Peter Fonda's association with Harley Davidson motorcycles as he starred in the lead role of this film. The movie also starred Nancy Sinatra, Bruce Dern, and Diane Ladd. It is about a biker gang who drive across the desert to Mecca, California, in search of a stolen motorcycle. In addition to the bike riding scenes, there are also some exciting fight scenes in this movie. Considering the film was made on a limited budget of just $360,000, it did very well at the box office, grossing $15,541,070. This was a significant amount of money for a film to make back in 1966. In fact, 'The Wild Angels' was the 16th highest-grossing film that year.
3. The Motorcycle Diaries
According to IMDB, The Motorcycle Diaries is one of the best motorcycle films to watch. Released in 2004, this film was written by Jose Rivera and directed by Walter Salles. It is a biopic based on the written memoirs of Ernesto Guevara, who later became known as Che Guevara. The film covers an adventurous road trip that he took in 1952 when he biked across South America with a friend. Although this is a biker road movie, it is also considered a coming-of-age film. The film was received well critically, and when it premiered at the 2004 Sundance Film Festival, it received a standing ovation. It also achieved a reasonable level of commercial success as it grossed $57.7 million. The film went on to win multiple awards for various aspects of its development, including awards for best actor, best director, and best song. This movie was released in the United States, the United Kingdom, Germany, France, Argentina, and Chile.
2. Easy Rider
Ranker lists Easy Rider as one of the top motorcycle movies. This 1969 independent road drama film has become a cult classic in terms of motorcycle movies. It was directed by Dennis Hopper, who also co-wrote the film with Peter Fonda and Terry Southern. Furthermore, Hopper and Fonda also starred in this film alongside Jack Nicholson. It is about a pair of bikers who travel across the Southwest of America carrying the proceeds of a drug deal. The film was acclaimed for exploring societal landscapes, topical issues, and tensions in 1960s America. It was also praised for the directing, writing, performances, soundtrack, and visuals. 'Easy Rider' was also a commercial success as it grossed $60 million at the worldwide box office from a budget of just $400,000. In 1998, 'Easy Rider' was added to the Library of Congress National Film Registry.
1. The Wild One
In top position on a list of the best motorcycle films by BFI Film Forever is 'The Wild One'. Many people consider this film, which was released in 1253, as the original outlaw biker film as it was the first to cover the American outlaw motorcycle gang violence. It is also noted for Marlon Brando's character Johnny Strabler. This character became a cultural icon of the 1950s. The screenplay was written by John Paxton and Ben Maddow, based on a short story by Frank Rooney. The movie was directed by Laszio Benedek and produced by Stanley Kramer. Alongside Brandon, the film starred Mary Murphy and Robert Keith. The film is based on the sensationalized coverage of a rally on a Fourth of July weekend that got out of hand. This became known as the Hollister riot and the images of the riot that appeared in the media included a staged photograph of a drunken man on a motorcycle. It was on this legend that the original short story was based. In general, this film was well received by critics. It was also a commercial success and it received several accolades from the American Film Institute.
Tell us what's wrong with this post? How could we improve it? :)
Let us improve this post!