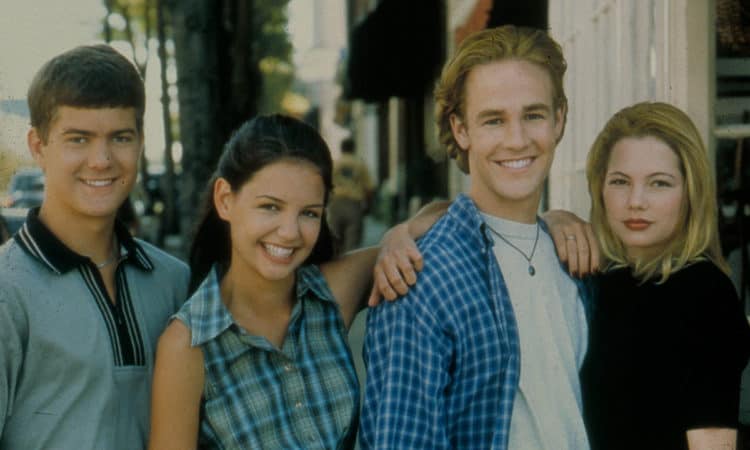 During the late 1990s and early 2000s, Dawson's Creek was one of the most popular teen dramas on TV. The series followed a group of teenage friends who were trying to navigate the ups and downs of life. Despite their ages, they found themselves having to deal with several serious issues including death and addiction. Due to its storylines and talented stars, Dawson's Creek is often considered one of the best shows of the era. The series was responsible for boosting the careers of several young stars, but many fans have wondered what they've been up to in the almost 20 years since the show's end. Keep reading to find out what happened to the cast of Dawson's Creek.
James Van Der Beek as Dawson Leery
As the show's title character, James Van Der Beek was the star of Dawson's Creek during all six seasons. However, playing Dawson for so many years appears to have made it difficult for James to land other roles – at least for the first several years after the show ended. Although he continued to land roles during the 2000s, they were small compared to Dawson. However, for the last decade or so, he had had some impressive recurring and main roles. Most recently, he played Boris in the TV series Vampirina. Outside of acting, James has become a married father of five since his days on Dawson's Creek.
Michelle Williams as Jen Lindley
Michelle Williams was a cast member on Dawson's Creek for all six seasons, but on the show, her character, Jen Lindley, was the new girl in town. After getting into some trouble in her home town of New York City, Jen's parents sent her to live with her grandmother in grandmother in Capeside, MA. Aat first, Jen struggled to fit in but she eventually be-friended the rest of the main characters. The show was Williams' first major TV role and it really helped catapult her career. After the show, however, she decided to focus most of her attention on movie roles. Since her days as Jen Lindley, Michelle has been nominted for four Academy Awards. In addition to her career, Michelle had had an eventful personal life as well. From 2004 to 2007, she was married th Heath Ledger. The two have one daughter together. After a brief marriage to Phil Elverum, Michelle married Thomas Kail in 2020.
Joshua Jackson as Pacey Witter
Joshua Jackson's character, Pacey Witter, was Dawson's best friend. Pacey came from a somewhat unstable home and didn't really fit in with his family. The role gave Jackson the perfect opportunity to show off his range as an actor, and he was deinitely a fan favorite. Like Michelle Williams, Joshua Jackson also focused primarily on movie roles after his time on Dawson's Creek. However, he returned to the small screen in 2008 with a role in the TV series Fringe. He has consistently had TV roles since and he is continuing to wow viewers with his talent.
Katie Holmes as Joey Potter
Katie Holmes' character, Joey Potter, was Dawson and Pacey's love interest and as a result she became one of the most popular character on the show. Dawson's Creek was one of Katie's first roles and the success of the show helped put her in the running for other opportunities. In 2005, she played Rachel Dawes in the movie Batman Begins. Throughout the 2000s, she continued to appear in various movie roles. In recent years, though, she has gotten back into the TV world. Even though she's done a lot of acting since Dawson's Creek, her post Joey Potter days are argually more well known for her marriage to Tom Cruise which lasted from 2006 to 2012.
Mary-Margaret Humes as Gail Leery
In her role as Dawson's mom, Mary-Margaret Humes was a main cast member for the first four seasons of Dawson's Creek. Her character, Gail, worked at a local news station and was known for being an up beat person. She also had close relationships with Dawson and his friend and was one of the most important adults on the show. By the time Mary-Margaret was cast in Dawson's Creek, she'd already had a pretty successful career. Since the show, she has worked consistently although most of her work has been in TV movies. For the most part, Mary-Margaret is pretty private when it comes to her personal life, but we do know she has been married for almost 30 years.
Busy Philipps as Audrey Liddell
In the grand scheme of things, Busy Philipps played a very small role in Dawson's Creek. Her character, Audrey, joined the series during the fifth season and only had a main role during the final season. Unlike the other characters, she Audrey wasn't from Capeside and didn't become a part of the group until college. Since Busy wasn't on the show for so long, it wa easier to avoid the kind of typecasting that comes with playing the same role for years. She has had a very successful career since the show and some of her most notable credits include Cougartown and Girls5eva. On top of her live action work, Busy has also done some voice acting. Not only have things gone well in her career, but Busy's personal life has been great as well. In 2007, she married writer and director Marc Silverstein. The couple now has two children together.
Nina Repeta as Bessie Potter
Bessie Potter was Joey's older sister and she played more of a maternal role in the series. After their mother died and their father was sentenced to prison, Bessie stepped in to help raise Joey and the rest of the Potter children. On top of that, Bessie also had her own child. Bessie and Joey often butted heads, but it was clear they always had each other's backs. Despite being a very talented actress, Nina hasn't done much work since the Dawson's Creek days. Her last on-screen appearance was in a short film in 2018 and she doesn't have any projects in the works at the moment. Nina seems to like to keep a low profile, but on her Instagram profile she mentions that she is a singer. She is also a devoted wife and mother.
John Wesley Shipp as Mitch Leery
John Wesley Shipp was the only main character who was part of the show since season one who left before the final season. In his role as Dawson's father, Mitch, John played an important role in the story. Needless to say, his on-screen death was very sad. Especially because it happened at a time where things were looking up for him. However, the end of his time on the show wasn't such a bad thing for his career. John has landed a role almost ever year since leaving Dawson's Creek and he has worked on a wide variety of projects. His most notable role as had been playing the title character in the TV series The Flash. John is currently working on a movie called Climbing Life which is set to be released in 2022. Since John has never been the type of actor to share all of his business with the world, there isn't much known about his personal life. As far as we know, though, John is single and doesn't have any children.
Mary Beth Peil as Grams
On the surface, Grams was a very conservative Christian woman who could be judgemental and strict. While it's true that her character was all of those things, she was also so much more. Over the course of the series, Grams and her granddaughter, Jen, developed a solid relationship and Grams proved to be more understanding than she initially seemed. Even though she was portrayed as an elderly woman, Mary Beth was still in her 50s when she was cast for the part. Since her days on Dawson's Creek, Mary Beth has continued to be a fixture on our screens. One of her most notable roles in recent years was playing Jackie Florrick The Good Wife.
Meredith Monroe as Andi McPhee
Meredith Monroe's character is one of the most memorable, but she was actually only a main character on the show for two seasons. Other than that, she played a reccurding or guest role. Andi McPhee and her family relocated to Capeside after the death of her brother and it was clear that she was dealing with a lot of heavy things including mental illness. Although Andi is still one of Meredith's most memorable roles, she hasn't had any shortage of work since Dawson's Creek. Her most recent role was in the Netflix series 13 Reasons Why in which she played Carolyn Standall. She doesn't appear to have any projects in the works at the moment. She is pretty private about her personal life and not very active on social media.
Kerr Smith as Jack McPhee
Jack McPhee was one of the most iconic characters on Dawson's Creek because he was a gay teen who was struggling to come to grips with his sexuality. He represented lots of other young people, and his journey was one of the best. Kerr Smith has continued to find success over the years, and he has appeared in a combination of movies and films after Dawson's Creek. In 2021, he appeaed in three episodes of the Fox series, The Resident.
Tell us what's wrong with this post? How could we improve it? :)
Let us improve this post!