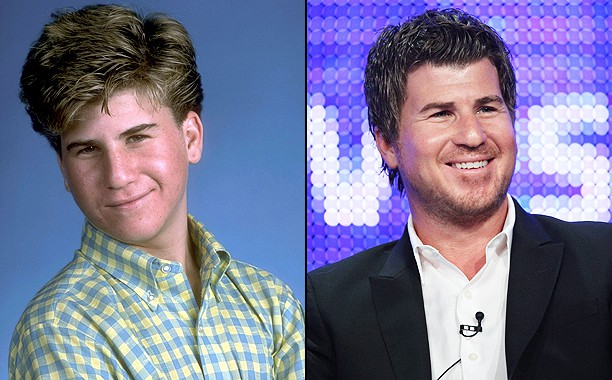 Growing up with shows like "The Wonder Years," to watch with the entire family was such a wholesome time. The show began arising in 1988 and lasted six lovely seasons. Families would gather around the living room in the evenings to watch the show, and the stars of this show went on to do big things. Fred Savage, of course, is the main star of the show and the most recognizable name, but what about actors like Jason Hervey? He had an impressive role on the show, and most of us have no idea where he is and what he's up to these days. The kid who played Wayne Arnold on the show is all grown up now. It's been 28 years since the last episode of this show aired on television, and fans want to know what happened to the child who played Wayne.
Jason Hervey's Early Life
Jason Hervey was born on April 6, 1972. He was only a teenager when he took on the role of Wayne Arnold. He'd already had a few other smaller roles on television, but this is the role that would make him famous. It is also the only longstanding role he ever had on a television show. He grew up in Los Angeles with his mom and dad. His mom, Marsha, was a talent agent in LA. His father, Alan, was a sales manager in the retail industry. His childhood – aside from his acting skills – was relatively normal, and he didn't take on any large roles after this one. It was 1993 when the show ended for good. The same year is also the last time most people remember seeing Hervey, though he's been around. He's been behind the scenes more than he's been in front of the camera, and that seems to be exactly how he prefers to live his life.
Jason Hervey After Wayne Arnold
The one thing fans seem to overlook is the fact that only one year after his show ended, he got married. He was 22 at the time, and he married a woman by the name of Kelley Patricia O'Neill. Their wedding doesn't really count, though, because the couple had it annulled less than a year after they exchanged vows. He married his wife, Shannon Hervey, in 1998. Together, they have two kids of their own, and he has two stepchildren his wife brought into the marriage. He spent much of his time after this working on small roles. He worked as a Senior Vice President for a company called HealthSouth Corporation from 2001 until 2003, which required he and his family to relocate to Alabama. He later opened his own entertainment company while partnering with former WCW Vice President Eric Bischoff. They formed the Bischoff Hervey Entertainment group, and they went on to produce many television shows including:
Scott Baio is 45…and Single
I Want to be a Hilton
He's also spent some time on reality television. While he hasn't been a contestant or anything of that nature, he's been part of the shows regardless. He was on an episode of "Hogan Knows Best," alongside his business partner over an energy drink discussion. He also hosted "Confessions of a Teen Idol," on VH1 alongside Scott Baio. More so than anything, however, he's focused on being behind the scenes. He's been a producer most of his adult life, and that has allowed him to stay relevant in Hollywood even though he has not done much with his own acting career over the years. there are some who speculate that he has no interest in being an actor any longer. He did it while he was young, and he figured that there might be a different way to make a living in entertainment. So far, he's done just that. He lives a quiet life behind the camera with his wife and their four children. He stays out of the press, works hard, and he has a hand in many projects in Hollywood. His name is memorable, and he still has many connections in the business thanks to the work he does with his entertainment company and with his own business partner. Since leaving television behind in the early 90s as a main character and major star, he's done well. Some child stars fade into obscurity or take a liking to drugs and/or alcohol and cannot get their lives together. Jason Hervey has done no such thing, and he seems to be doing all right for a kid who was a huge name in the 80s and 90s.