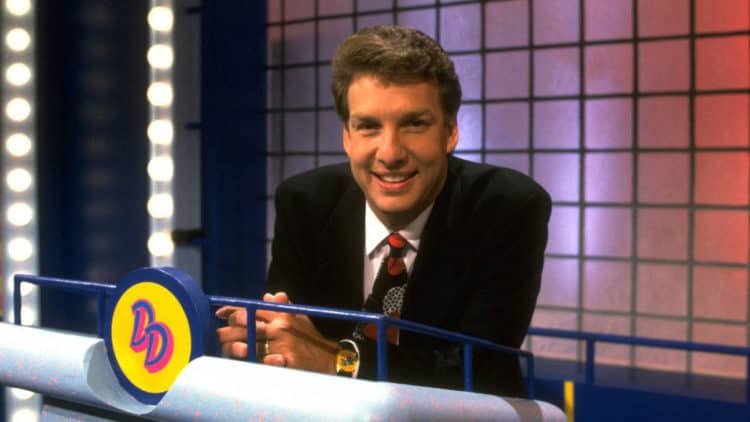 During the 1990s and early 2000s, Nickelodeon had children's programming on lock. From cartoons to live-action series, the network had a little something to offer everyone. On top of the usual offerings, Nickelodeon's game shows were also very popular among its audience. One of Nickelodeon's most popular game shows was Double Dare, a competition show that combined trivia with physical challenges and it was incredibly fun to watch. While the game itself was obviously the major draw, the show's host, Marc Summers, was also a big part of the reason why it was so popular. Marc, who also worked with Nickelodeon on other shows, was known for being charismatic and funny. During the show's run, he built a strong fan base. However, in the years since the show's end, many people have lost track of the talented host. Keep reading to find out what Marc Summers has been up to since his days on Double Dare.
Marc's Journey To Double Dare
Marc was born and raised in the Indianapolis area and it appears that he's always gravitated towards keeping people entertained. After graduating from high school, he relocated to Boston where he attended Grahm Junior College. We weren't able to locate any specific details on how he made his way into the entertainment industry, but we do know that he got his start by putting his skills to the test in a number of ways. Prior to becoming a TV host, Marc was a DJ, a magician, and a stand-up comedian. When he got the opportunity to host Double Dare, he was still relatively unknown but that wouldn't be the case for much longer. His work on the show turned him into a household name and also opened the door to other opportunities. Throughout the 80s and 90s, Marc hosted several other popular game shows at the time including Nickelodeon's What Would You Do? and Couch Potatoes. The success Marc had also allowed him to explore other areas of the entertainment industry. He has written and produced several projects.
What Has Mark Been Up To?
Marc's post Double Dare journey has been one that many people could never even imagine. In 1997, Marc opened up about the fact that he suffers from Obsessive-Compulsive Disorder (OCD) which he believes hindered his career. According to Lancaster Online, Marc said, "People wouldn't hire me because they thought I was nuts". On top of that, Marc was diagnosed with chronic lymphocytic leukemia in 2010. However, he kept his diagnoses a secret for several years. Just when he probably thought things couldn't get any worse, Marc's life took yet another tragic turn. In 2012, he was involved in a serious car accident while riding in a cab in Philadelphia.
With all of the difficult circumstances he faced, Marc thought his hosting career was over. Even his agency told him that he was too old to continue his career. Fortunately, however, that hasn't been the case. Marc has returned to hosting and he's still fully capable of doing his thing. Most notably, he was the host of Unwrapped from 2002 to 2015. In 2018, he also returned to the Double Dare stage as the announcer for the revival of the show. In addition to the work he's done in front of the camera, Marc has also continued to do his thing behind the scenes. He has executive produced several successful shows including Dinner: Impossible and Restaurant: Impossible. Outside of his career, Marc has also had plenty of other things to enjoy. He loves spending time with his family and he is a very proud grandfather. Based on his Instagram profile, it's also clear that he loves spending time outside whenever he gets the chance. He particularly enjoys relaxing by the water and spending time with his dog.
What's Next For Marc?
The contributions that Marc has made to the TV world will be remembered for generations to come. Millennials in particular will always have a special place in their hearts for Marc Summers. His ability to light up the screen every time he steps in front of the camera is something that has always made him special. Marc is now 70 years old, but he isn't showing signs of slowing down any time soon. He still has a lot left to offer the entertainment industry and his fans are looking forward to seeing much more of him. That said, Marc doesn't appear to have any projects in the works at the moment so it's unclear when we'll see him on our screens again.
Tell us what's wrong with this post? How could we improve it? :)
Let us improve this post!