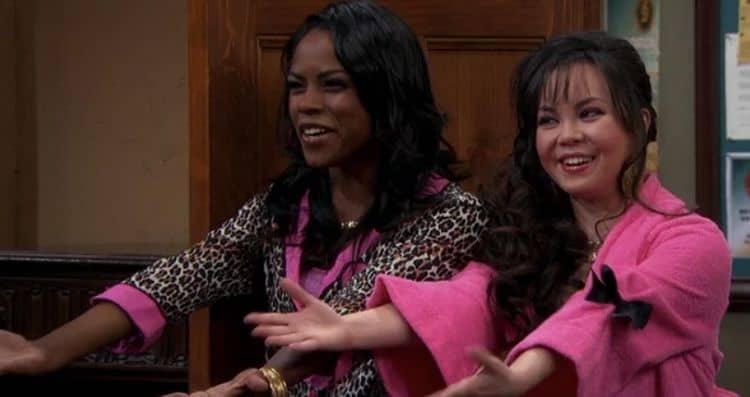 If you were a fan of the Disney Channel series Hannah Montana, then you probably remember Anna Maria Perez's character, Ashley Dewitt. Known for being one of the mean girls at Miley's school, Ashley and her best friend, Amber, went out of their way to make things difficult for Miley. Ironically, Ashley was one of Hannah Montana's biggest fans. Although Ashley wasn't a main character on the show, she still played a very memorable role. However, since the show ended in 2011, Anna's on-screen appearances have been fewer and further between. As a result, lots of people have wondered what she's been up to since her days of playing Ashley. Keep reading to find out what happened to Anna Maria Perez.
Anna Maria's Backstory
Anna Maria was born and raised in California, and she comes from a family that is no strange to the entertainment industry. Her father, Archie Perez de Tagle, is a TV personality and her paternal grandmother, Sylvia La Torre, is a very successful actress in the Philippines. On top of that, Anna Maria's great grandparents also had careers in the arts. We weren't able to find any information on what sparked Anna Marie's interest in acting, but we do know that her career began when she was just a teenager. In 2003, she was a contestant on the once-popular competition show, Star Search. She made her first on-screen appearance in 2005 and the following year she was cast in Hannah Montana. During her time on Hannah Montana, Anna Maria also appeared in several other successful children's shows including Just Jordan and Jonas. Additionally, she was in the TV movie Camp Rock and its sequel. Although acting is what Anna Maria became best known for, she is also a talented singer who released a self-titled album in 2010. However, it doesn't appear that she's released any original music since.
What Has Anna Been Up To Since Hannah Montana
As we've seen time and time again, lots of child stars eventually fade from the spotlight. Making the transition from a young start to an adult isn't an easy thing to do, and many former child stars find that opportunities eventually dry up. It's unclear why Anna Maria has been less active since 2011, but she hasn't left the industry completely. Since her days as Ashley, Anna Maria has appeared in a few movies and TV shows. Most notably, however, Anna has found success in the theater world. She appeared in the 2011 Broadway revival of the hit play Godspell. On top of acting, Anna Maria has also been working on her dance skills. She loves choreography and occasionally shares videos of herself dancing on social media. Her fans seem to really enjoy this kind of content. It's unclear what her plans are surrounding dance, but for now, she seems to really be enjoying herself. Even though things in Anna Maria's acting career may not have turned out exactly how she planned, she doesn't seem to have any hard feelings. Based on some of her Instagram posts, it's clear that she has very fond memories of her time working with Disney and she's still a fan of the network.
Outside of Acting
These days, it appears that acting is no longer Anna Maria's main focus. She married Scott Kline Jr. in 2019 and the couple welcomed their first child together in 2021. Her family appears to be her main focus, and she's really loving being a wife and a mother. She has also been enjoying making the most out of life and traveling throughout the United States and to other parts of the world. Fashion seems to be another area of interest for Anna Maria. She has a great sense of style and she loves being able to express herself through her clothing. Anna Maria's fans will be happy to know that she is very active on both Instagram and TikTok, so staying in the loop with her life is relatively easy.
What's Next?
Anna Maria hasn't made an on-screen appearance since 2020, and it's unclear when she plans to get back into the business. According to her IMDB page, she doesn't have any projects in the works at the moment. Still, however, there's a very good chance that we haven't seen the last of Anna Maria. In a world where child stars often end up on a path towards destruction, Anna Marie has managed to beat the odds. By the looks of things, she is happy and healthy. At the end of the day, that's all anyone can ask for.
Tell us what's wrong with this post? How could we improve it? :)
Let us improve this post!