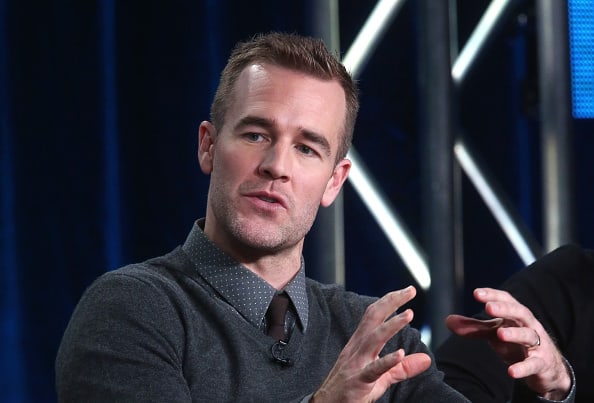 James Van Der Beek has had quite the busy 2015. The actor, who will turn 38 years old on Sunday, will be starring in the latest CSI spin-off. The series is titled CSI: Cyber and is about a group of detectives who investigate internet related murders, computer hacking, and identity theft. Van Der Beek will play Elijah Mundo, the second in command of the team. The series will also star Oscar winner Patricia Arquette, Luke Perry, and Shad Moss, aka Bow Wow. Another project of Van Der Beek's popped up on the internet last week. He wrote and starred in a short film devoted to the popular children's television series Mighty Morphin' Power Rangers. This 14 minute film also features Katee Stackhoff, and it is a much darker and more violent version of the characters than fans were accustomed to watching. Van Der Beek played Rocky the Red Ranger, who was portrayed by Steven Cardenas in the 1990's, and Sackhoff was the original Pink Ranger, Kimberly, who was played by Amy Jo Johnson on the series. James Van Der Beek has been on television for over twenty years. Here is a look back at some of the high points (Dawson's Creek) and the lows (Mercy).
The Pre-Dawson's Creek Years (1993-1998)
Believe it or not but James Van Der Beek did appear on television before he started playing Dawson Leery on the popular WB drama Dawson's Creek. His first television appearance was at the age of 16 on an episode of the Nickelodeon series Clarissa Explains it All. His next role would come two years later on the daytime soap opera As the World Turns. He would appear in three episodes. In his next television appearance, Van Der Beek would guest star on the awful ABC sitcom Aliens in the Family, which would only last for eight episodes before getting cancelled.
The Dawson's Creek Years (1998-2003)
At the age of 20, James Van Der Beek finally got his big break on network television. In 1997, he was cast as the lead on the drama Dawson's Creek. The show was about a group of teenagers living in Capeside, Massachusetts. The pilot episode aired on January 20, 1998 and would be the highest rated episode ever for the network that, at the time, had been around for only three years. The most watched episode was the series finale, which aired in May 2003. It was viewed by 7.8 million fans. There were a total of 128 episodes made of Dawson's Creek. Though the series was named after his character, Van Der Beek would not appear in six of the episodes. The drama was recently named as one of Entertainment Weekly's New TV Classics.
During this time, Van Der Beek also appeared in many feature films. The first was Varsity Blues, which won him an MTV Movie Award and a Teen Choice Award. He would then make a cameo in Scary Movie as Dawson Leery in 2000. He would appear in four other films, including Texas Rangers and The Rules of Attraction.
The Guest Starring Years (2006-2011)
When Dawson's Creek ended in 2003, James Van Der Beek took a break from television and movies. He would star in the off-Broadway play Rain Dance and write a screenplay that has yet to be produced. In 2005, he tried to make a TV comeback on the comedy series Three, which was also going to star Zachary Levi. However, the pilot was never turned into a series. Van Der Beek would spend the next several years making guest appearances on popular television series, as well as appearing in several films.
In 2006, he would voice several characters on two episodes of Robot Chicken. The following year, he would star in two chilling episodes of Criminal Minds. It was a character unlike anything he had played before: a religious serial killer. That same year, James Van Der Beerk would appear in an episode of Ugly Betty and star in the television movie Football Wives, which also featured Lucy Lawless and Gabrielle Union.
The next two years would be busy for Van Der Beek. In 2008, he would make his first of three appearances on How I Met Your Mother as Simon and appear in four episodes of the drama One Tree Hill as Adam Hoyt. He would next appear on Medium alongside his future CSI: Cyber co-star Patricia Arquette, followed by an appearance on the short-lived drama The Forgotten. In 2010, Van Der Beek would star in 10 episodes of the NBC drama Mercy, which also starred Orange is the New Black's Taylor Schilling. He would then guest star on Law & Order: Criminal Intent and Franklin & Bash.
Two Great Comedies and One New Series (2012-2015)
In 2012, Jame Van Der Beek would finally return to TV in a permanent role. He was cast as a fictional version of himself on the ABC comedy Don't Trust the B in Apartment 23. The series was originally developed by FOX in 2009 but was passed on and never developed. ABC decided to give it a try two years later and cast James Van Der Beek, Dreama Walker, and Krysten Ritter in the three lead roles. The first season premiered in April 2011. Due to the late premiere date, only seven episodes were broadcast. The series would be renewed for a second season with the six unaired episodes from the first season airing during that time. Sadly, due to poor ratings the show received the axe on January 22, 2013. Eight of the series' episodes were never aired but have been available for viewing online.
Van Der Beek was quickly snatched up during the 2013 pilot season for another comedy series. This one would air on CBS and be called Friends with Better Lives. The series focused on the lives of six friends all at different parts of their lives: single, divorced, engaged, and married with kids. Sadly, CBS did not give the show a chance, and it was cancelled after only airing five hilarious episodes. The network did air three additional episodes but did not air the last five episodes produced. They can be viewed on the DVD.
Van Der Beek's new series CSI: Cyber will premiere on CBS this Wednesday. This season will feature thirteen episodes and could possibly be a replacement for the original CSI, which just ended its fifteenth season in mid-February. CBS decided to cut the episode order from 22 to 18.
What is your favorite role James Van Der Beek has played on television? Let us know in the comments section below.
Photo by Frederick M. Brown/Getty Images
Tell us what's wrong with this post? How could we improve it? :)
Let us improve this post!