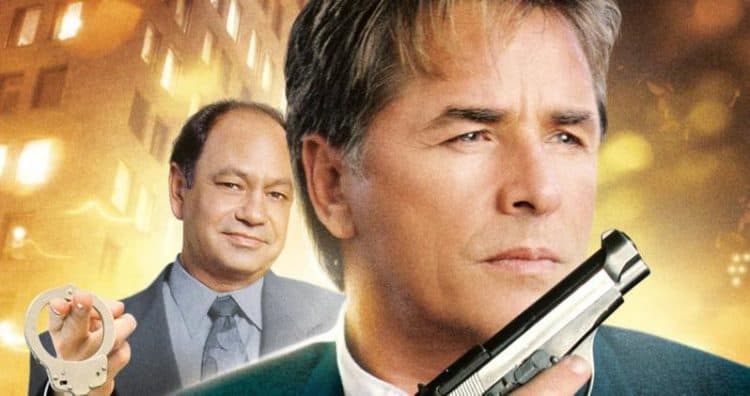 There are some shows that leave a lasting impact on viewers long after they're gone, and Nash Bridges is one of them. The series, which aired from 1996 to 2004 centered around two San Francisco police officers, Nash Bridges (Don Johnson) and Joe Dominguez (Cheech Marin). Even though countless police procedurals have come and gone over the years, there was something special about Nash Bridges that resonated with a lot of people. If you've been wondering what you're favorite cast members have been doing in the 20 years since the show ended, you're about to find out. Continue reading to learn what happened to the cast of Nash Bridges.
Don Johnson
At this point in his career, Don Johnson is a legend in the entertainment industry. While it's true that Nash Bridges is one of his most noteworthy roles, he has also been very busy since the show ended. From movies to TV shows, Don has worked very consistently over the last 20 years. Some of his most recent credits include Watchmen and Kenan. He will be reprising his role in the upcoming Nash Bridges movie which will be released in 2021.
Cheech Marin
Cheech Marin has played a variety of characters over the years, and he spent a good portion of his career being known for his comedic work. Over the years, however, he has proven that he is a very versatile actor and that has opened the doors for lots of opportunities. After Nash Bridges, Cheech continued to take on a wide variety of roles. He has also done some voice work. Fans will be happy to know that he will reprise his role in the Nash Bridges movie.
James Gammon
By the time James Gammon was cast in Nash Bridges, he had already been in the entertainment industry for 30 years. His role as Nash Bridge's father was one of his biggest TV roles. James continued to work after Nash Bridges and his final on-screen role was in the 2009 film The New Daughter. Sadly, James passed away in 2009 after a battle with cancer. He was 70 years old at the time of his death and left behind his wife of more than 30 years, Nancy Jane Kapusta.
Jodi Lyn O'Keefe
Jodi Lyn O'Keefe was only a teenager when she was cast in Nash Bridges, and she was relatively new to the entertainment industry. The role definitely helped open the door to other opportunities and Jodi has been in well over a dozen shows since playing Cassidy Bridges. Jodi, however, has not made an on-screen appearance since 2018 and she doesn't currently have any projects in the works. Instead, she is focusing on other business ventures and doesn't have any plans to return to acting.
Jeff Perry
Throughout his career, Jeff Perry has proven to be the kind of actor who can move between genres effortlessly. No matter what kind of role he's tasked with playing, Jeff always knocks it out of the park. It does without saying that he's been able to find plenty of work since the Nash Bridges days. Some of his most noteworthy recent credits include Scandal, Grey's Anatomy, and Dirty John. Jeff hasn't made any on-screen appearances yet in 2021, but they're on the way. Not only will he be in the Nash Bridges movie as well as a TV series called Inventing Anna.
Jaime P. Gomez
Jaime started his acting career in the late 1980s, and he already had a good amount of experience under his belt when he got the part in Nash Bridges. Although he has worked in the years since, his role in Nash Bridges is arguably still his most well known acting credit. From what we can tell, he will not be appearing in the Nash Bridges movie.
Cary-Hiroyuki Tagawa
Cary-Hiroyuki Tagawa's character, Lieutenant A.J. Shimamura, was only in the first 16 episodes of the season before his character was written out. However, he's still part of the Nash Bridges legacy. Leaving the show so early may have been a bummer at the time, but Cary's career has continued to grow every year. Cary has also been doing his thing behind the scenes. He has produced two projects since 2009.
Mary Mara
Every police drama needs a strong female character, and that's exactly who Bryn Carson was during the first three seasons of the show. Since leaving the show in 1997, Mary has continued to work consistently although many of her roles have been on the smaller side. She hasn't made an on-screen appearance since 2020 and it doesn't appear that she has anything in the pipeline at the moment.
Kelly Hu
Kelly Hu's character, Michelle Chan, was only on the show four seasons three and four before she was killed. Being written out of a show is never fun, but Kelly didn't let that slow her career down by any means. She currently has well over 120 credits on her acting resume, and she isn't finished yet. From live action to voice roles, Kelly has been in things like Arrow and Tangled: The Series.
Yasmine Bleeth
Yasmine Bleeth is most well known for her role as Caroline Holden in Baywatch, but she was also a cast member on Nash Bridges for the fourth and fifth season. Even though it seemed like Yasmine was destined for a bright future in the entertainment industry, she disappeared from the spotlight during the early 2000s. On top of leaving her acting career behind, Yasmine doesn't appear to have any social media profiles.