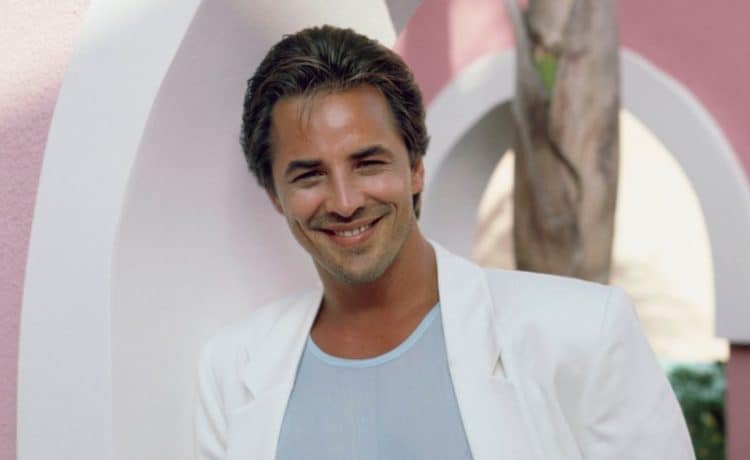 Back in the 80s Don Johnson was the guy that everyone wanted to be like and the man that every woman dreamed about to one extent or the other. He was the macho type that was adored by so many that you would have thought his run would never end. But it did eventually and by the 90's he was looking like the stereotypical guy that had enjoyed his run at the top and didn't realize it was over quite yet. But while he was there Johnson was absolutely brilliant since he played the kind of character that a lot of people couldn't help but emulate.
Miami Vice was where his real fame came from in the 80's.
He only played the role of Crockett for five years but ask just about anyone what else he was in during this decade and they would likely draw a blank. He was one of the main reasons why people watched TV in the 80's since he was one of the coolest characters that had ever been created. You might almost say that Crockett was created just for Johnson since after this show no one else has really been able to play the role. The Miami Vice movie that came out in 2006 with Colin Farrell and Jamie Foxx was, to many people, kind of a bad joke since despite the skill and talent of the actors involved there was still the idea that no one could possibly play the roles of Crockett and Tubbs as good as the original actors did. Out of all things 80's this show was considered to be simply one of the best and the most memorable. Even those growing up today happen upon the show now and again thanks to reruns and some even tend to believe that Don Johnson was the only person that could ever step into such a role.
He had a style and an attitude that was seemingly all his own, and he rode it well since he seemed like a nice guy in some respects and was just enough of a jerk at times to be cool. Plus, the character had an alligator on his yacht for crying out loud, how much cooler than that can it get? Some folks might have though Johnson was kind of overrated but they tended to be those that didn't like the show or anything like it and would avoid such things entirely. To everyone else however he was either an interesting character or someone to model themselves after. Seriously, did anyone happen to see how many Don Johnson wannabes there were in the 80s?
He had a music career too.
Diehard fans of Johnson likely remember that he did put out two albums of his own music, but his career never went as far as his acting did. He released his first album in 1986 and it went on to be #5 on the charts. He released another album in 1988 with his then-girlfriend Barbara Streisand, but it didn't perform quite as well as his first. You would almost think that a guy that had achieved such success in one venue might call it good when he'd managed to make another hit in another venue, but Johnson didn't stop there.
He was a powerboat racer as well.
Johnson took part in an 1,100-mile powerboat race in 1986 and managed to win. In 1988 he did it again and became the World Champion. Johnson became the only Hollywood actor to achieve this feat and was instrumental in powerboat racing as well. At the time it seemed like there was nothing this guy couldn't do, as it was the 80's and things just seemed to keep getting better and better for him despite the slight problems he had with his love life.
You can kind of state with some accuracy, actually with great accuracy, that his success in love didn't equal his success in his career. Johnson has been married four times and has four ex-wives with kids that come from each marriage. He's been seen through the years with several women that were either flings or appeared to be serious until things went off the rails and they simply parted ways. His life in the 80's was rather hectic as the success he found in his career was something far different than he found in life. People saw the outward face of Johnson when it came to Crockett and his other roles, they didn't get to see everything that went down behind the scenes, as everything from the tabloids to the legitimate news tended to blow everything out proportion, kind of like they do now.
Back in the 80's though he was the guy that everyone wanted to be or be near at least. There weren't a lot of people that were as sought after as he was.
Tell us what's wrong with this post? How could we improve it? :)
Let us improve this post!