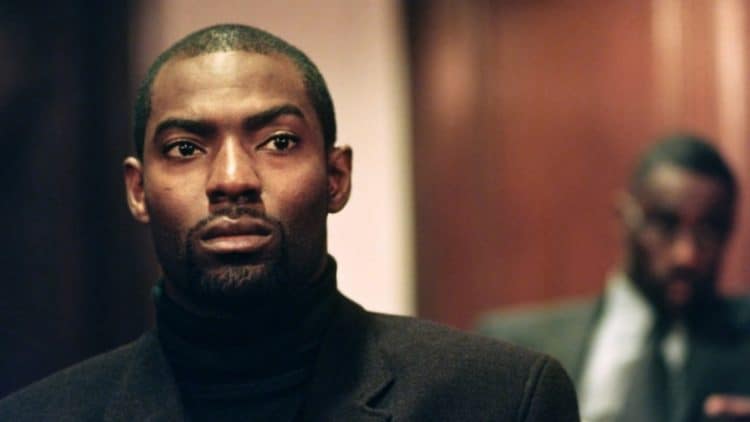 Anyone who has seen Hassan Johnson act would probably agree that he hasn't gotten nearly as much credit as he deserves. The talented actor has been in the industry for more than 25 years and he has been a part of some great projects during that time. Although some of his roles have been on the smaller side, Hassan brings something special to every role he plays. During the 2000s, Hassan's career really started to gain some traction thanks to his roles in shows like The Wire and ER. By the end of the decade, however, Hassan's on-screen appearances became a little fewer and farther between. Whatever happened to Hassan Johnson? Keep reading to find out.
Hassan's Acting Journey
Hassan Johnson is a proud New York Native. He was born in Brooklyn but raised primarily on Staten Island. For much of his young life, Hassan was focused on sports, and by the time he got to high school, he had joined the football team. Although he thought his future would somehow involve athletics, he also had an interest in acting. While talking to Hobo Trashcan, Hassan said, "I've always been interested in being on television, is what I told myself. Whether it was journalism being a news reporter or whether it was an actor, anything that could get me on TV, that's what I wanted to do was be on television. Never really asked myself what I wanted to do on television and the acting came along when I was in high school and a friend of mine's girlfriend basically called my bluff and challenged me to go to an open audition, which was Clockers, a Spike Lee film." After going to the open casting for Clockers, Hassan landed a role in the film which was released in 1995. Once he got his first taste of the entertainment industry, Hassan began shifting his focus from football to acting.
After high school, he decided that he wanted to get serious about pursuing acting. He chose to forego college and put all of his energy into building his career. Despite the fact that he started off with a major opportunity, Hassan's journey through the industry wasn't easy. For the first few years after Clockers, Hassan struggled to get another big role. However, all of that changed in 1998 when he was cast in the movie Belly. Although the film wasn't a huge commercial success, it is considered a classic within the Black American community. During the early 2000s, Hassan continued to get parts in films like Prison Song and Paid in Full while also making guest appearances in various TV shows. In 2002, he got a career-changing role when he was cast as Roland 'Wee-Bey' Brice in the series The Wire. During his time on the show, he became a fan favorite. In fact, even if you've never seen The Wire, there's a good chance you've seen Hassan's character because he has been turned into a popular GIF/meme. What many people don't know, however, is that Hassan originally auditioned for the role of D'Angelo Barksdale but the casting team ultimately decided he was a better fit to play Roland.
What Is Hassan Up To?
After The Wire, things started to slow down once again for Hassan, but that doesn't mean he hasn't been working. He has actually made quite a few on-screen appearances although a lot of his roles have been minor. Some of his more recent credits include For Life, The Last O.G., and Flatbush Misdemeanors. Not only has Hassan been acting, though. He has also been telling stories from the other side of the camera. He has several production credits including the 2018 movie A Talent for Trouble. Although several sources reported that Hassan owns a production company called Autumn Leaves, we weren't able to confirm that information. Outside of his work, Hassan is very private about his personal life. While we do know that he is a father, it's unclear if he is currently married or has ever been. In his free time, Hassan likes to travel, enjoy art, and spend time with friends and family.
What's Next For Hassan?
The Wire may still be Hassan's best-known role, but that might not always be the case. He still has a lot left to accomplish. As of now, he has a few projects in the works including an upcoming TV series called ReVerso. There's also a good chance that Hassan will continue to work on projects behind the scenes. No matter what he does, though, we know that Hassan is going to do it big.
Tell us what's wrong with this post? How could we improve it? :)
Let us improve this post!