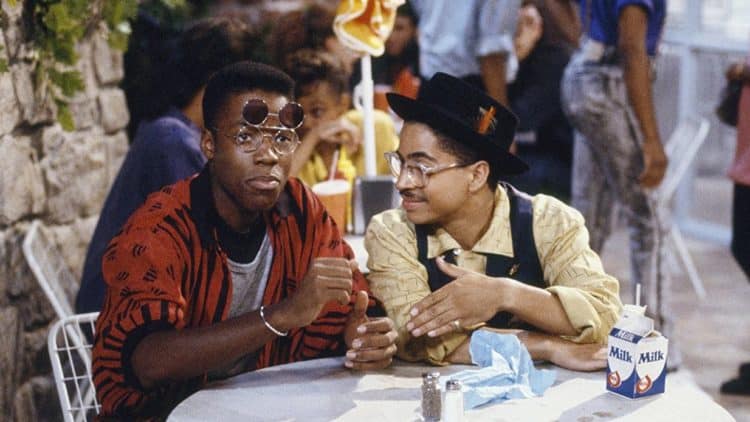 A Different World premiered on NBC in 1987 and was centered around the life of The Cosby Show's character Denise Huxtable (Lisa Bonet). Starring Bonet, Marisa Tomei, Jasmine Guy, and Kadeem Hardison, the show had a six-season run that ended in 1993. While it was focused on the college life of Denise Huxtable in the first season, she would only star in the show that long, leading subsequent episodes to be centered around the lives of Jasmine Guy and Kadeem Hardison's characters instead. It's been more than two decades since the show ended. Here is what different members of the cast have been up to since:
1. Lisa Bonet (Denise Huxtable)
Lisa Bonet's character Denise Huxtable was the inspiration behind the show, but, out of the show's six seasons, she appeared in the first one, and managed as a guest during its third season. Bonet has been missing in the acting scene for a while. Her last role in a film was in 2013's Road to Paloma, where she portrayed Magdalena. On television, she last played Marisol in Ray Donovan. As recent as 2019, she was the director of "Freedom" by Angel Haze and Dorothy. When she does make headlines, it's due to her relationship with her husband Jason Momoa.
2. Jada Pinkett Smith (Lena James)
Jada Smith joined the cast of the show during its fifth season as a recurring character and eventually became part of the main cast during the show's last season. Her role in A Different World was her breakout role. It wasn't until 2009 that she made a television comeback by playing Christina Hawthorne in Hawthorne. In between, Jada made appearances in movies such as The Nutty Professor, Welcome to Hollywood, and Return to Paradise. Since 2018, she hosts Red Table Talk alongside Willow Smith and Adrienne Banfield Norris.
3. Dawn Lewis (Jaleesa Vinson-Taylor)
While Dawn Lewis grew widely popular for portraying Jaleesa Vinson-Taylor, it's interesting to know that she also had a hand in writing the theme song. Lewis is an all-around actress, also famed for her appearance in I'm Gonna Git You Sucka. Since the show came to an end, Lewis has made appearances in several television movies such as Race to Freedom: The Underground Railroad. This year, she voiced Ravonna Renslayer in The Good, the Bart, and the Loki. In addition to numerous voice roles in shows like The Simpsons, she's made appearances on television shows, her recent one being HouseBroken.
4. Jasmine Guy (Whitley Gilbert-Wayne)
For her role on A Different World, Guy was a multiple NAACP Image Award-winner. Soon after the exit of Lisa Bonet from the show, Guy became its lead. After it wrapped up, Guy went on to appear in several movies, including Klash, where she played the role of Blossom, and Guinevere, where she played Linda. Her most recent appearance in a movie was in the television film Open. While she hasn't made an appearance on a television show lately, her last known role was in Grey's Anatomy, where she portrayed the role of Gemma Larson.
5. Kadeem Hardison (Dwayne Wayne)
Early on, Dwayne Wayne's attempts wooing girls seemed to always hit a dead end. Eventually, he was on-again-off-again with Whitley Gilbert-Wayne. By the end of the show, the pair was ready to move in together, following Dwayne's landing of a new job. Since the show's end, Hardison has made appearances in a number of films, his most recent one being 2020's Psych 2: Lassie Come Home. On television, he played the leading role in Teenage Bounty Hunters, which had a one-season run on Netflix.
6. Mary Alice (Letitia Bostic)
While Alice was part of the show's main cast from the beginning, hers was a two-season run. Alice, who is a Tony Award winner, has since made appearances in episodes of more television shows, including Soul Food, The Women of Brewster Place, and Touched By an Angel. She has been missing from the scene, however, since 2005. Her last known appearance in a film was in The Matrix Revolutions, where she not only played the role of The Oracle but also earned herself a Black Reel Award nomination.
7. Loretta Devine (Stevie Rallen)
Loretta Devine portrayed Stevie Rallen in the inaugural season of A Different World. Just like Dawn Lewis, Devine is an all-around actress, famed for her appearance in the first production of Dreamgirls on Broadway. She's held some recognizable roles such as that of Adele Webber on Grey's Anatomy, one which earned her an Emmy. For her role in This Christmas, Devine earned herself an NAACP Image Award nomination. As of 2021, Devine is still hard at work in Hollywood, appearing in films such as Queen Bees and The Starling, and is set to make an appearance in Mack & Rita. On television, she's lent her voice to an episode of The Loud House, where she voices Gayle McBride.
8. Darryl M. Bell ( Ronald Marlon Johnson)
Bell rose to prominence following his appearance on Spike Lee's 1988 film, School Daze. He would soon get more recognition on A Different World and become part of the main cast during the show's second season. After the series wrapped up, he would land roles in Living Single, Homeboys in Outer Space, and portray Julius in three episodes of Cosby. Bell's last appearance on television was back in 2009, where he appeared as himself in Househusbands of Hollywood. Bell has since taken a hiatus from the acting scene. Most recently, he appeared on Coast Live to discuss The Black Diamond Weekend event, aimed at empowering entrepreneurs.
9. Ajai Sanders ( Gina Deveaux)
When we first met Ajai Sanders, she was a recurring character on the fourth season of the show. By the sixth season, Sanders was part of the main cast. Sanders' role as Gina Deveaux was her very first on television. After the show, she made appearances on Hangin' With Mr. Cooper, where she played the role of Denise, The Fresh Prince of Bel-Air, where she portrayed Candace, and other shows such as The Jamie Foxx Show and The Wayans Bros, in which she made appearances on single episodes. Since 2011, she has been missing in the acting scene, and didn't join the rest of the cast on a Vanity Fair reunion.
Tell us what's wrong with this post? How could we improve it? :)
Let us improve this post!