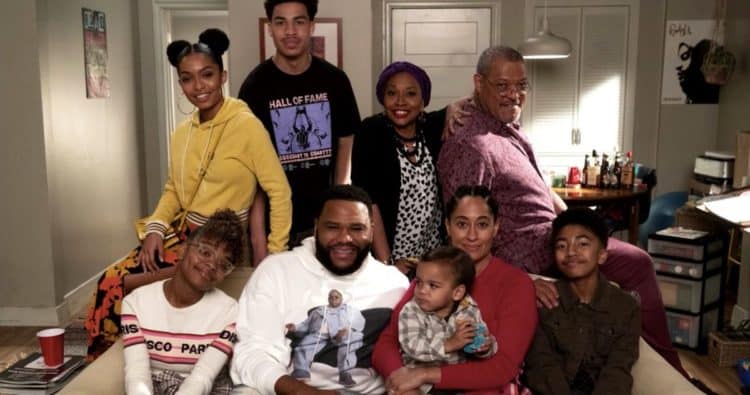 Since its debut in 2014, Black-ish has been one of the most popular sitcoms on TV. Featuring an upper middle class Black family, the series features a lot of funny moments while also touching on the harsh realities of what it means to be Black in America. Like any show that has managed to stay on the air for several years, Black-ish has grown and evolved since its first episode, and many of those changes have been well received by both viewers and critics. If you haven't been watching the show since season one, you may not be aware of some of the things that have changed over the years. Keep reading to learn how Black-ish has evolved since its first season.
The Premise of Black-ish
From the very beginning, Black-ish drew comparisons to The Cosby Show and it's easy to see why. On the surface, there are quite a few similarities. Both shows feature well to-do Black families where both parents have high-powered jobs where they've found great success. In Black-ish, Dre (Anthony Anderson) is an advertising executive and Bow (Tracee Ellis Ross) is a doctor. In many ways, however, the families' race and socio-economic status are the only things the two shows have in common. Bow and Dre have four children, each of whom has their own various challenges to deal with during each episode. Overall, Black-ish tends to play it far less safe than The Cosby Show ever did. Black-ish has tackled lots of serious issues – especially those pertaining to race while incorporating various other current events.
Black-ish is loosely based on the real life of the show's creator, Kenya Barris and his relationship with his wife. In fact, Tracee Ellis Ross' character, Dr. Rainbow Johnson, is named after Barris' wife, Dr. Rainbow Edwards-Barris.
How The Show Has Evolved
One of hardest things about having a successful long running TV show is knowing what to change and what to keep the same, Black-ish has managed to find the perfect balance. The show has remained similar in lots of ways, but it's also recognized limitations that have proven to be perfect areas for evolution. What's most ironic, however, is that the main point of evolution has actually taken place outside of the show itself. Since Black-ish only has a 30 minute time slot, it's not possible to give all of the characters meaningful storylines on a regular basis. This resulted in creators having to think of other ways to fulfill viewers desire to learn more about the characters.
Black-Ish Spin-Offs
Black-ish has remedied this issue by creating spin-offs – each of which focuses on a specific character from the show. Grown-ish, the first of the spin-offs, debuted in 2018 and followed the oldest Johnson child, Zoey, as she went off to college. Not only has the show given viewers the chance to learn more about Zoey, but it's also introduced plenty of other characters into the Black-ish universe and viewers are really loving it.
The second spin-off, Mixed-ish, debuted in the fall of 2019 and focuses on Dr. Bow as a child and her experiences growing up in a biracial household. Although Tracee Ellis Ross makes appearances on the show, it mainly focuses on her younger self who is played by Arica Himmel.
Fans will also be excited to know that there is yet another spin-off series in the works. In the fall of 2020, news broke that a series called Old-ish is currently in the works. According to The Hollywood Reporter, "The spinoff will follow Ruby and Earl as they give love a second chance. When they move to a rapidly gentrifying neighborhood of L.A., they'll meet characters who represent the old and new faces of the community as they try to make it work as a married couple. Again."
Are The Spin-Offs Over Kill?
Now on the heels of its third spin-off, some people are pleasantly surprised that Black-ish has been able to spawn so many successful shows. While spin-offs often fall flat, Kenya Barris and the rest of the Black-ish team have struck gold. For now, it doesn't appear that people have found the spin-offs to be overkill, and that's likely because they all appeal to different audiences. On the flip side, some people feel like its only a matter of time before viewers get tired of watching different shows with the same characters. With that being said, Black-ish's viewership has been decreasing for the last few seasons so it'll be interesting to see if it's able to keep up with the other shows in its universe.