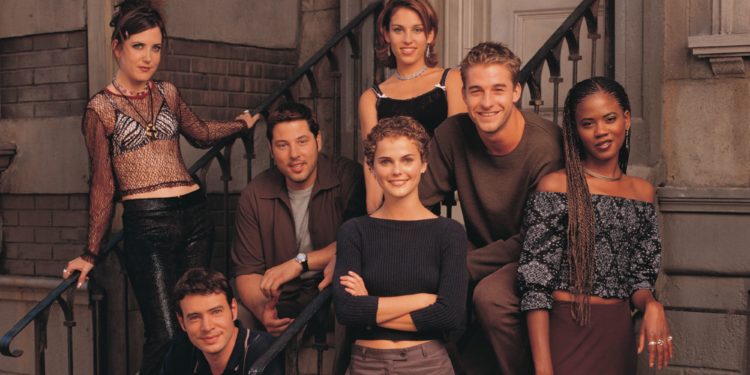 Felicity aired from 1998 to 2002, chronicling the adventures of Felicity Porter as she navigates college life in a fictional university. She is joined by classmates, roommates, and love interests who make her life complicated but exciting. The legacy of Felicity has made the careers not just of its main stars, but of its creator as well, J.J. Abrams, who would eventually be heavily involved in major blockbusters such as the Star Wars movies as well as Star Trek. On the 20th anniversary of the show in 2018, its titular star Keri Russell reflected on the drama's continuing impact, according to Entertainment Weekly, saying: "To me, the beauty of the show was always this really simple idea that I feel is very relatable. I feel like everyone at some point can look back at this moment and think, 'I just wish I would've chosen him' or 'I wish I would've taken that chance and done that.'" It's been almost 20 years since the show ended, and most of its cast have been able to pursue successful careers both in front and behind the camera. Here's what the cast of Felicity has been up to since the show ended.
Keri Russell
Keri Russell played the title character of Felicity Porter in Felicity. After starring in the drama, which ended in 2002, Keri Russell went on to pursue projects both on TV and on the big screen. In 2010, she tried her hands on comedy, starring in a sitcom titled Running Wilde opposite Will Arnett. It would be her first starring role since Felicity. The show would be canceled early, with its first season not even seeing all of its episodes aired. Russell starred in the spy drama The Americans, alongside Matthew Rhys, from 2013 to 2018. The show would become her most successful post-Felicity project. Keri Russell is set to appear in an upcoming anthology series on Apple TV+, titled Extrapolations, which also stars Meryl Streep, Sienna Miller, Kit Harington, Tobey Maguire, and Matthew Rhys, among many other stars. Russell has never made her desire for a Felicity reunion or reboot a secret, telling Entertainment Tonight that she would be totally up for another iteration of the show that made her a superstar. "In the middle of the pandemic I was like, 'You know what? People need something nice. We should just do a really quick, low budget what happened to them, because I just want to feel good for a moment,'"
Scott Speedman
Scott Speedman portrayed Ben Covington on Felicity, Felicity Porter's love interest and the reason Felicity moves to New York. Since Felicity's end, Speedman has been very busy, appearing in multiple film and TV projects. On the big screen he's appeared in several blockbuster movies, such as XXX: State Of The Union, Underworld: Evolution, Citizen Gangsters, and most recently, the comedy film Best Sellers, starring Michael Caine, Aubrey Plaza, and Cary Elwes. On TV, he's starred in multiple series after Felicity, most notably Last Resort, Animal Kingdom, and Grey's Anatomy. Currently, Speedman has a recurring role in the Netflix drama You.
Scott Foley
Scott Foley played Noel Crane, another love interest of Felicity's. After the show, he pursued roles mostly on TV, although he also appeared in a few film projects, such as Let's Kill Ward's Wife and Naked. On the small screen, he appeared in shows such as Cougar Blood, Grey's Anatomy, and True Blood. His first starring role after Felicity was in The Unit, appearing in 69 episodes as Sergeant First Class Bob Brown. He would then appear as a main character in the hit Shonda Rhimes TV show Scandal, alongside Kerry Washington, Henry Ian Cusick, and Columbus Short. Currently, he stars in the musical comedy-drama The Big Leap.
Tangi Miller
Tangi Miller appeared as Elena Tyler on Felicity, Felicity Porter's friend. According to Vice, Miller experienced certain complications, being the only Black actress in the main cast, but overall she described her experience in the show positively: "I feel like I did have to remind them that, hey, I'm here. And this is what I would be feeling. This is what I would be doing. But it wasn't horrible," she said. "It wasn't bad because I felt like J.J. and Matt and the team that we had were conscious, as you can see in how they developed the storylines. I heard horror stories from other [Black] folks [on other shows], you know, 'I'm working on this show and I'm just there,' as opposed to really being included. I felt like they worked really hard to include me. They were always checking in to see how I was doing and how I was getting along with everybody. I appreciated that." Miller appeared in a few TV shows after Felicity, mostly in a guest-role capacity. Shows she's worked in include The Division, Livign With Fran, and Half & Half. She's mostly worked on independent films after her days in Felicity, having acted in projects like Guardian of Eden and The Love Section. She made her directorial debut in 2016 with the movie Diva Diaries.
Amy Jo Johnson
Amy Jo Johnson portrayed Julie Emrick, one of Felicity's first friends when she moved to New York to study at UNY. After Felicity, Johnson has made a name for herself mostly for leading films behind the camera as a director. She's directed movies such as Bent, Lines, and Shooting Blanks. In 2017, she wrote, directed, and starred in a movie titled The Space Between, which was mostly funded through an Indiegogo campaign. In 2019, she directed Tammy's Always Dying, starring Felicity Huffman (Desperate Housewives).
Greg Grunberg
Greg Grunberg played Sean Blumberg on Felicity. He started as a recurring character in the first season of the show but eventually was promoted to main cast for the remainder of the series. Grunberg has appeared in several TV and film projects after Felicity, including Geeking Out, a talk show that he co-hosted with Kevin Smith.
Amanda Foreman
Amanda Foreman portrayed Meghan Rotundi, Felicity's roommate at UNY. After Felicity, Foreman appeared in Alias, Private Practice, and Parenthood in recurring roles. Foreman also provided additional voices for Star Wars: The Force Awakens and Star Wars: The Rise of Skywalker, both of which were directed by Felicity creator and showrunner J.J. Abrams.
Ian Gomez
Ian Gomez appeared as cafe manager Javier Clemente Quintata on Felicity. He has since appeared in My Big Fat Greek Wedding, its sequel My Big Fat Greek Wedding 2, and most recently, Barb and Star Go To Vista Del Mar.
Tell us what's wrong with this post? How could we improve it? :)
Let us improve this post!