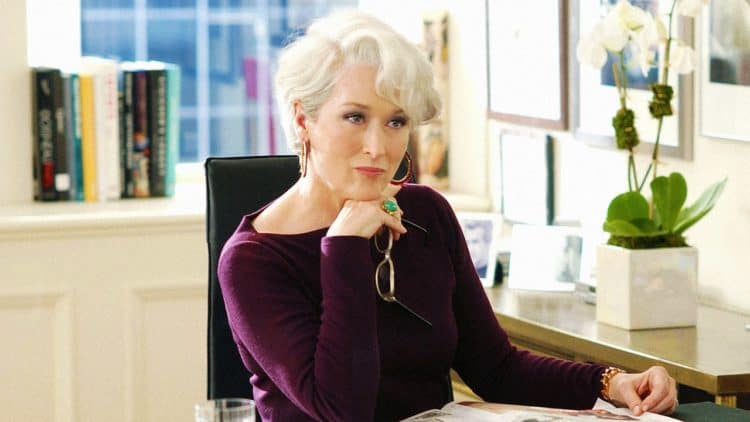 When it comes to meeting Meryl Streep, actors have different reactions to encounters with the acting legend. Lisa Kudrow, famed for her appearance on Friends, had this to say about working with Streep: " First of all, you are just in awe that it's her, then she makes you get over that quickly because she's just really generous and she's very warm. And then you're in awe because she's brilliant. I mean, there's nothing she can't do, I'm convinced. She's improvising with lines that are hilarious. I mean she's better than, like, how many writers?" Kudrow is justified in her awe of Streep. The actress, whose career began back in the '70s has several accolades to show for her time in the entertainment industry, including an Academy Award for Sophie's Choice and an Emmy for her portrayal of Inga Helms Weiss in Holocaust. Here's her six-decade career in a nutshell:
A Strong Foundation
Prior to Streep becoming a star, she had a strong foundation and mentor right at home in the form of her mother. Mary Wilkinson Streep was an artist who worked with Home Furnishings Magazine. Streep's father, on the other hand, was in the pharmaceutical industry. It therefore goes without saying that Streep's mother was more familiar with an unconventional career path, which acting is in many ways. From an early age, she breathed confidence into her daughter with words of affirmation. " You are capable…You can do anything you put your mind to." She would say.
Teaching Herself Acting
Streep believes that every actor has a little bit of everyone in them, that, half the time, directors only get to experience a small portion of. " People who really want to act and do it can access all kinds of horrible things." Streep said at a past interview. Knowledge of acting as a craft, as far as she is concerned, is almost an innate thing that cannot be taught. This is proven by the fact that Streep's early years on stage were uninteresting until she landed the role that made a difference. Not only did her participation in the play Miss Julie make her popular in college, but it led her professor Clinton Atkinson to say, " I don't think anyone taught Meryl acting. She really taught herself."
An Inspiration By Robert De Niro
Earlier on, Streep began acting in theatre and decided to move to New York to pursue the same. Featuring in a film was not even in the picture. Some of the productions she appeared in then include Trelawny of the Wells, Henry V, and The Taming of the Shrew. It wasn't until she watched Robert De Niro's performance in Taxi Driver that Hollywood became a possibility, largely because of her appreciation of acting as an art. De Niro's portrayal of Travis Bickle symbolized the kind of actor Streep wanted to be in the future. Her early attempts at auditions, however, were not so successful.
An Early Academy Award Nomination
In 1977, Streep landed her first role in a film as Anne Marie in Julia, in which she appeared opposite Jane Fonda, another big influence in her career. While Streep was not particularly happy with the way her character was treated in the film and was ready to let it all go, starring opposite Robert De Niro was the light at the end of the tunnel. De Niro, who had inspired her to move to Hollywood, had watched her in a past play. In a serendipitous turn of events, Streep played the role of Linda in The Deer Hunter, one which earned her an Academy Award nomination for Best Supporting Actress.
Peaking During The '80s
If the late '70s made for a great beginning, following her Academy Award nomination, Streep was yet to experience the utmost success that came with the eighties. Streep starred in her first film, The French Lieutenant's Woman, which earned her a BAFTA Award for Best Actress. She would later star in Sophie's Choice and win herself her very first Academy Award. Critic Roger Ebert said of Streep's performance: "Meryl Streep is a wonder as Sophie. She does not quite look or sound or feel like the Meryl Streep we have seen before in "The Deer Hunter" or "Manhattan" or "The French Lieutenant's Woman". There is something juicier about her this time; she is merrier and sexier, more playful and cheerful in the scenes before she begins to tell Stingo the truth about her past."
Cruising Through The '90s And 2000s
Following Streep's success in the '80s that also included films such as Out of Africa, Heartburn, and She-Devil, which wasn't one of her most successful films, as her star rose, so did her quote. By the end of the '80s, she was said to be commanding a $4 million-dollar paycheck. Through the nineties and 2000s, Streep got to appear in more films and bag more nominations. One of her most notable roles came in 2006 through The Devil Wears Prada, a role that earned her an Academy nomination. The film, thought to be inspired by Vogue editor Anna Wintour, was amongst the top-grossing ones that year, and one of Streep's most praised performances to date.
Reaching Legendary Status
It's safe to say that, as of 2021, Streep is more than just an actress. She is a benchmark through which other actors and actresses gauge progress. In an interview with Oprah, Streep revealed that, when it comes to acting, she feels restless when she goes for long periods of time without working. " When I don't work as an actress…When I don't have that way of expressing myself, I go a little edgy." Streep said. That would explain why, years after finding success, Streep is still very much in the field, living her passion. She has been busy at work, appearing in films such as Them Prom and Let Them All Talk in recent years. She is set to make an appearance in Don't Look Up, in which she plays the role of President Janie Orlean, and on AppleTV+'s Extrapolations. In her six-decade-long career, Streep has bagged the most Academy nominations of all female actresses and won three of those. That she's still going strong is a wonder, and it trickles down to where it began; a strong foundation.