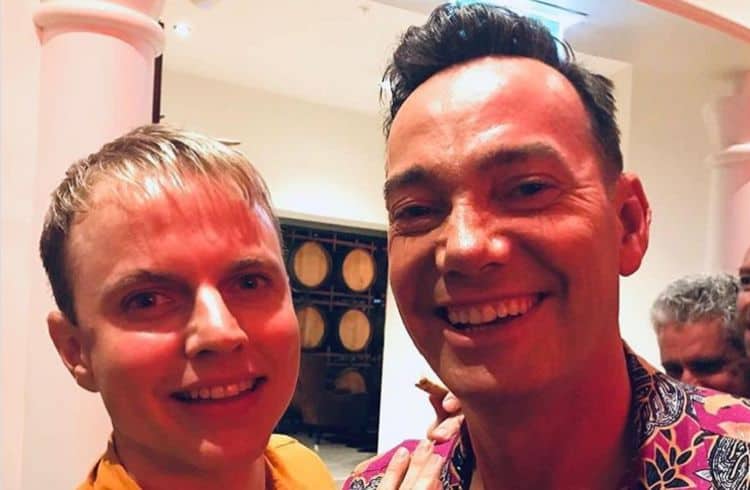 Australian-British dancer, choreographer, conductor, author, and theatre director Craig Revel Horwood has been working in the industry for years, but it's his role as the resident Mr. Nasty on the popular BBC dance competition, Strictly Come Dancing, that's made him a household name. Known as much for his catchphrases and exaggerated vowels ("It was a complete dahnce di-sah-ster, dahling") as he is for his brutal honesty, Horwood has been keeping us entertained on the show since its inception in 2004. Learn more with these 10 quick-fire facts.
1. He became a British citizen in 2011
Horwood was born in Ballarat, Australia in 1965 and spent his formative years training to become a dancer. After finding the opportunities to progress in his chosen field in Melbourne were limited, he decided in 1989 to abandon his native country for the big city opportunities of London. After residing in the UK for over 20 years, he successfully applied for British citizenship in 2011.
2. He was a drag queen
During Horwood's youth, he worked as a drag queen called Lavish, supplementing his income by providing sexual favors to a showbiz "sugar daddy" in a relationship he's since described as being akin to prostitution. "I have to refer to him as 'Mr. X' for legal reasons. I got favors from him for sexual favors, so I likened that to being a rent boy, only because I didn't feel anything for this character," he's since shared with the Daily Record. "But he paid for my dance tuition which was brilliant as it got me out of my hometown and to Melbourne where I trained. It was just a business deal, but I don't know if he saw it that way. I didn't ask. I didn't want to know."
3. He's gone under the knife
Horwood has gone under the knife twice, both times for cosmetic reasons. His first foray into plastic surgery came at the age of 18 with a rhinoplasty. In 2010, he admitted to having had a breast reduction after his "C"-size cups made it painful for him to dance. 'I couldn't cha-cha-cha about without them jigging in my face," he shared with the Mirror.
4. His wife left him for another man
From the time he was a teenager until he entered his mid-20s, Horwood had relationships with both men and women. "I was bisexual for a long time. I flitted between men and women quite a lot between the ages of 17 and 26,' he told OK. In 1990, he married Jane Horwood, but the marriage ended in acrimony after Horwood began to suspect her of being unfaithful. "I wanted to see if I could live a normal life, but she started going off with other guys, so it came to an end,' he's shared. "If I love someone, I will stay with them. But what can you do when your wife strays? Tell her it's okay, and encourage her to go for it? Or do you address that there's something going wrong? "Some people can live that way, but I'm just not one of them."
5. He's struggled with an eating disorder
During an episode of Loose Women in 2015, Horwood revealed that as a child, he'd struggled with his weight, a problem that intensified as he grew older and began to dance. Given the standard expectation for dancers to be slender, Horwood began a drastic diet, subsisting on nothing but lettuce for weeks at a time. "Anorexia is the best way to describe it," he's shared. I always thought I was fat, but I was actually truly thin. When I look back, I was 6ft 2in and 11 stones, which is crazy between the ages of 18 and 22."
6. He's a millionaire
Although Horwood has worked a successful dancer and choreographer for decades, he's admitted that working on Strictly has completely transformed his finances. According to Hello, Horwood earns around £110,000 for each series of Strictly, with his annual salary totaling around £300,000. By his own admission, his current assets and turnover are worth more than £1m.
7. He's a great cook
In 2010, Horwood proved he's just as talented in the kitchen as he is in the ballroom when he reached the finals of Celebrity MasterChef. The cookery talent show isn't the only reality TV show he's competed on: in addition to featuring on an episode of Louis Theroux's Weird Weekends, he's appeared as a celebrity guest judge on Daily Cooks Challenge and successfully beat of competition from the likes of Josie Lawrence, Marcus du Sautoy and Trevor Nelson to win the opportunity to conduct Act II of La Bohème at London's Royal Opera House on Maestro at the Opera.
8. He'd love to see Simon Cowell on Strictly
Given that the two share a reputation for their brutal honesty and easy way with a putdown, it's probably no surprise that Horwood would love to see the X Factor king perform on Strictly "I'd love to see Simon Cowell [on Strictly],' he told On Magazine. "The world would love that. Sharon Osborne would be good because she's very mouthy. Prince Harry would be fantastic. Why not? I'd love to see royalty."
9. He met his partner on Tinder
Horwood has been with his partner, Jonathan Myring, a horticulturist, since 2018, having met him first on Tinder. 'I did meet my partner, Jonathan on Tinder… I set the net wide, darling," he told the Daily Mail. "300 miles! Because I was on tour at the time and it was brilliant because I wasn't actually looking for someone specific in that way. At least you get to know their age, what they look like before you meet up with them. And we had a power meeting, which was literally just like an hour over avocado and eggs. And we've been together ever since… He's a horticulturist… He's so green-fingered that I'm putting a vineyard into my house.'
10. He's danced the cha-cha-cha with the Duchess of Cornwall
Horwood has been a patron of the Royal Osteoporosis Society since 2009, a title he shares with Camilla, Duchess of Cornwall. In 2009, the pair delighted audiences when they paired up during a school visit to mark National Osteoporosis Day by dancing the cha-cha-cha.
Tell us what's wrong with this post? How could we improve it? :)
Let us improve this post!