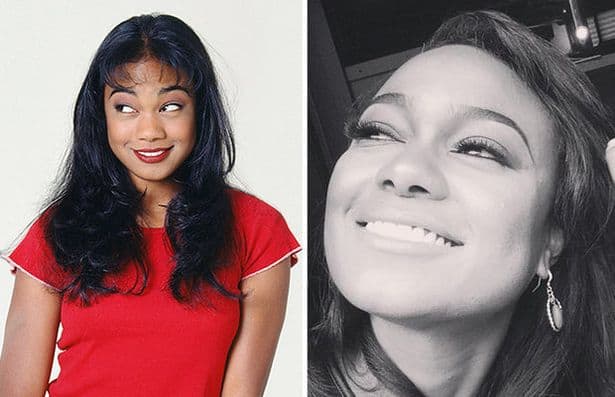 During the 1990s, Tatyana Ali was one of the hottest young stars on TV. Her role as Ashley Banks in the popular sitcom The Fresh Prince of Bel-Air turned her into a household name. During the show's run, many viewers felt like they got to witness Tatyana blossom from a child star to a talented young woman. When the show ended in 1996, many people were hoping to see more of Tatyana on their screens, but by the end of the decade, she had started to fade from the spotlight. Over the years, many Fresh Prince fans have wondered what became of the beloved actress. The good news is that she is still around and doing her thing. Keep reading to find out what happened to Tatyana Ali.
Tatyana's Acting Journey
Tatyana was born and raised in New York, and it became very clear at an early age that she was born to be a star. She got her first taste of the entertainment industry when she was in elementary school when she made her first TV appearance on Sesame Street in 1984. She would go on to make several other appearances on the show throughout the years. After making her TV debut, Tatyana made a few small TV appearances throughout the 1980s, but her big break came when she was cast as Ashley Banks. From very early in the series, it was clear that Ashley and her on-screen cousin, Will, had a very special bond. Her character was adorable, funny, and smart and Tatyana did a great job of bringing her to life. The popularity of the show also helped open doors for other opportunities. Throughout the 1990s, Tatyana made guest appearances on other successful shows including Are You Afraid of the Dark?, Living Single, and In the House. When The Fresh Prince of Bel-Air ended in 1996, Tatyana began focusing her attention on movie roles. She appeared in a number of movies for the remainder of the 90s, but none of them were very well known. As we've seen with other people who spend long periods of time playing the same character, it appears that it may have been difficult for her to break away from playing Ashley Banks.
Tatyana's Music Career
During the late 1990s, Tatyana decided that she wanted to branch out and try something new. She released her debut single, "Daydreamin'" in the summer of 1998 and it went on to be certified gold by the RIAA. Most people probably expected her to be a one-hit-wonder, but Tatyana wasn't about to let that happen. Her follow-up single, "Boy You Knock Me Out", was released early in 1999 and boasted a feature from her former castmate, Will Smith. The song reached number one on the UK R&B charts, and it looked like Tatyana had the potential to have a successful future as a singer. However, after the release of her debut album, Kiss the Sky, Tatyana's music career would be put on pause for more than 15 years.
What Has Tatyana Been Up To?
Although many people lots track of Tatyana after the 90s, that doesn't mean that she hasn't been around. Tatyana has been acting fairly consistently since her days on The Fresh Prince, but Ashley Banks continues to be her most well-known role. She got another major opportunity in 2007 when she was cast as Roxanne in The Young and the Restless. She remained on the show until 2013. Over the years, she has appeared in several TV movies. In fact, her most recent appearance was in a TV movie called A Picture Perfect Holiday which was released in 2021. On top of her live-action roles, Tatyana has also done some voice work. In 2014, she returned to music with the release of an EP called Hello. It's unclear if she has plans to release more music in the future. Tatyana has also been pretty busy in her personal life. She has been married to a man named Vaughn Rasberry since 2016 and the couple has two beautiful children together. Based on her Instagram profile, it's clear that family is her top priority and she loves spending time with her loved ones whenever she can.
What's Next For Tatyana?
From what we can tell, Tatyana isn't working on any new projects at the moment, but we feel confident that we're going to be seeing plenty more of her in the future. Even if she never has another role as big as Ashley Banks, Tatyana Ali will always have an important place in pop culture history.
Tell us what's wrong with this post? How could we improve it? :)
Let us improve this post!