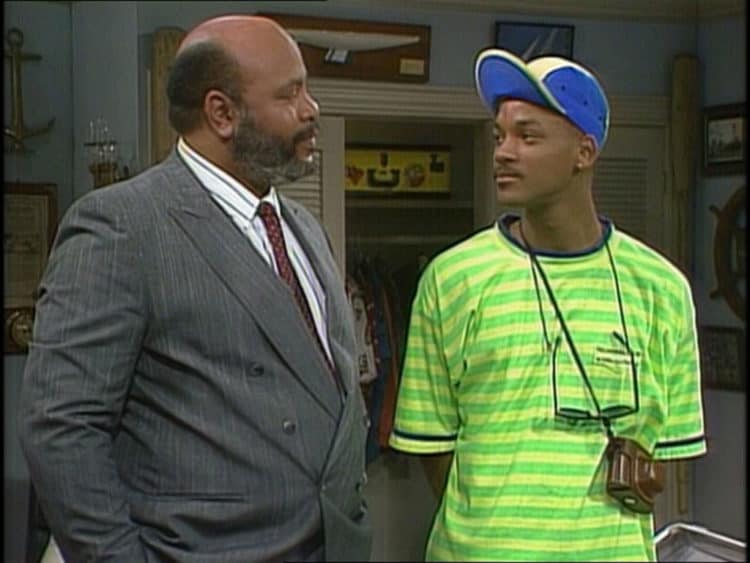 How Will Smith became The Fresh Prince of Bel-Air is a story only he knows how to tell best. Legend has it that Smith, through the advice of his girlfriend, made his way to The Arsenio Hall Show, where everything seemed to be happening. He met Benny Medina, who pitched him an idea for a show. Medina, the real-life Fresh Prince of Bel-Air, who moved from Watts to Beverly Hills, introduced Smith to Quincy Jones, who was co-producing the show. Smith had no intention of auditioning for Jones, but that's exactly what happened. With a little over three decades in the business of entertainment, we've seen the best of Will Smith as an actor, a career that has earned him massive recognition worldwide, and a cult-like following. Three decades is no mean feat, and there have been some highs and lows along the way, through which Smith has managed to build himself an empire. Here's how he's evolved in his personal and professional life:
A 24-Year Marriage To Jada Pinkett Smith
Back when he was still the star of The Fresh Prince of Bel-Air, Smith was married to his first wife, Sheree Zampino. The pair got together in 1992, and three years later, they were divorced. Their union bore a son, Trey. Smith would later get together with Jada, who at the time had decided to settle in a ranch in Baltimore. Smith and Jada married in December of 1997, and have stayed married since. Together, they have two children, Jaden and Willow, each of whom is involved in the family business. Will's son, Trey, calls Jada Pinkett Smith his bonus mother. Through the years, Will and Jada have been open about the struggles in their marriage and addressed some of the age-old rumors surrounding their family.
Most notable, however, are Smith's thoughts about marriage and happiness, which are worth echoing: " Me and Jada were reflecting about love, and I asked her what she thought was one of the biggest revelations she's had about love. She said that 'You cannot make a person happy.'" Smith shared with his Instagram followers. He went on further to say, " I thought that was a really deep idea. You can make a person smile, you can make a person feel good, you can make a person laugh, but, whether or not a person is happy, is deeply and totally and utterly out of your control."
Running A Thriving Family Business
When it comes to running a business that the whole family or most of it is involved in, The smiths have gotten it right in one take. Smith and Jada are actors with tons of credit to their names. Through their company, Westbrook, the Smiths run multiple productions. Most notable is Red Table Talk or The Principal's Office as the internet likes to call it, which is hosted by Jada, Willow, and Jada's mom, Adrienne Banfield-Norris. Outside of the show, Willow Smith is a creative music maker who's passionate about mental health. Willow's older brother, Jaden makes music, too, and is the founder of JUST Water, a company that embraces environmentally friendly packaging. Jaden is also a hit on the big screen, having appeared in productions such as the box office success Karate Kid and The Pursuit of Happyness, in which he starred alongside will.
The Smiths' success, at least in the world of material gain, is attributed to what Jada Smith calls 'The Marriage Business Plan'. Speaking to media mogul Oprah Winfrey, Will said: " If you don't have a goal, if you don't have a purpose for your relationship, a place that you are going, something that you want to do, you can really get lost in the murk of the journey. There has to be a vision. Why are we together? As an answer for why two spirits would join together and decide to travel this journey of life together, there's so much more that you have to be dedicated to." On finding the vision, Jada Said, " We had to figure that out because we are two big beings that came together. I had my vision and he had his, so we had to join in."
What Hasn't Changed: His Friendships
Even when things change in life, some things do stay the same. Will Smith has had a lot of changes since his Fresh Prince of Bel-Air days, but one thing hasn't aged a bit: his friendship with DJ Jazzy Jeff and Alfonso Ribeiro. In 2019, after 31 years of not having performed together, Smith and DJ Jazzy Jeff finally took to the stage. Despite not performing together, Smith and Jazzy Jeff kept in touch. Jazz once said of his journey with Smith: " I remember when Will and I first got together. We kind of had a 'dream session'. He was like, 'You know what, I wanna do movies', and I was like, 'Wow! I wanna do music.' We were just kind of like speaking about what we wanted. Every once in a while, he'd just look over and be like, ' Can you believe this? You remember when we talked about this?' It all started with him and I in someone's basement, with me deejaying and him on the mic."
The friendship between Will Smith and Alfonso Ribeiro began on the set of The Fresh Prince of Bel-Air. Smith said in a past interview that, when he first got together with Alfonso, he had a hunch that they would be friends for a long time. The same happened with Jazzy Jeff. Smith's friendship with Ribeiro goes as far as teaching his first son, Trey how to drive. When Smith turned 50 and had to bungee jump from a helicopter over the Grand Canyon, Alfonso was there to host the ceremony, but not before he told him he was a fool. Because that's what friends do. As Smith goes through the seasons of life, if there's one thing he's managed to prove, it's the value of healthy friendshipS. That even though things change, others have to stay the same.
Tell us what's wrong with this post? How could we improve it? :)
Let us improve this post!