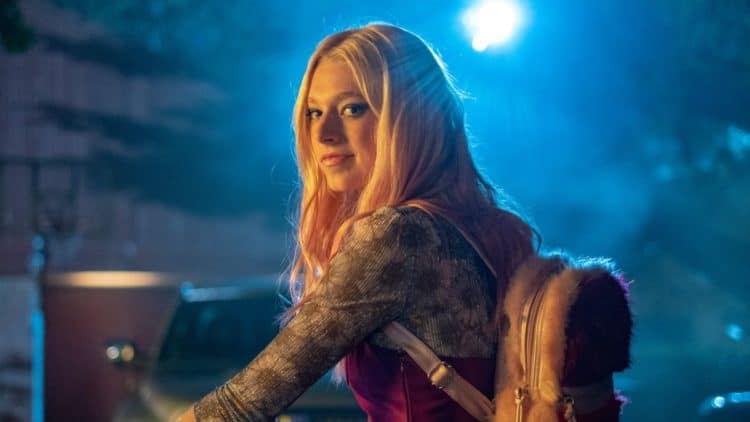 If you are keen on models, you most probably might have come across Hunter Schafer, who has graced many runways across the globe. The model is now supplementing her income through acting. Her first significant on-screen role was in "Euphoria," where she booked the role of Jules whose story is almost similar to Hunter's real-life experience. Hunter is a transgender person, but she prefers to call herself "non-binary" and does not like people to know she is not a "cisgirl." Here are more facts about her.
1. She was the youngest plaintiff in the "bathroom bill" In 2016
Hunter was added to the "bathroom bill" in 2016 and became its youngest plaintiff. As a transgender woman, her participation was paramount, and since she had always been vocal about her transition, she felt it was her place to give her opinion. The bill claimed that people should only use bathrooms based on the gender they were assigned to at birth, not the one a person identifies with; thus, it excluded people like Hunter. Therefore she opened up her life and spent hours in meetings and months of depositions to fight for her community.
2. She wanted to give up on modeling and go back to school
Being on the runway will have many girls thinking that it is such a high-paying career; Hunter thought so too until reality dawned in her. The plan was to make a lot of money so that she could afford tuition in a fashion design school; therefore, the model went to Paris and Milan to model high-end brands such as Dior. Unfortunately, Hunter barely made enough money to save up for her dream and therefore considered going back to school. Just when she was about to give it up, the opportunity to audition for an HBO series came up, and everything changed for the better.
3. She does not think she is fit to be anyone's role model
Young people always look up to celebrities for inspiration, but most have refused the title of "role model." Rihanna confessed that it was not fair to be termed as a role for young girls when she was still struggling to find her way and making mistakes as the world watched. Hunter also feels that transgender people who view her as a role model put too much pressure on her. As published on Marie Claire, she believes it puts so much weight on her, yet she may not live up to their expectations.
4. How she came to be on "Euphoria."
Hunter had never acted before, yet she booked a role that many other people who had attended acting classes wanted. The model was not even interested in the series; she had seen a casting call on Instagram, but it is only after her agents told her that she had been asked to go and audition that she became interested in it. She was, however, not sure about booking the role, considering that she is shy, but the casting directors liked her enough to tell her to keep coming back, and before she knew it, she had filmed four episodes.
5. She once used makeup to boost her self esteem
At the start of her transitioning journey, Hunter used lots of makeup to feel good about herself since she did not like the way she looked. However, later on, as her self-esteem grew, she realized she does not need any makeup to feel good. Consequently, now that she has to wear makeup on-screen, she feels strange that people think she needs it to be beautiful.
6. Her parents were worried that she was not normal
Hunter was born male and was the eldest son of Kate and Mac. However, he was already portraying his femininity as a toddler. Kate recalls that at the age of two, Hunter would pick Catwoman and Hawkgirl as his superheroes. Katy became worried that her son preferred wearing pink dresses while the peers were donning vests and fireman gear. She and Mac, therefore, went to the preschool teacher to ask if it was normal for a boy to behave in such a manner.
7. Her parents took it hard that Hunter was a transgender
When Hunter was in seventh grade, she came out to her parents as gay. However, by the time she was in eighth grade, she saw facial hair and did not like it; hence realized there was more to her sexuality than she also perceived. Therefore on two different occasions, Hunter came out as transgender, but her parents did not understand. Mac was afraid that Hunter's appearance would change with time while Katy was in denial; she reasoned that just because Hunter liked pretty things did not translate to her son being a girl. Finally, when Hunter wanted to go to a fashion designer camp and asked her father if it was okay to wear heels, it hit Mac that indeed his son was transgender.
8. Her mother found it hard using "she" when referring to Hunter
According to an interview that Hunter and her parents did with WUNC, Katy confessed that she found it challenging to use the female pronoun when referring to her son. For her, she would rather use Hunter's name. Mac, on the other hand, adjusted after learning that Hunter appreciated that the proper pronouns were used, so now it comes naturally to him to refer to Hunter as "she."
9. She once considered being a comic book artist
Before getting lured into fashion, Hunter knew she wanted to become a comic book artist. Therefore she kept drawing sketches and posting on social media, and they captivated Tavi Gevinson. Hunter tagged the Style Rookie website creator in a happy birthday post, and Tavi, luckily, did not ignore her. Instead, Hunter was invited to contribute her sketches to the website.
10. How she prepared for her acting role on "Euphoria."
Without any prior acting experience, Hunter had to undergo some acting coaching to portray her character in "Euphoria." The acting coach made Hunter comfortable in getting the part right by tapping into her childhood experiences. According to Interview Magazine, the technique is called Effective Memorization, and for Hunter, it felt like time travel.
Tell us what's wrong with this post? How could we improve it? :)
Let us improve this post!