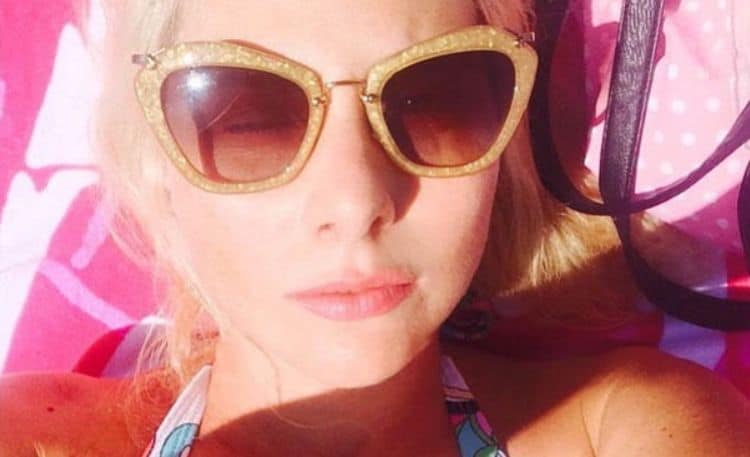 Al Pacino's former flame Meital Dohan may have been hitting the headlines hard recently, but there's a lot more to this Israeli born actress than meets the eye. While she may be most famous in the US for her relationship with the Scarface actor (or, perhaps more pertinently, for the 40-year age gap that separates them), in her native Israel she's a respected actress, comedian, playwright, radio host, and musician. Find out more about the star with these ten little facts.
1. She started her career on the stage
After graduating from Nissan Nativ acting school, Dohan signed a contract with Israel's Cameri Theater. Over the next few years, she worked extensively on stage, winning numerous plaudits and awards in the process (including the title of Most Promising New Actress for her work in Best Friends at the Cameri Theater). Other notable works from this period include Moving Flesh, God's Sandbox (which won an award at the 2002 Manchester film festival), Giraffes (winner of the 2003 Scottsdale Arizona Film Festival), and Blood Wedding.
2. She made her US breakthrough in Weeds
After enjoying success in her native Israel, Dohan moved to the US in the early 2000s. In 2006, she landed her breakthrough role in Weeds, where she portrayed the character of Andy Botwin's love interest, Yael Hoffman. After appearing in 7 episodes of the show through 2007, she was invited back to appear in its 100th episode in 2012.
3. A spiritual guide told her to pursue a music career
It's not just on stage and TV that Dohan's enjoyed success. While working on the Israeli version of Dancing With The Stars, a "spiritual guide" convinced her to pursue her passion for music. "The whole epiphany about pursuing and focusing on music happened in a very funny way," she told The Hollywood Reporter. "While doing Dancing with the Stars in Israel, I had a spiritual guide who told me to go back to L.A. and start with my music career." She did as she was told, and in 2011, released Yummy, a track accompanied by a video of Dohan wearing nothing but a pair of boxing gloves and red knee-high boots.
4. She's a multi-award winner
Dohan has been the recipient of multiple awards over the course of her career. In 1999, she won her first accolade with a Cameri Theater Scholarship for Deserving Young Actress, while the following year saw her scope an Israeli Theater Award for Most Promising Actress for her role as Sofi in Best Girlfriend. Other honors to add to her roll call of successes include an Israeli Academy Award nomination for 'Best Actress' for her role in God's Sandbox (2003), another Israeli Academy Award nomination for 'Best Actress' for her role in Giraffes (2002), and an Israeli Tony Award for her role in Ugliest Esti.
5. She's a writer
Dohan is clearly someone who refuses to be pigeonholed. As well as being an actress, a playwright, and a musician, the 43-year-old can also add "published author" and "radio host" to her list of talents. Her novel Love and Other Bad Habits was published in 2007 to rave reviews, while her webcast talk radio show, Loud Miracles on Women's Radio, has enjoyed similar success. "My whole life I was always a writer and a creator," she's explained. "I'm an artist changing from role to role. That's how I see myself."
6. She's a spokesperson for "Artists 4 Israel"
In 2010, Dohan was invited to represent "Artists 4 Israel" (an artist's rights organization that promotes pro-Israeli ideology through the medium of street art) as their official spokesperson. As part of her activities with the group, Dohan was involved in an initiative that invited graffiti artists from around the world to paint bomb shelters in Sderot, Israel.
7. She doesn't mind learning new skills
If it helps her get a role, Dohan has no problem in applying herself to learning some new skills. For her critically acclaimed performance in Giraffes in 2002, she set herself the task of learning French. In 2004, meanwhile, she got to grips with the art of belly dancing for the film To Dance.
8. The age gap was too much
In 2018, Dohan began dating Hollywood veteran, Al Pacino. At the time, the Scarface actor was 79. Dohan was 39. Despite dismissing the age gap at the time, it eventually proved their undoing. Earlier this month, Dohan revealed the relationship had ended, telling LaIsha magazine "It's hard to be with a man so old, even Al Pacino. The age gap is difficult, yes. I tried to deny it, but now he is already an elderly man, to be honest. "So even with all my love, it didn't last. I was glad to be there for him when he needed me, and to be a part of his legacy," she continued. "It's an honor for me. I'm glad this relationship happened between us, and hope we remain good friends."
9. She's called Pacino stingy
When a woman starts dating a man twice her age, the inevitable tag of "gold digger" starts getting flung around by all and sundry. According to Dohan herself, however, she never benefited (at least in a financial sense) from the relationship with Pacino and has even gone so far as to imply the veteran actor is a little stingy with his cash. "He only bought me flowers," she's said. "How can I say politely that he didn't like to spend money?"
10. She's not Pacino's first younger lady
Tongues may have been wagging at the 40-year age gap between Pacino and Dohan, but it's far from the first time the actor has enjoyed a May-December romance. When it comes to dating women nearly half his age, Pacino has form, having previously dated Argentinean actress Lucila Sola for ten years between 2008 to 2018. At 44 years old, the actress is 35 years Pacino's junior.