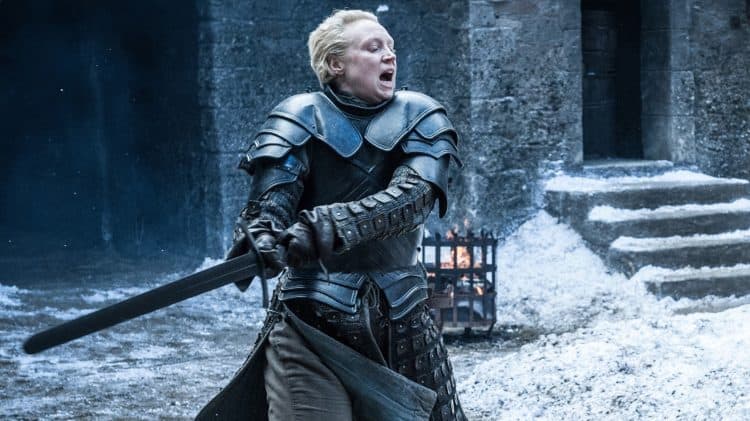 During the 2010s, Game of Thrones was easily one of the most popular shows on TV. While many of the show's cast members had already had successful careers for many years before Game of Thrones came along, being on the show catapulted them to a new level of fame. That was certainly the case for Gwendoline Christie who portrayed Brienne of Tarth from 2012 to 2019. Anyone who saw her on Game of Thrones likely agrees that she is unforgettable. Her time on the show helped her build a large international fan base, and many people have been curious about what she has been doing since leaving the show. Keep reading to find out what happened to Gwendoline Christie.
Gwendoline's Acting Journey
Gwendoline was born and raised in England, and she isn't the kind of actress who grew up wanting to act. Instead, she was focused on gymnastics during her childhood. However, after sustaining a spinal injury, her interest began to shift toward acting. Eventually, she decided that she was serious about pursuing a career as an actress. She attended Drama Centre London where she graduated in 2005. However, despite her talent, there were lots of people who doubted that she would ever be successful due to her physical appearance and the fact that she is over six feet tall. She refused to let anyone bring her down and she continued moving forward with her dreams. Little did anyone know, she was on her way to becoming known to people all over the world.
Gwendoline made her on-screen debut in 2007 with a small role in a movie called The Time Surgeon. It would take a few more years and lots of hard work before Gwendoline finally got her big break. Things start to pick up for her in 2012 when she was cast in both Wizards vs. Aliens and Game of Thrones. Those two roles helped elevate Gwendoline's status in the entertainment industry and they also opened up other doors for her. During an interview with GQ Gwendoline discussed her time on Game of Thrones and said,
"To be really honest with you, I feel a lot of things about it. It's a very strange state of affairs. I feel deeply emotional about it ending, because it was an act of liberation for me in so many different ways. It really has opened my life up in ways I could never have expected. And in other ways it really shut my life down. I am really excited to do some new things. I am also very scared not to have that structure in place, because it was so reliable. But reliability is not always necessarily a good thing."
What is Gwendoline Up to Now?
After Game of Thrones ended, things initially appeared to slow down for Gwendoline. Outside of Game of Thrones, she made three other on-screen appearances in 2019, and none in 2020 or 2021. However, that doesn't mean she wasn't hard at work. Her two-year absence from the screen was likely because she was filming for other projects. 2022 is already shaping up to be a huge year for Gwendoline and that is largely thanks to her roles in two upcoming TV series, The Sandman and Wednesday. These projects may be a slight departure from what people are used to seeing Gwendoline do, but everyone can rest assured that she's going to give great performances.
In addition to her work as an actress, Gwendoline appears to be enjoying life to the fullest. Although she is fairly private when it comes to her personal life, we do know that she is in a relationship with fashion designer Giles Deacon. Gwendoline also has an interest in fashion and she loves using her clothing as a way to share her personality with the world. While talking to The Guardian, she said, "I think the fashion world is full of people who didn't used to feel they fitted in."
What's Next for Gwendoline?
Outside of the two upcoming TV series that Gwendoline is a part of, it doesn't appear that she currently has any projects in the works. That said, we know we are going to be seeing a lot more of Gwendoline. With her undeniable talent and her love for acting, she has everything she needs to have a long-lasting career in the entertainment industry. No matter what she does next, though, Gwendoline has made it clear that she looks forward to continuing to represent people who may feel like they don't fit in with the mainstream crowd.
Tell us what's wrong with this post? How could we improve it? :)
Let us improve this post!