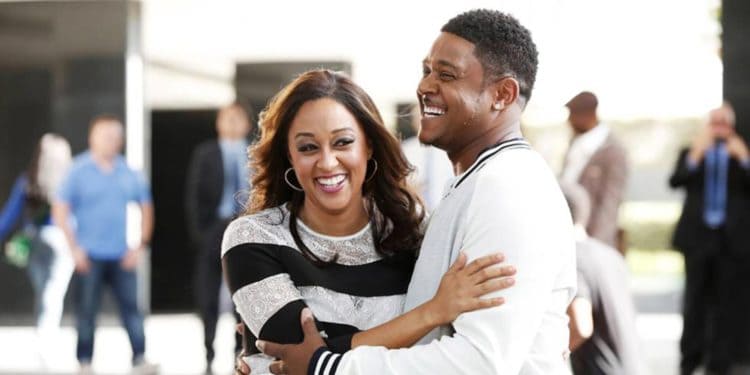 During the mid-2000s, The Game was one of those shows that people simply couldn't get enough of. Even when the series was canceled, viewers rallied to have it brought back and they were actually successful. The series followed the lives of a group of professional football players and their families. The Game had the perfect balance of comedy and drama and it helped highlight an awesome cast of talented actors. While some of the show's stars have found continued success, others haven't been as active since their time on the show. If you're a fan of The Game and have been wondering what happened to the people who played your favorite characters, today is your lucky day. Fans will also be happy to know that a reboot of The Game is set to debut on Paramount+ in November of 2021. Keep reading to find out what happened to the cast of The Game.
Tia Mowry as Melanie Barnett-Davis
Tia Mowry was already a major star when she was cast as Melanie in The Game. In fact, she was arguably the most famous cast member. Her role as Melanie was a departure from many of the things viewers had seen her do in the past, but it was also the perfect fit. Tia has continued to act since The Game, but she has also been focused on other business ventures such as her cookware and vitamin companies. Tia doesn't appear to have any acting projects in the works at the moment, but we'll definitely be seeing more of her in the future.
Brittany Daniel as Kelly Pitts
Kelly Pitts' character went through lots of changes during the show's run, but she always remained a fan favorite. Brittany's portrayal of Kelly gave her the perfect opportunity to show off the true range of her acting skills. Since The Game, however, Brittany's career has slowed down a bit. She has only made a handful of acting appearances and none of them were as at big as her work on The Game. However, that could simply be because she's enjoying her personal life. In 2017, she married Adam Touni. As far as we know, she doesn't have any children.
Hosea Chanchez as Malik Wright
Malik Wright was one of the most popular characters on The Game and it seemed like the role was going to open lots of doors for Hosea Chanchez. His on-screen presence and natural talent seemed like the perfect combination for consistent and long-term success. Unfortunately, however, that didn't turn out to be the case. He hasn't had any major acting opportunities since The Game, but the good news is that he will be reprising his role as Malik in the reboot.
Coby Bell as Jason Pitts
Known for being incredibly cheap, Jason Pitts was a quirky character who tended to take things a little too seriously. Cody Bell proved to be the perfect person for the role and it remains one of his most memorable performances. In the years since The Game ended, Cody has worked consistently. Some of his most recent credits include Walker and Archer. Cody will be reprising his role as Jason in the upcoming reboot of The Game.
Handsome and talented, Derwin Davis was essentially the main character for the first five seasons of the show. The role seemed like a sure-fire shot for Pooch Hall to expand his career, and that's exactly what happened. From 2013 to 2020, he was a cast member on Ray Donovan and he will also be in the upcoming movie that will be released in 2022. Additionally, Pooch is another cast member who will be reprising his role for The Game reboot.
Wendy Raquel Robinson as Tasha Mack
Tasha Mack is easily one of the most memorable characters from the show. Not only was she a devoted mother, but she was also all about her business. Wendy Raquel Robinson's portrayal of Tasha was fun and fiery. She has had no problem landing acting opportunities in the years since the show. Not only will she be reprising her role as Tasha, but she also has several other projects in the works that will be released within the next few years.
Brandy as Chardonnay Pitts
Brandy joined the cast during season five as a character named Chardonnay who would eventually marry Jason Pitts. Despite not being on the show for as long as some of the other cast members, Brandy still left a lasting impression. Since Brandy is a pretty well-known star, her work after The Game probably isn't much of a mystery to most people. She is currently one of the stars of a new TV series called Queens.
After the fifth season, The Game went through some changes and some of the original members left. Lauren London joined the show for season six and she portrayed an actress named Keira Whitaker. Even though Lauren London doesn't have the longest list of acting credits, she has always been a fan favorite. Since her days on the show, Lauren has only had a handful of other roles. In more recent years, she has been focusing more on her personal life after the death of her longtime partner, the great Nipsey Hussle.
When Jay Ellis joined the cast of The Game during season six, he was a relatively unknown actor. These days, however, he is most recognizable from his role as Lawrence in the popular HBO series Insecure. The series is now in its final season, but Jay's career won't be slowing down. He has three film projects in the works including Top Gun: Maverick which will be released in 2022.
Tell us what's wrong with this post? How could we improve it? :)
Let us improve this post!