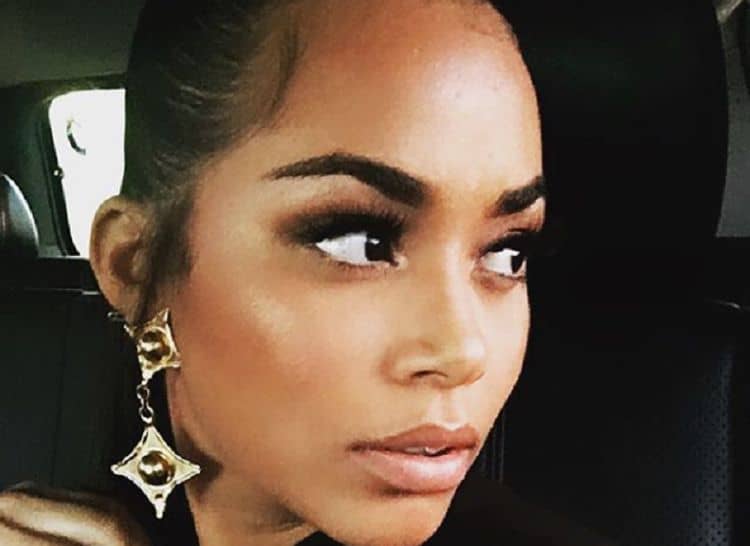 When Lauren London made her debut in the 2006 film, ATL, people instantly wanted to know more about the beautiful young actress. Although she hasn't had a ton of other acting credits in the years since, she has become a popular figure in Black entertainment. There are very few people who can remain relevant and keep people's attention without consistently being cast in new roles, yet somehow Lauren London has managed to do just that. Outside of her acting career, London is best-known for her relationship with Nipsey Hussle, who was tragically murdered in 2019. Although she has always been low key about her personal life, Lauren has become a shining example of strength – especially in the face of grief. Keep reading for 10 things you didn't know about Lauren London.
1. She Was Engaged To Lil Wayne
Most people are aware of the fact that Lauren London has a son with rapper, Lil Wayne. However, what most people don't know is that Lauren and Wayne actually had a serious relationship. Lauren met Wayne when she was just 15-years-old, and the two eventually began a relationship over the years. In 2011, she told Essence, "We were in a relationship that didn't make it. We tried more than once to revive it, and we were engaged briefly years ago, but we eventually parted ways." There was even a point in time when Wayne had the name "Lauren" tattooed on him, but it has since been covered.
2. She Was Late To Her Audition For ATL
If you've ever seen the movie ATL, you probably feel like it's impossible to imagine anyone else in the role of NewNew. But that almost ended up being the case because Lauren's audition didn't get off to the greatest of starts. In a 2006 interview, she recalled the audition process and said that she "went in, studied for the role, spent like my last hundred dollars on coaching and was two hours late for the audition…"
3. She Was Home School During High School
Lauren was born and raised in Los Angeles and attended the city's public schools for most of her life. She was even involved in local acting and theater programs. However, by the time she hit high school, she decided that she wanted to take her career seriously and could no longer balance a traditional school schedule. Instead, she was homeschooled from 10-12th grade.
4. She's A Barbara Streisand Fan
Every actor has someone who they look up to and whose work they admire. For Lauren London, that person is the legendary Barbara Streisand. London says that she has always been a fan of Streisand's work, and she's influenced her throughout the years. Jennifer Lopez is another person who Lauren London also admires.
5. She Got Her Start In A Pharrell Video
The majority of the world was introduced to Lauren London through her role in ATL, but she was actually working in the industry before that. When she was just 17, she earned a role in the music video for Pharrell's 2003 song "Frontin'". London is actually the first person to speak in the video.
6. She Gets Nervous In Large Crowds
Lauren has been notoriously private throughout her career. In fact, she had never shared any images of her children's faces on social media until recently. Despite her private nature, Lauren says she is a very approachable person. However, she adds that she does tend to get nervous in large crowds which probably contributes to the fact that she isn't the type of celebrity whose always at somebody's event.
7. She's A Big Music Fan
Even though London isn't a musician herself, she's a huge music fan. In fact, she an Nipsey Hussle originally connected because she wanted to buy copies of his mixtape for her co-stars on The Game. Aside from Nipsey, some of the artists she listens to include Kendrick Lamar and Drake.
8. Jonathan Taylor Thomas Was Her First Celebrity Crush
If you grew up during the 90s, you probably remember a point in time where Jonathan Taylor Thomas was the hottest young actor in the business. He was the true definition of a heart throb, and countless girls couldn't get enough of him. Lauren London happened to be one of those girls.
9. Her Father Is Jewish
Since Lauren London is so private, there isn't a lot of information floating around about her parents. However, it is commonly known that she is biracial. Lauren's father is Jewish with Ashkenazi ancestry. Although her parents are no longer together, it appears that she has maintained a good relationship with both of them.
10. She Bought A BMW With Her First Check
Celebrities are known for spending money on all sorts of lavish things. Have you ever thought about the first thing you'd buy if you ever came across a large sum of money? When Lauren found herself in that situation after getting her first major check, she decided to buy a BMW X3.
Tell us what's wrong with this post? How could we improve it? :)
Let us improve this post!