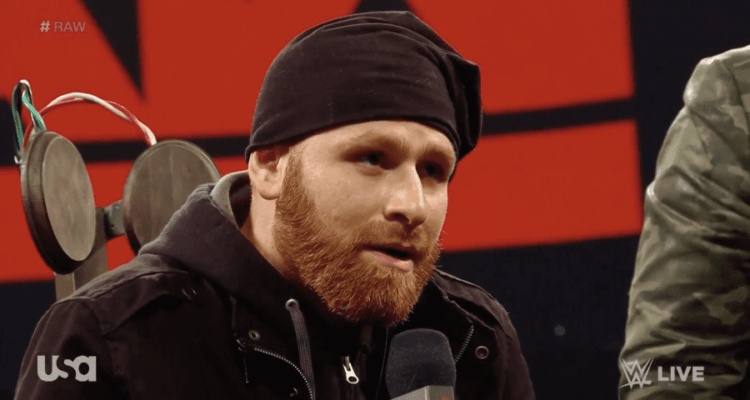 There are some wrestlers you'd like to enjoy and see as the good guy, or the heel, but it usually seems as though WWE has a different idea in mind for them. Either they don't attract the desired attention with one role or people just don't respond to them in the way that's desired, but eventually every wrestler sees the need for a change. Sami Zayn is one of those that seems to get on with the fans for a little while and then finds that his character is in need of a change. When he came in he was the good guy, the never-say-die kind of person that challenged John Cena to a United States Championship match even though he was wounded. Eventually he became known as the guy who just wouldn't quit even if he couldn't possibly beat the person he was up against. Zayn isn't the smallest guy in the locker room but he's definitely not the biggest either. If not for a heel turn he might have still been one of the favorites, or not, since his rapport with the fans seemed to dwindle with each passing month.
Here are a few things you might not have known about Sami.
10. Sami actually wrestled with a mask for a little over a decade.
He was known as El Generico and he did wrestle with a mask on like a luchador for a good number of years. When he came to NXT the mask came off and he started wrestling under the moniker Sami Zayn, though he'd been through a couple of names at that point.
9. He made his wrestling debut in 2002.
Sami has been around for a while so he's not a newbie and wasn't even a newcomer when he made his way into NXT. A lot of wrestlers have been in the game for a number of years before WWE discovers them, and Sami has wrestled internationally for a good part of his career.
8. It's only been in recent years that he became a heel, since 2013 he was a good guy.
He did come in as the good guy, or babyface as they would say in the industry. People were on board with him for a while and enjoyed his frantic energy that made him seem like a big draw. But after a while he kind of fell in the ratings and it was evident that he needed a new gimmick.
7. At one point Sami had to have both shoulders worked on due to injury.
Mike Chiari from The Bleacher Report let it be known that pro wrestling is still an intense and injury-laden business since Sami has had to undergo surgery for both shoulders in the recent past. There's a lot more to this show than just the stuff that's scripted and obviously fake.
6. He doesn't describe his personal life all that much.
Sami is kind of personal person and doesn't really go into a whole lot of detail about his life. Some wrestlers don't mind talking about their lives all that much and let people in pretty easily, but not Sami.
5. For those that didn't know, he is a Muslim.
One might not think it just by looking at him but then again looks aren't everything and he is a practicing Muslim. It's not something a lot of people know about and it's something that he keeps to himself a lot since it's not a part of his on screen character.
4. He was the NXT champion for a while.
Sami did hold the NXT title for a while but also ended up losing it just like a few people have before making their way to the main roster in the WWE. This is just one of the many requirements of finally making it to the big ring it would seem.
3. Just recently he did a very serious name drop on live TV that has sparked some debate.
Elle Collins from Uproxx and many others aren't too surprised that Sami uncorked a scripted line about AEW, another wrestling company, on Monday Night RAW, but the fact that many people thought it was anything but scripted is kind of ludicrous since the WWE doesn't allow much to happen that they don't plan.
2. His net worth is around $400,000.
That might seem low for a company like WWE but the fact is that if a person is loved by the fans they tend to get paid more since they're a desired character in the overall narrative. There's a lot more to it than that, but the truth is that you tend to see a lot more of big-name stars get paid a great deal more.
1. He and Kevin Owens have been 'feuding' since before the WWE.
As Marc Madison from Pro Wrestling Stories tells it, Kevin Owens and Sami Zayn have been traveling with one another and sharing the ring for years as they came up through the business and eventually landed on WWE. This has made them more like brothers than friends and it's easy to see why.
It's hard to tell just how long Sami will last in the WWE, but for now he's still a fairly popular character.
Tell us what's wrong with this post? How could we improve it? :)
Let us improve this post!