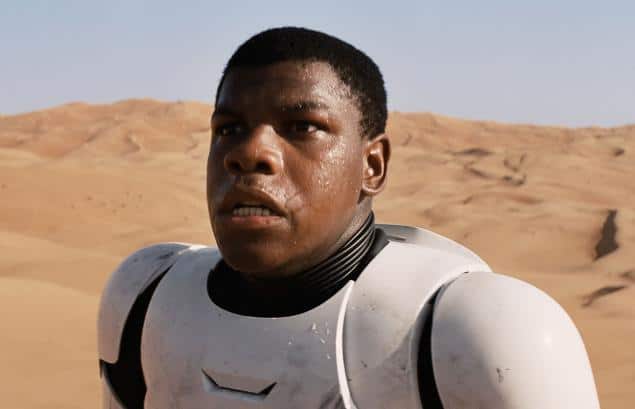 We get that at times there isn't a lot of diversity in the [easyazon_link identifier="0553374842″ locale="US" tag="tvovermind00a-20″]Star Wars universe[/easyazon_link] as far as skin color goes. Wait, really? That feels like one of the dumbest things ever said and I'm the one that said it. So let's back that up and say that while at times there is a lack of diversity concerning certain cultures and races, it is still a very culturally diverse and even species-rich universe that is one of the greatest franchises of all time that anyone should be considered lucky to be cast in. Now that that's out, does John Boyega have anything else to say? Does he want to point out that he was very fortunate to be cast in a movie of this scope? Does he want to divert and deflect any pointless and inane questions about his skin color by commenting on his role in the film and how it adds to the entire plot?
It'd be wise John. As hurtful as those reporters and interviewers can be you can be so much better and show them that you are indeed grateful to be on the cast. The issues that he's seen with the supposed difference in how he and his costars are treated is perhaps very real, but it is a matter that he is able to control and should be able to handle. He is after all a grown man and in control of his own emotions, right? If there is racism in the movie industry, and we'd be fools to think otherwise, it is still important to step past it, rise above it, and prove that it's not stronger than the individual. You're still in the movie John, and unless a big surprise is coming in December you should be sticking around for a while.
As to the claim that he's being treated differently or represented differently, it is a lot of perspective to take in. If you really want something that seems unfair then let's talk about representation. You'll find [easyazon_link identifier="B00XOUB48U" locale="US" tag="tvovermind00a-20″]Finn toys[/easyazon_link] all over the toy aisle of whichever store you walk into, be it a Walmart or Fred Meyers or Toys R Us. Finn is there front and center just waiting to be plucked up by eager children waiting to get their hands on a piece of [easyazon_link identifier="B01BTVQR5K" locale="US" tag="tvovermind00a-20″]Star Wars merchandise[/easyazon_link]. But where's Rey? It might be a ploy to get people excited about the new movie and prepare for a line of toys that manufacturers are hoping will be a huge hit, but the lack of representation of [easyazon_link identifier="B00SD8I11G" locale="US" tag="tvovermind00a-20″]Rey[/easyazon_link] on the shelves seems to be a little uneven. Care to comment John? No?
It is reprehensible that anyone would try to pin John Boyega by speaking to him about his role in the movie and his color. But take a quick look at something. Billy Dee Williams could have possibly had the same issue way back in the day because guess what? He was the only African-American man on set for quite a while. Look at it this way John, words are easy to ignore, and in truth you shouldn't listen anyway. You're a major part of the cast of one of the greatest stories ever told. Enjoy it.
Save