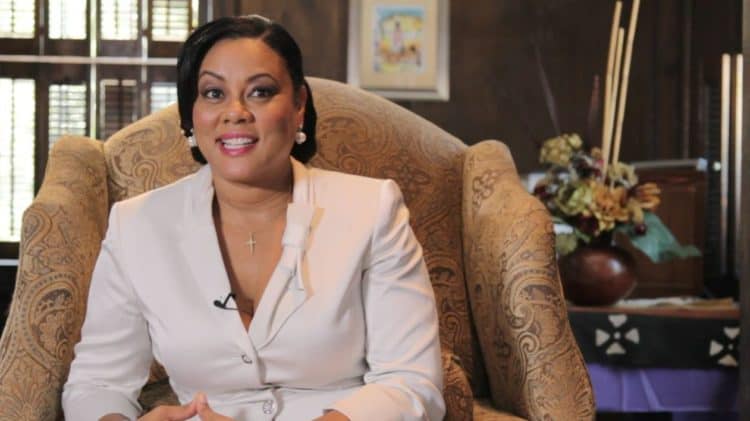 It's very possible that you've seen Lela Rochon in a few different places throughout the years since she's been quite prominent in TV and movies in her career. As of late she doesn't seem to have shown up quite as much but she's still around and still doing her thing. She's definitely one of those individuals that a lot of us recall from our youth since at one point and time she looked a bit different and was one of the hottest women in show business, though often underrated it would seem. But as of now she's still quite stunning despite having gained a bit of weight that she's amazingly been called on by a few people. Thankfully she seems to have shaken off most if not all of the comments that have come her way, and has managed to become a very strong and opinionated woman that knows her own worth.
Here are a few things about Lela you might not have known.
10. She used to star in the old Spuds Mckenzie commercials.
Anyone remember these? Spuds Mckenzie was once a very popular figure in commercials and was almost always surrounded by a few women that were dubbed 'Spudettes'. Lela was one of those women and while this wasn't what propelled her into fame it was one thing that can be looked back upon as a moment out of her youth.
9. Lela graduated from California State University with a degree in journalism.
It's always nice to know that there are quite a few educated individuals that have made something of themselves. While there aren't as many uneducated individuals in Hollywood as people seem to think, there are those that gain notice simply because of the way they talk or act.
8. She didn't start having kids until her late 30s.
The risks that go with having children when a woman gets older only continue to accumulate as the years go by, but thankfully the children she's had have been healthy as can be. Some folks don't start until later, some start insanely early, it's all a matter of when they want to start having kids.
7. Unfortunately she did suffer a miscarriage after her first child.
This is a horrible and painful moment in any woman's life if she's had to go through it and simply talking about it seems a bit vulgar at times, but those that share the experience seem to do so in order to move past it and get it off their chest.
6. She's married to director Antoine Fuqua.
It would seem that their marriage has been pretty good for a while as in the picture that are shown they look happy and quite content. Of course there are plenty of folks that constantly look for something, anything, that's going to spark a bit of controversy about this.
5. Lela was in the movie Any Given Sunday.
She played the role of Willie Beaman's girlfriend whom he consequently drove off when he started acting as though he was more important than he was. Obviously though he would come to miss her and try to woo her in order to get her back.
4. Recently her husband was caught kissing another woman.
Nicole Murphy, the ex-wife of Eddie Murphy, was caught on camera kissing Antoine and it's no doubt been a point of contention for a while since she's a friend of the family and has been around them for a while. There's been a good deal of explanation as to why this happened and the word 'accident' even came into the conversation. But with the lip lock the two have in the pictures it's hard to downplay it all that much. According to Moriba Cummings of BET Murphy has since apologized.
3. Her net worth is around $10 million.
She's been wise with her money obviously throughout the years since if you really look at it she doesn't seem to have made quite as much from her acting career. But thankfully educated and wise individuals know how to turn those dollars that eventually dry up into profit that can keep them on top or at least in a place of comfort that affords them a certain type of lifestyle that they've come accustomed to.
2. There are actually those on Twitter wondering if Fuqua and Murphy were really in the wrong.
This is just a bit mind-boggling since some people seem to think that Antoine kissing Murphy was just fine since Lela has gained enough weight that signals, in their minds, that his desire to cheat would only be natural. Those kind of thoughts are an insult in a big way to men that will actually stay with their wives and not fool around them.
1. She does have an online presence.
People still know who she is obviously and are willing to follow her on Instagram and other platforms to see just what she's up to.
She's one of those celebrities that brings up good memories when you see her.