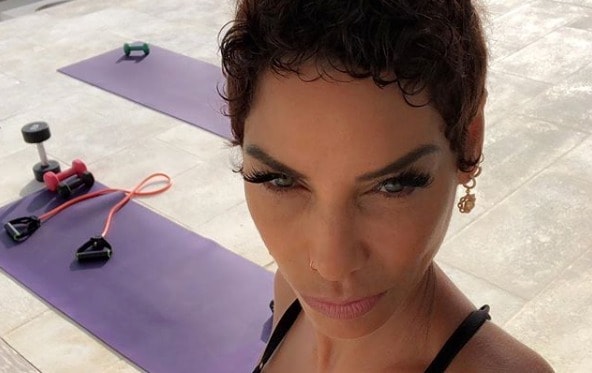 To many, Nicole Murphy is known as a model, TV personality, designer, actress, and businesswoman. To many more, she's known as the former Mrs. Eddie Murphy. Despite divorcing the funnyman over 13 years ago, the marriage was what helped propel Nicole into the spotlight, and to some extent, it's been what's keeping her there. That's not to say she hasn't achieved a lot in her own right; Eddie had precious little to do with the international modeling career that came before the marriage and has had even less to do with the successful jewelry and skincare lines that's come after it. To find out more about Nicole, keep reading.
1. She started modeling at 13
Get a foot on the ladder early enough, and it stands to reason you'll get to the top that much sooner… which may explain why Nicole has been at the pinnacle of her game for so many years. Nicole started her career in modeling at the age of 13; by the time she was out of her teen's, she'd already achieved more success than most of us do in a lifetime. Within a year of her first audition, Nicole had signed up to the Ford Modelling Agency and won an international modeling contest. Over the next 7 years, she built a name for herself as one of the most famous faces on the catwalk, modeling for the likes of Chanel, Valentino, Yves St. Laurent, Ungaro, and more besides.
2. She has her own jewelry line
Following her retirement from modeling, Nicole started to venture into business. One of her first forays was the launch of a jewelry line, "FLP Jewelry Design," aka Friendship, Love and Peace. Nicole launched the business with her long-time friend and collaborator, Yolanda Brady, a costume designer, and stylist. Together, they've created a line of signature pieces and designs inspired by, as the company's name suggests, friendship, love, and peace.
3. She was an executive producer on Hollywood Exes
Nicole found a new audience when she joined the lineup of celebs on VH1's Hollywood Exes. The series, which aired for three seasons from June 27, 2012 —July 2, 2014, followed the lives of 7 ex-wives of famous men. Starring alongside Nicole were Andrea Kelly, Mayte Garcia, Jessica Canseco, Sheree Fletcher, Shamicka Lawrence, and Shanna Moakler. As well as starring on the show, Nicole added a new credit to her name by executive producing several its 32 episodes.
4. She has her own skincare brand
The secret to how Nicole maintains her flawless complexion is out. In 2018, Nicole shared her beauty secrets with the world with the launch of ZOBELA, a new line of anti-aging skincare. Purporting to be paraben free, cruelty-free, environmentally conscious, fragrance-free and made in the good old USA, the line sees Nicole join the growing ranks of models (which includes Cindy Crawford, Christy Brinkley, and Elle McPherson) who have created skincare empires off the back of their modeling careers.
5. She's sparked outrage
In May 2019, Nicole sparked controversy when she said she wished her daughters had straight hair like her but "unfortunately", they had inherited their father's curly hair instead. The insensitive comments generated a media storm, with one Twitter commentator noting "I noticed years ago that while Eddie and Nicole were married, all the girls were natural. As soon as they separated, all the girls (except maybe the youngest) had relaxers, or at least their hair was straightened. I always thought that was interesting, and after this, it makes more sense," while another kept it blunt with, "Her daughters have better hair than her, bye Nicole w/ her crypt keeper lookin' a**!"
6. She has 5 children with Eddie Murphy
Despite the success she's achieved in her own right, one of the foremost reasons Nicole came to the public attention, and the primary reason she's stayed there, is down to her relationship with comedian and actor, Eddie Murphy. The pair met in 1988 at an NAACP Image Awards show. After dating for 2 years, they cemented their relationship status on March 18, 1993, when they wed at the Grand Ballroom of The Plaza Hotel in New York City. They went on to have four daughters and one son (Bria, Myles, Shayne, Zola, and Bella) before parting ways in August 2005. Their divorce was finalized on April 17, 2006.
7. She's still friends with Eddie Murphy
Despite their divorce (and Eddie's very bad behavior throughout their marriage, which included picking up a transvestite prostitute in 1997), Nicole remains on amicable terms with her ex, telling Radar "Eddie and I are friends; he's my babies' daddy, so we speak to each other and have a great relationship and I think that's important when you have children involved."
8. She has a fitness website
Nicole undoubtedly looks incredible for 51, especially considering she's had five kids. Fortunately for those of us who'd like a slice of whatever she's having, we can: in addition to her skincare and jewelry lines, Nicole has recently added to her portfolio with the launch of a membership-based health website. For those willing to stump up $9 a month, Nicole is willing to offer clean eating recipes, share workout routines, and provide inspirational tips on achieving a healthy mind and body.
9. She had a five-year relationship with Michael Strahan
In June 2009, Nicole began dating former NFL player, Michael Strahan. After a five-year engagement, the pair split in 2014 amidst allegations Strahan had been unfaithful. According to some sources, however, trouble had been brewing in paradise for a while. "Nicole wouldn't move to New York full-time, so she would spend three weeks in L.A. then one in New York," one source told PEOPLE. "They never saw each other." "This has been brewing," another source said. "It wasn't a shock to anybody around them."
10. She's not in Toni Braxton's good books
In April 2019, reports emerged that "Birdman" Williams had dumped his 51-year-old partner, Toni Braxton, for another 51-year-old- Nicole Murphy. Prior to the shock split, Grammy- Award-winning Braxton and Cash Money CEO Williams had been planning on marrying this summer after a year-long relationship. As yet, it's not known how serious the new couple is, but either way, we can't imagine Braxton is feeling too kindly about their prospects.