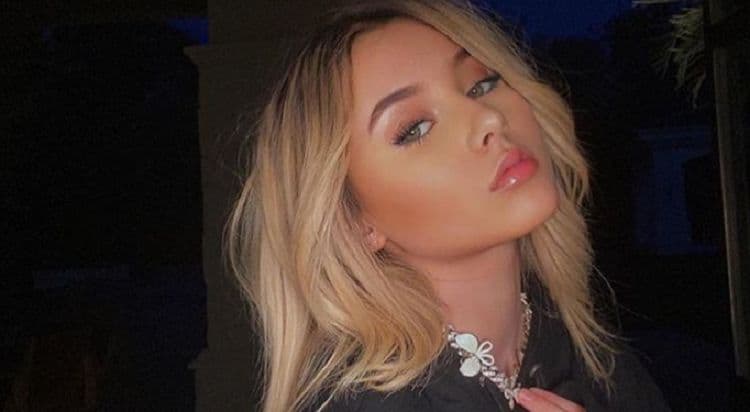 American model, actress, and reality TV star Shanna Moakler recently hit the headlines when Alabama Barker, her daughter with Blink-182 drummer Travis Barker, was revealed to have been the target of inappropriate messaging on social media. Graham Sierota, the 20-year-old drummer of pop-punk band Echosmith, reportedly first messaged Alabama back in 2016, when the now 13-year-old was just 10 years old. While Alabama never responded to any of the messages (and even retaliated to his most recent attempt to contact her by re-posting his message with the caption "Hey guys! So once again I am bringing this to your attention because I'm a 13-year-old girl and he is 21 / 20 super creepy,") it hasn't stopped her family (and particularly dad, Travis) going into protective overdrive. Sierota has since apologized, claiming he'd been unaware of Alabama's age at the time of the messages. Judging by her latest Instagram posts, Alabama seems to have forgiven him… whether mom and dad feel similarly inclined, who knows. What we do know is this isn't the first time Shanna has made the news, and, if past precedent is anything to go by, it won't be the last either. To find out more about the star, take a look at these 10 fast facts.
1. She was a late developer
Shanna may have built a career on her good looks, but back in high school, she was a self-professed "dork". "I really was the biggest dork in high school. I know everyone says that, but I was 4-foot-11 and 75 pounds when I was 17. I didn't hit puberty until I was 17, so no one hit on me," she lamented to ESPN.
2. She won Miss Teen All American in 1993
After graduating from high school, Shanna moved to Miami with the intent of pursuing her childhood dream of becoming a model. Her first taste of beauty parents came in 1992 when she represented Rhode Island at the Miss Teen USA pageant. That time around, Shanna placed seventh overall: her next attempt would prove more successful, and in 1993, she claimed the title of Miss Teen All American.
3. Winning Miss USA came with some downsides
After placing first runner up in the Miss USA pageant of 1995, Shanna attained the title of Miss USA when the winner, Chelsi Smith, won the Miss Universe crown. Despite enjoying certain aspects of her reign, Shanna wasn't too fond of others, as she revealed to Maxim. "I wanted to go out and meet boys and have fun. But as Miss USA I had to dress and act a certain way, and I couldn't swear–and, well, I tend to swear a lot."
4. She dated Billy Idol
After handing over her Miss USA crown to Ali Landry, Shanna started making up for lost time with a series of high-profile relationships. Her first was with British rocker, Billy Idol, who she dated for a brief period in 1997. While Shanna has since described Idol as "sweet and sensitive", the affair wasn't to last. "Billy has a very sexy presence, but he's not very good in bed," she told Maxim of the split. "For one thing, women constantly throw themselves at him, so he doesn't have to be any good. For another, he's English."
5. She sued Oscar De La Hoya for $62.5 million
Following the demise of her relationship with Billy Idol, Shanna became involved with boxer Oscar De La Hoya. The two became engaged, and in 1999, they welcomed their first child. In 2000, the relationship ended in acrimony after De La Hoya was spotted in the company of another woman as the Latin Grammy Awards. Shanna subsequently went to file a $62.5 million palimony suit against the boxer, alleging he'd been abusive to both her and her young daughter throughout the relationship, and had used them largely as a means of promoting his "good boy" public image. The case was eventually settled out of court for an unknown sum.
6. She's starred in several films
Although Shanna is best known as a model, she's also appeared in numerous films, including Poison Ivy: The New Seduction (1997), Telling You (1998), The Wedding Singer (1998), Love Stinks (1999), Critical Mass (2000), Patsy Shore is Dead (2003), and Big Momma's House (2006).
7. She was accused of hitting Paris Hilton
In 2004, Shanna married Travis Barker, the drummer of Blink-182 and various other lesser-known bands. After welcome 2 kids, the couple filed for divorce in August 2006. Shortly following the end of the marriage, rumors began to circulate that Barker was involved in a relationship with Paris Hilton. Clearly unimpressed, Shanna went head-to-head with the socialite at the Los Angeles nightclub, The Hyde Lounge. The altercation led to both parties filing battery charges, with Paris accusing Shanna of punching her in the jaw, and Shanna accusing Paris' then-boyfriend, Stavros Niarchos, of bending her wrists, throwing a drink over her and pushing her down a flight of stairs. The case was eventually dropped before reaching court.
8. She's an animal rights activist
Shanna is a huge lover of animals, and over the years has participated in numerous campaigns in support of animal rights organizations. In 2008, for example, she appeared in a pro-vegetarian ad for PETA, while in 2013, she posed nude as part of the association's anti-fur drive.
9. She's not averse to plastic surgery
She may have been blessed with model good lucks, but Shanna isn't averse to giving nature a helping hand. In addition to liposuction, Shanna has been open about having had a tummy tuck as part of her recent "mommy makeover".
10. Her Net Worth is $15 million
Anyone curious about what kind of fortune an ex-beauty queen can expect to have should take a look at Shanna's. According to Celebrity Net Worth, the pageant director and entrepreneur is worth a hefty $15 million.
Tell us what's wrong with this post? How could we improve it? :)
Let us improve this post!