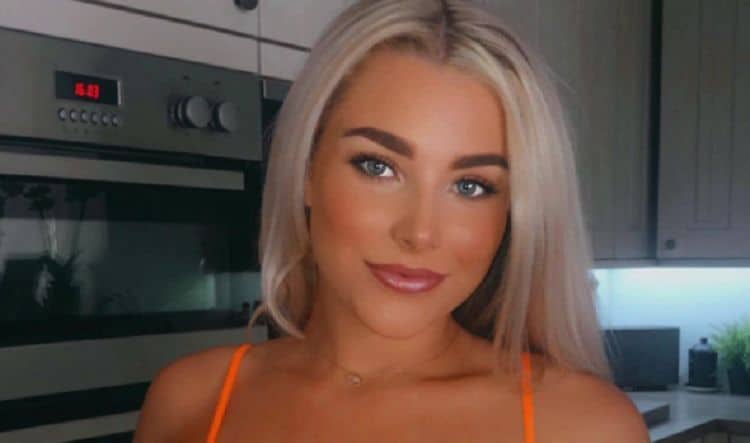 Madelene Wright is a name you might only be familiar with if you follow soccer in England. The young football star was part of the English Charlton Club – and a great player – for a while before she was kicked out of the club back in December of 2020. She was accused of engaging in dangerous and inappropriate behavior that was leaked on the internet, and the club let her go. As a result, she's welcomed herself into a new line of work, and she's even more visible now than she was when she was a football star. What's she up to now?
1. She Was Caught Doing Some Illegal Stuff
What got her kicked out of her soccer club? The fact that there were leaked videos of her on the internet that showed her drinking from a bottle of champagne while inhaling from a balloon while she was driving her car at the same time. Obviously, these were not good choices, and the world was able to see them. That resulted in her being let go from Charlton.
2. She's on OnlyFans Now
The adult content site is a controversial one, but it's one that has some stars making some big bucks. She's now part of the platform, which is how she's earning her living. She posts mature content that only her fans can see, and she's able to make money because she charges them a fee to see her doing whatever it is she's doing.
3. She's Charging for Her Photos
The concept is simple. You get to follow the star on OnlyFans for only $33 per month. That's a small fee to see all that she has to share on the social media site, and it's how she's making her money. If she can get 100 people to subscribe to her content, she's already earning $3,300 per month.
4. She's Back to Soccer
She's recently made a big comeback to soccer, and that's been something she's thankful for. She's training again, and she's hopeful that she will be picked up by a club that wants to see her play for their franchise. She's played for both Charlton and Millwall prior to her controversial situation, and now she's looking for a team to pick her up for a new season.
5. She's Nervous
After being removed from her sport because she made a dangerous and poor choice, she says she's nervous to get back to training. She's excited, but she's nervous. We can see that. Her former club let her go after releasing a statement condemning her behavior – which was inappropriate and dangerous – and saying that her behavior does not meet the standards the team has in place for their players. Now she's back in the game, and she's hoping to make better choices in the future.
6. She's Very Young
Madelene Wright is still very young. She's only 22, and some people are not surprised by her behavior at this age. She's not yet mature enough to really comprehend just how far her photos and videos will follow her in life, but she's certainly old enough to know better than to do what she did.
7. She's Ready for Gyms to Open
She's a woman who likes to work out. She's into keeping her body in shape, and she's into being in the gym. She's missed being able to work out the way she did in the past, and she's excited for gyms to start opening back up where she is so she can get back to her regularly scheduled training.
8. She's Been Investigated Before
Charlton is not the only club that has investigated the young star. She was previously will Millwall, and they reportedly investigated her in October of 2019 when yet another video of her in a car hit the internet. This video was of her in the backseat of a car filming the driver putting dog paws on the steering wheel rather than doing the driving on his/her own.
10. She Has Access to Support
She may have been released from Charlton, but that doesn't mean that the club was not concerned with her safety and her welfare. The club adamantly supports her own well-being, and they dismissed her from the team, but they did not dismiss her from being able to access the club's support channels. They want to see her in good health, making good decisions, and able to seek any type of help and support she may need in the coming days. It's unclear whether she's utilized that support as yet.
Tell us what's wrong with this post? How could we improve it? :)
Let us improve this post!