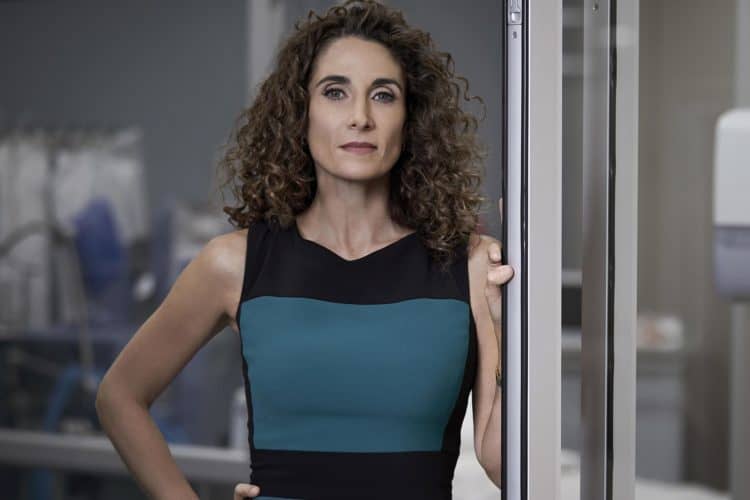 Melina Kanakaredes is a well-known American actress, writer and producer born in Acron, Ohio on April 23rd 1967. The 52-year-old is famous for her contributions in different television drama series as well as short films and movies. At a very early age, she was inspired by the theatrical works of both Chita Rivera and Gwen Verdon that led her to perform her first on-stage act at the age of eight. She is of Greek descent, having been born to a Greek couple who lived in the United States. She, therefore, lived close to the local Greek community during her childhood. Besides her acting career, here are some more facts to know about Melina Kanakaredes.
1. Her career
According to The famous People, Melina made her debut in the film industry in 1994 in the movie "Bleeding Hearts," while she was still working on the hit series "The Guiding Light." This marked the beginning of a highly celebrated career. In 1995 she made several appearances in top films as a guest star in shows like "NYPD Blue," "Due South," and "New York News." She then played small roles in a couple of movies for about three years featuring in "Dangerous Beauty," "The Last Kiss Goodnight," and "Rounder." She also featured in television series such as "Oz," "The Practice," and "Leaving LA." In 1998 she starred in "Saint Maybe." In 1999 she played a significant role in the series "Providence" for which she won an award a year later. Since then she has played in many films and series to date. Some of her recent works include; "The Resident," "Notorious," "Extant," and "Snitch." She is currently working on "Gods and Heroes," a film series set to debut in 2020.
2. Her background
She was born in Acron as the last of three daughters to a couple of 2nd generation Greek immigrants. Her mother, Connie, was a local homemaker while her father, Akron, was an insurance agent and also owned Temo's Chocolate Company, an institution in Acron. Her early childhood was mostly spent around the chocolate firm until she was eight years when she made her debut in a local film production called "Tom Slayer." She attended Firestone High School in Acron where she participated in some co-curricular activities such as swimming, singing, and playing basketball. She then joined the Ohio State University.
3. Awards and nominations
Over her long career, Melina has accrued several award-winning nominations. According to IMDb, in 1994 when her career was still young, she got nominated for the Daytime Emmy Awards for Outstanding Younger Leading Actress in a Drama Series. In 1995 she was again nominated for the Daytime Emmy Awards for Outstanding the supporting actress in a drama series. Melina also has two Soap Opera Digest Awards to her name. She got nominated for the Outstanding Women Newcomer in 1994 and for the Hottest Female Star in 1994 all being credit to her contribution to the drama series "The Guiding Light." Melina further boasts of two nominations to the TV Guide Awards, one in 2000 for the Actress of the Year in the Drama Series "Providence." She also won the TV Guide Award for the Favorite Actress in a Drama for the same series.
4. She is a health enthusiast
In an interview with Energy Times, Melina admits that she likes to maintain her health. She prefers to eat peasant food rather than the typical pizza's since they promote good health. Melina must also get support in her attempts to eat healthy from her husband, who is a professional chef. Other than healthy foods, she is a sports enthusiast who loves swimming. Melina says she enjoys swimming which she has done from high school and can hold her breath for a long time. She, therefore, likes to swim three or four times a week.
5. She loves to travel
Melina enjoys freedom and is often thrilled by new places, not just for adventure but to know new and different personalities. In her world, change is essential, which makes her able to understand and attract different people from all walks of life.
6. Her Social Media
Melina likes to post a lot of photos and images on her social media accounts. She has a good following with over thirty-eight thousand followers on Instagram and about 200 posts. She also commands more than 27,000 followers on Twitter with more than 3,000 retweets.
7. Her family life
Melina has been married to her husband Peter Constantinides since September 6th, 1992 to date. Peter is a chef and restaurateur. The couple is blessed with two daughters Zoe Constantinides and Karina Eleni Constantinides. Zoe is the older of the two and was born in May 2000 while Karins was born on January 5th, 2003 in Los Angeles and is a graduate of Firestone High School in Ohio. She is also cousin to the famous "CSI-New York" star Alexandra Marinos who also starred as Sally Bowles in the movie "Cabaret" in studio 54 on Broadway.
8. Her earnings and Net worth
Melina Kanakaredes is currently worth over $10 million, which is mainly accrued from both her big and small screen appearances. Filmography has been her primary income earner over the years. She currently earns an average of $136,000 every month.
9. She loves music
Since she was a child, Melina loved music and even admits that her love for the theatres could be partly due to her passion for music. In high school, she was a music, theatre and dance major and appeared in many performances for the Pittsburgh playhouse.
10. She is a workaholic
Melina seems to be very strong and powerful, as well. Her personality impresses many, and she can convince even the weakest of souls which could play a role in her booking many characters. She likes to work hard, believing that all good things are the fruits of hard work. Melina also prefers a quality life which is her highest priority; hence, despite being addicted to work, she still sets apart time for leisure activities.