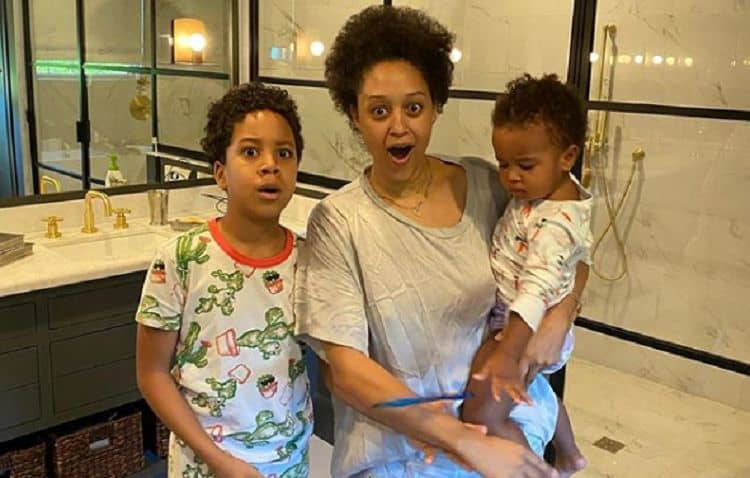 During the 90s, Tia Mowry and her twin sister, Tamera, were two of the hottest young celebrities in the entertainment industry. From 1994 to 1999, they were the stars of their own sitcom, Sister, Sister. In the mid 2000s, her career caught a strong second wind when she was cast as Melanie Barnett on the popular series, The Game. Tia is one of the few entertainers who came into the industry as a child celebrity and has continued to work through adulthood without any scandals or sketchy situations. Now a pride wife and mother, Tia is still working on a regular basis and is currently the star of the Netflix series, Family Reunion. Keep reading for 10 things you didn't know about Tia Mowry.
1. She Loves To Watch Disney Movies
When Tia is feeling down and out, one of her favorite things to do is watch Disney movies. Moana and The Little Mermaid are two of her favorites. Ironically, Tia has been the star of a few Disney movies herself. In 2000, she and Tamera were the leads in the Disney Channel film, Seventeen Again. They returned to the network in 2005 and 2007 for Twitches and Twitches Too.
2. She's The Younger Twin
Even though Tia and Tamera are the same age, she is technically the younger sister. She was born two minutes after Tamera. However, she isn't the youngest Mowry sibling. She has a younger brother named Tahj Mowry who has also had a successful acting career.
3. She's Dealt With Insecurities Due To Her Body
Growing up in front of the camera isn't easy. Imagine going through the awkwardness of teenage life and puberty with millions of people watching. That's exactly what Tia had to endure, and she dealt with lots of insecurities because of it. She says "On set, everything was available: candy, donuts, anything I could put my hands on. And suddenly, when I ate those things, I started to gain weight and feel insecure, so I turned to diet pills."
4. She Suffers From Endometriosis
Tia was diagnosed with endometriosis during her 20s. The condition affects the tissues of the uterus. Although there is no 'cure' for endometriosis, there are ways to make it more manageable. Tia found that making changes to her diet has significantly helped her battle her endometriosis.
5. She Was In An Episode Of Full House
Anyone who grew up to the 90s probably also grew up being a fan of the show Full House. Tia's younger brother had a recurring role on the show as Teddy, one of Michelle Tanner's best friends. On an episode in 1992, Tia appeared on the show as Denise, who was Teddy's older sister.
6. She Has A Bachelor's Degree
Even though Tia spent years in the spotlight, she still found a way to have somewhat of a traditional college experience. She and her sister attended Pepperdine University as part-time students. She graduated with a bachelor's degree in psychology. Tia even spent a summer studying abroad in Florence.
7. She Likes To Meditate
Tia enjoys meditating on a regular basis and uses it as a way to cope with the daily stresses of life. She is also a big believer in manifesting things which she says is how she was able to land an opportunity to work with Netflix. She told Black Enterprise, "I have a vision board and I mediate and I manifested. I'm a huge Netflix fan and I said I want to be on Netflix."
8. She Would Love To Play A Vampire
Tia has plays lots of different roles over the years, but there's one more she'd like to check off her bucket list. She says, "I've also been obsessed with vampires since I was a little girl. I've seen almost every vampire movie. I would love to fulfill my twisted dream of playing a vampire. I think I'm obsessed with the whole romance side of it."
9. She Practices Attachment Parenting
Since becoming a mother, Tia has been very vocal about her experiences, and she's shared that she practices attachment parenting with both of her children. Attachment parenting is a method that all about putting an emphasis on the bond parents have with their children. In essence, children who are raised in this way are able to have somewhat of a voice in how they are raised.
10. She Has Her Own Line Of Vitamins
On top of being an actress, Tia is also an entrepreneur. In early 2020, Tia launched her own line of vitamins and supplements called Anser. Over the years, Tia has personally experienced how helpful vitamins can be. She hopes that her products will help women take better care of themselves.
Tell us what's wrong with this post? How could we improve it? :)
Let us improve this post!