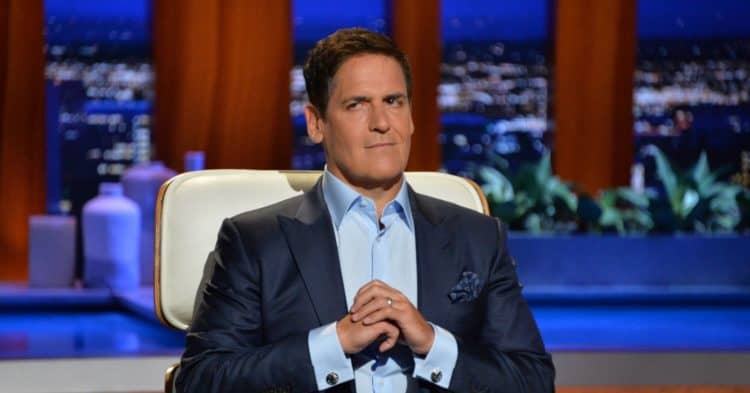 Mark Cuban knows a thing or two about getting rich. His real-time net worth in 2021, according to Forbes, is $4.5 billion. Way before Cuban struck gold with Broadcast.com, he was struggling his way through college, selling stamps door-to-door and giving disco lessons to pay for tuition. It wasn't until he partnered with Todd Wagner and sold his company that he made his first billion through a Yahoo sale. Since then, the mogul has taken to appearing on a couple of movies and television shows as himself, because he can. Here are some appearances he has made in the past:
1. 'What Men Want'
In 2019, Cuban made an appearance on What Men Want, starring Taraji P. Henson and Tracy Morgan, alongside Erykah Badu. In the scene, Taraji is 'invited' to a secret poker game, and Cuban happens to be in the picture. As each player's thoughts come to play, Cuban thinks, " Gotta stop playing poker with poor people." The song 'Bills' by Destiny's Child plays, as Taraji (Alison Davis) keeps winning. Her winning streak comes from the fact that she's able to read people's thoughts, but she lets Morgan (Joe Barry) win in the end.
2. 'Walker, Texas Ranger'
Starring Chuck Norris, Walker, Texas Ranger premiered on CBS in 1993. At first, the show's pilot season aired briefly from April to May, with three episodes broadcast. Following the pilot season, Walker, Texas Ranger had an eight-season run that ended in May of 2001. To crown it all, a television film of the show was released in 2005. Cuban's cameo on the show was in the year 2000, three years after he made a big $5.7 billion sale to Yahoo.
3. 'The Cookout'
Mark Cuban began making appearances in movies as early as 1994. At the time, he wasn't the billionaire we all know today and therefore could not make an appearance as himself. His first role was as Macho Mark in the 1994 film Talking About Sex. It wasn't until 10 years later that he was able to make an appearance as himself in The Cookout. The 2004 comedy film was directed by Lance Rivera and written by Queen Latifah, and featured Quran Pender, Ja Rule, Tim Meadows, and Jenifer Lewis as stars.
4. 'Dallas'
In 2013, Cuban made an appearance on 'J.R's Masterpiece', an episode in the second season of Dallas. The episode featured the funeral service of J.R. Ewing ( Larry Hagman), who had died in the previous episode. It also coincided with Larry Hagman's sudden death in real life, due to throat cancer. Amongst those in attendance were Mark Cuban, who wore his hat as the owner of the Dallas Mavericks, Jerry Jones, who is the owner of Dallas Cowboys, and Mike Rawling, Dallas mayor.
5. 'Billions'
What's better than one billionaire? The answer is 'two', at least as far as television billions are concerned. In his first appearance on Billions, Bobby Axelrod (Damian Lewis), makes what he thinks is a good offer, but Cuban declines. " I got too many eyes on me, and I can't be anywhere near the sh** show you're in right now," Cuban says. In another scene, Cuban and Axelrod have what appears to be dinner, while they converse about the SEC. Though he mentions it in passing, Cuban suggest that Axelrod needs to stop the games he's playing with Chuck Rhodes ( Paul Giamatti).
6. 'Entourage'
Following the eight-season run by Entourage, the television series, it was confirmed that a film would be in place after the show ended. In June of 2015, Entourage was released. Besides doing slightly well at the box office, the film also featured a vast number of celebrity cameos. Mark Cuban appeared in the film alongside Piers Morgan, Jessica Alba, Pharrell Williams, Tom Brady, and David Spade, to name but a few. In his scene, Cuban is ready to sign a cheque for $5 million dollars. He's introduced to Carlos by Turtle (Jerry Ferrara) and is ready to buy Carlos' family company, but the man is having none of it. Eventually, Cuban and his associates walk away.
7. 'The Clapper'
Starring Ed Helms, Amanda Seyfried, Tracy Morgan, Adam Levine, and Russell Peters, The Clapper was released in 2017. An announcement was made in June of 2016 that Cuban would be part of the cast. According to Deadline, Cuban said he thought the movie's script was 'hysterical' and was happy to work with Tracy Morgan, Ed Helms, and Adam Levine. He called the movie 'fun' and said he really had a blast while making it. That wouldn't be the last we see of Cuban and Morgan, as the pair also had a scene in 'What Men Want.'
8. 'The Loop'
Starring Brett Harrison, Eric Christian Olsen, Phillip Baker Hall, and Mimi Rogers, The Loop premiered on Fox in March of 2006. The television show had a two-season run until July of 2007. In the show, Sam Sullivan (Bret Harrison), his work associates, and his friends try to find a work-life balance. Cuban made an appearance in an episode dubbed 'Fatty', where Sam boards a flight as an obese person, in order to understand the connection between obesity and air travel.
9. 'Grace and Frankie'
Grace and Frankie premiered on Netflix in 2015 and features Jane Fonda and Lilly Tomlin as stars. It wasn't until 2019 that Cuban made a cameo on the show. In the episode, dubbed ' The Tank', Cuban wears his entrepreneur/investor hat, as Grace gears up to make a pit. Grace's husband, Nick ( Peter Gallagher) does not want her to make a deal with Cuban because he and Cuban have a bad history. Grace ignores Cuban during her pitch, despite him being the only one interested. Cuban eventually makes an offer, Barbara opts out, and Grace, keeping her husband in mind, opts out of the deal.
10. Brooklyn Nine-Nine
In 2020, Cuban made an appearance in 'The Takeback', an episode on the seventh season of Brooklyn Nine-Nine. In the episode, Jake ( Andy Samberg) and Doug ( Craig Robinson) fly to Miami aboard a private jet owned by Cuban. It is revealed that Doug and Cuban go way back when he appeared on ABC's Shark Tank. During his appearance, Cuban says, Doug had pitched noise-canceling blankets, which, in real life, aren't so much a bad idea.