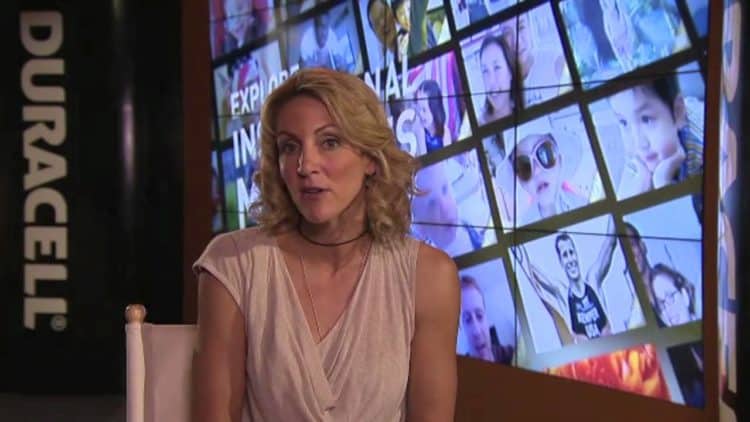 If you were a kid during the 1990s then you probably remember the days when Summer Sanders was the host of the Nickelodeon panel game show, Figure It Out. The series, which featured young contestants, aired from 1997 to 1999. It returned briefly from 2012 to 2013. During each episode, a group of celebrity panelists would ask a young contestant a series of yes or no questions. The object of the game was for the panelists to be able to figure out the contestant's hidden talent or major accomplishment. While the kids were always the stars of the show, Summer Sanders always added a little razzle-dazzle in her role as the show's host. However, when the show ended, Summer essentially disappeared from the spotlight leaving countless people to wonder whatever became of her. Keep reading to find out what happened to Summer Sanders.
Who Is Summer Sanders?
Even though 90s kids know Summer Sanders best as a game show host, that's actually just a small portion of what she's done over the years. Born and raised in California, Summer developed an interest in swimming at an early age. Over the years, swimming went from a simple hobby to something much more. By the time she was a teenager, her swimming skills earned her lots of attention and she came close to making the 1998 Olympic swimming team when she was just 15 years old. In 1991, she enrolled as a student at Stanford University where she was a member of the swim team for two seasons. During that time, she won several championship titles. The hard work she put in in 1991 earned her a spot on the United States Olympic swim team the following year. Sanders went on to compete in the 1992 Olympic games where she won four medals including two golds. In many ways, she was thought of as the golden girl of the '92 games and there was no shortage of opportunities waiting for her when she returned home. Through her success, Summer was able to transition into the entertainment industry during the early 1990s. Her good looks and charismatic personality made her the perfect fit for on-screen opportunities. She got her start doing sports commentary and she also dipped a toe into the acting pond. In 1996, she made a small appearance in the popular movie Jerry McGuire.
What Has She Been Up To Since Figure It Out?
It's been nearly 25 years since Figure it Out originally ended. Not only is the show's audience all grown up, but lots of things have changed for Summer Sanders as well. She continued doing sports commentary throughout the 90s. Most notably, she co-hosted NBA Inside Stuff for several years with Ahmad Rashad. Her work in the sports field earned her lots of respect. After Figure it Out, Summer continued to land on-screen opportunities. In 2010, she was a contestant on The Apprentice. In 2012, she also competed on Rachael vs. Guy: Celebrity Cook-Off. In 2016, Summer got another great opportunity when she was asked to carry the torch at the 2016 Olympic games in Rio. These days, she's a lot less active in the entertainment business. Her final on-screen appearance was in 2018 and from what we know, she doesn't have anything new in the works. However, it appears that her decision to move away from the spotlight was entirely her own. According to the bio on her website, being a wife and mother are the things she's most proud of. Spending time with her family has become the thing she looks forward to the most. Her bio also states that "Summer is incredibly passionate about giving back and has been a part of her humanitarian love, Right To Play, for over 20 years and is on their US Board of Directors. She was also a strong supporter of the USA Swimming Foundation's mission of teaching every kid in the USA to swim." Summer is very active on Instagram and she seems to enjoy spending time outdoors and going on adventures.
What's Next For Summer Sanders?
There are lots of people out there who are hoping that Summer Sanders has plans to return to the TV world in some capacity. As mentioned earlier, however, she doesn't have any projects coming up at the moment. That said, it doesn't seem like we've seen the last of Summer Sanders yet. We weren't able to find any information to indicate that she has completely left entertainment behind. Chances are, she's just waiting for the right opportunity to come along before she decides to step back in front of the camera.
Tell us what's wrong with this post? How could we improve it? :)
Let us improve this post!